BUT DID HE BUY TICKET?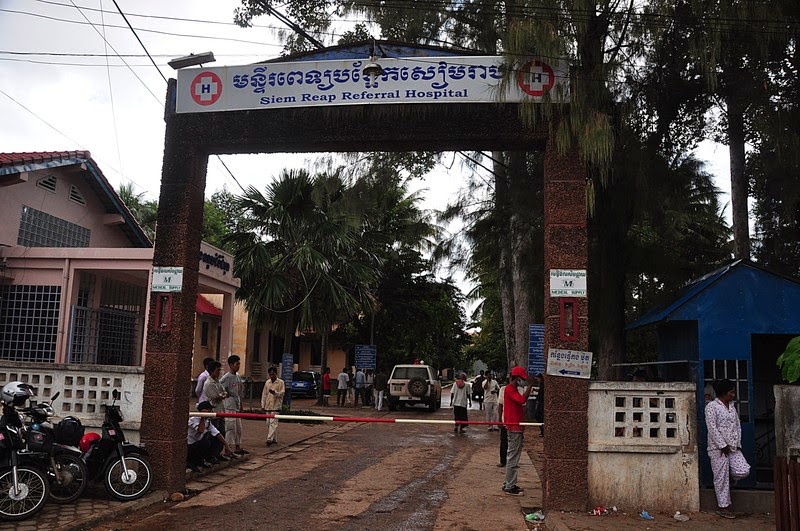 Journalist and film-maker David Walker whose body was found last week outside the 'Gate of Death' at Angkor Thom died of 'natural causes' the Cambodia Daily is reporting today.


The newspaper quoted Touch Malai , Deputy Chief of the Provincial Technical and Scientific Police Unit as saying that the Thai and Cambodian autopsy team had now completed their autopsy.
"The doctors did the autopsy to identify the victim, to see if he is the Canadian journalist Dave Walker or not," he said, adding as far as Cambodian doctors could tell, the victim had died of natural causes.

"After the autopsy, our doctors concluded that the victim died as a result of a heart attack and that we did not see any injuries caused by someone or evidence of any kind found on the body that would point to this being a murder."
Moreover the Bangkok team would only take back to Bangkok samples of tissue for DNA identification and Walker's body would remain in Siem Reap.
This was in contradiction to family sourced reports which suggested the Thai team from the Ministry of Justice had been granted control of the investigation and would take the body back to Bangkok. No family source was available for comment today.
David Walker's partner in Animist Farm Films Sonny Chhoun has interestingly pointed out that if David Walker entered the Angkor temple complex, where was his ticket and who paid for it?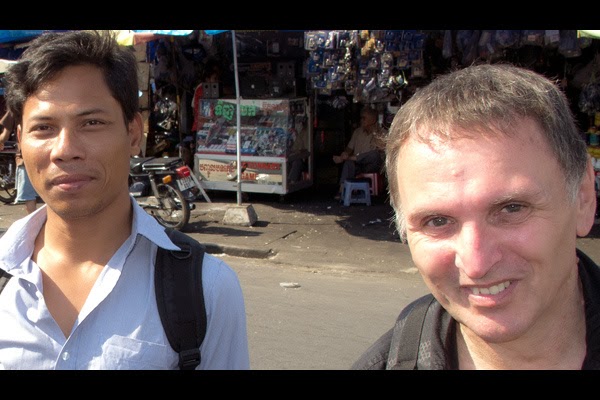 Sonny with Dave Walker – Picture Rchard Erlich
The Cambodia Daily reports police chief Chao Mao Vireak as saying he had not got around to that yet.
"We have not cooperated with the Apsara Authority and we have not investigated how the victim came to be in the Angkor Thom area because we believe that he walked there by himself," he said
It's a 13 kilometre walk to the complex an unlikely scenario in the hot season.
This report has been met with some alarm on the 'Find Dave Walker' Facebook page which now carries the logo: JUSTICE FOR DAVE WALKER – MURDERED IN CAMBODIA.
"This stinks of a cover-up .., how are we going to ascertain this before he's cremated and all evidence destroyed?" was a typical comment.
But then wait and read the Phnom Penh Post:
"The body of a foreign victim was already examined by a specialist doctor who was sent from Thailand, but the results of the examination of the body were not released yet," Chao Mao Vireak, chief of Siem Reap Provincial Immigration Police, said.
According to Mao Vireak, the body was preliminarily identified as Walker's by associates who recognised his clothing and shoes, but the specialist had taken skin and bone samples for more definitive testing.
"The doctor has completely done this work, and he has already left for Thailand," he said. "According to the doctor, the results of body's examination will be released within four or five weeks."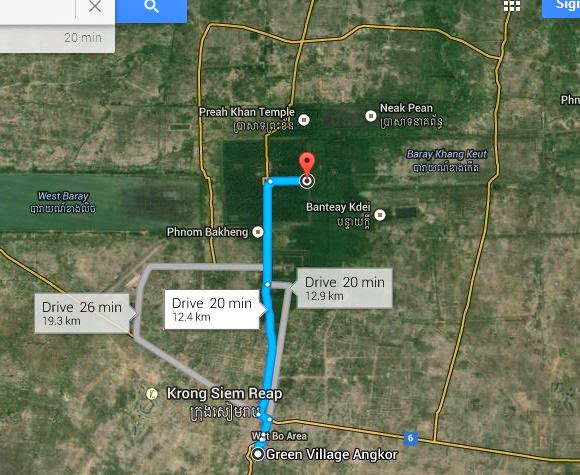 The route from the Angkor Green Village Guest House to where his body was recovered – Find Dave Walker FB
Footnote: No serious level of investigation has been expected at local level in Cambodia. When a local police chief says 'He believes' then that's what he wants others to believe. It may not be based on any evidence at all and does not appear to in this case.
Nor am I confident that pathologists in SE Asia can get much from a body which has been decomposing probably for 2 1/2 months. But I am confident this is not the end of the David Walker controversy.