PATTAYA HAS FAILED TO CURB RIP-OFFS ON FOREIGNERS – he says.
British journalist Andrew Drummond has issued proceedings against an American who claims to be an adviser to the Mayor of Pattaya to help stop, he says, massive frauds on foreigners in the city.

Proceedings for libel have been issued in Bangkok Criminal Court against Drew Walter Noyes,57, and Wanrapa Boonsu. 28, who founded the now defunct 'Pattaya Times' newspaper.
Andrew Drummond, who has been exposing the frauds on his website www.andrew-drummond.com said: "I have taken libel proceedings reluctantly because firstly I am not an admirer of Thailand's criminal libel laws and secondly Mr Noyes and Ms Boonsu are already up in court facing charges of extortion and fraud.
"The reason why I have taken these cases is because both these people continue to flout the conditions of bail to continue to rip off people in the resort, more recently a British old aged pensioner, who has been left in a dire position.

Noyes's fake lawyer advertisment on 'Teakdoor'
"Another reason is that while many of their victims are American and British nobody at any of these embassies has lifted a finger to protect its own citizens…whereas 20 years ago they would not have hesitated to have a quiet word in someone's ear. Indeed he has posed as a 'dear friend' of U.S. Ambassador Kristie A Kenney, to carry out one swindle, while he managed to spell her name wrong in the Pattaya Times, but she was new to the post at the time.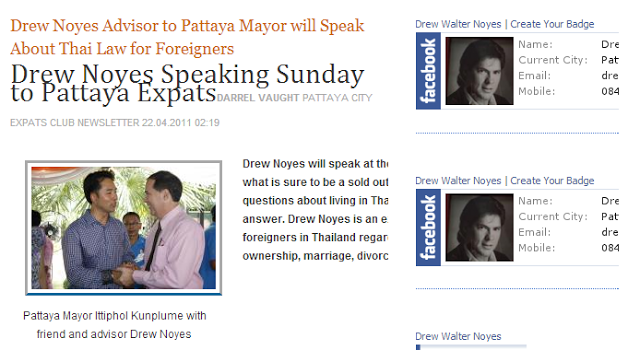 Drew Noyes in his role as 'adviser' to Mayor of Pattaya
"Mr Noyes prior to arriving from the United States had a fraud judgement against him and was exposed as a man of 'myriad lies' by the Wilmington Morning Star newspaper.
The newspaper revealed allegations of sexual harrassment, fraud, and massive lying in Noyes' bogus resume, and bad business practices.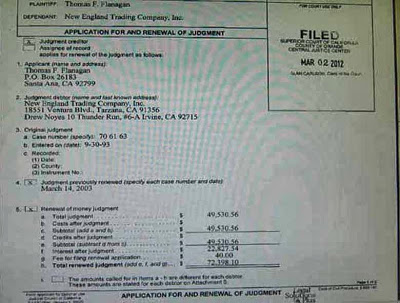 US$72,000 awarded against Noyes
one man trading company. At the time, he court heard, Noyes
was posing as a medical doctor
Noyes' name was subsequently dropped from the National Futures Association.
"In North Carolina and California several charges of assaults on women were recorded against him
"In Thailand he has re-invented himself as a journalist, publisher, lawyer and virtuous businessman.
"Nothing could be further from the truth. He claimed on Linkedin for instance to have a Bachelor of Science degree in journalism – a totally non-existent qualification, and
while he gained a degree in Knoxville he has never been employed by an media in his life.
"He continues to claim Royal favour and in his own newspaper he said he was invited to Thailand by royal proclamation and had been 'in service to the King of Thailand for 14 years'.
"This is all arrant nonsense. By his frauds he has ruined the lives of many foreigners in Thailand, some of who have had to up and leave.
"His Pattaya Times newspaper, which apart from his editorials and wild stories like 'The Death of Thaksin' was gleaned from the internet, subsquently folded, but he continues to use the Pattaya Times website to attack his enemies and is now writing about the owners of a clinic which he allegedly tried to extort.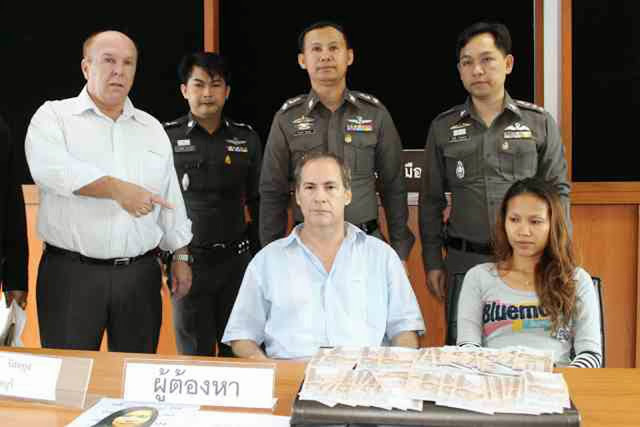 With Wanrapa Boonsu charged with the extortion of the Thonglor Clinic, Pattaya-Jomtien
"What is most amazing is that City Hall and the local police have been warned about him and seem to be turning a blind eye. There is further evidence that at least one relatively senior police officer has been aiding him. In short Pattaya has failed to curb the rip offs on foreigners.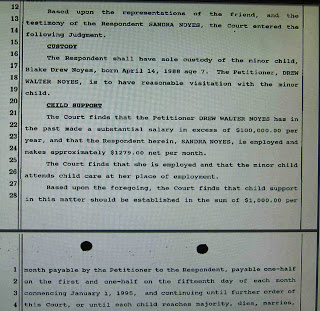 Child support US –
another has been issued by Chonburi court
"He has brought a number of libel charges against me for exposing his deeds in Pattaya. Thankfully all those charges have so far been dismissed and he has only one court case left. Together with a former Australian brothel owner he has accused me of destroying his respectable business.
"For the sake of the victims of Drew Walter Noyes and Wanrapa Boonsu and because supporters of this site, who have funded my defences, would expect no less, I have embarked now on counter-actions against Mr Noyes and Ms Boonsu."
"Mr Noyes has embarked on a massive internet campaign against myself and this website and, while he has spent long hours on the computer, has been able to prove that 'Google' can indeed be manipulated.
"He is a a very scary guy.The last thing someone wants to do is give him money…I do not believe by any stretch of the imagination that he is honest" – Newport Beach, California, lawyer Greg Walker
"He has created many 'Google blogger' websites to claim I am guilty of fraud, live in a one roomed apartment, have apparently been guilty of phone hacking, and convictions for libel etc. He has used the same websites to attack supporters.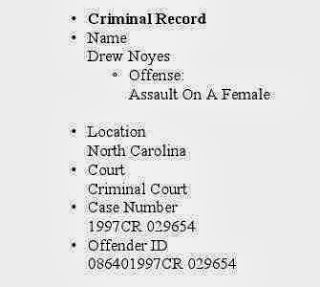 Assault on female
He claims to be the former star of a PBS drive-time radio show
"It goes without saying that I live in my own lakeside home and have an unblemished journalistic career and no convictions for libel.
"I should also point out that I have never known Drew Noyes, nor do I know him now apart from seeing him at court. I had been alerted to his activities by his victims.
"A law suit accuses him of locking the door to his office and threatened to slice the woman's hours unless she gave him a 'little taste'. Nine days later, the documents allege, Mr. Noyes demanded oral sex. When the woman refused, the lawsuit claims, Mr. Noyes first cut the woman's hours and then eventually he fired her. "She refused and he fired her. Its pretty offensive" – lawyer Gary Kurtz. – Wilmington Morning Star.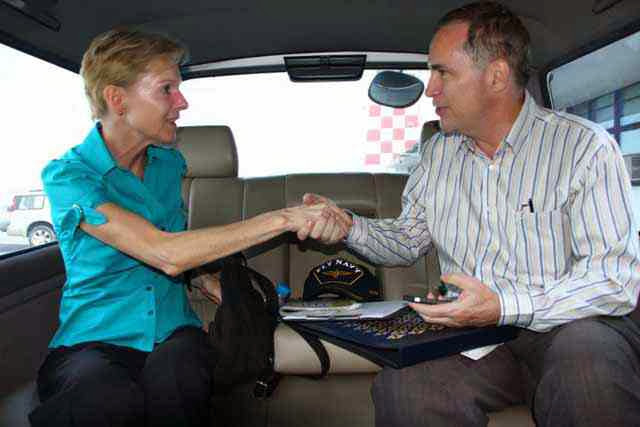 In the back seat – Drew Noyes with Ambassador Kristie A Kenney
"I am taking this action in the hope that the courts will stop giving him bail to rip off new foreigners, by bombarding the net with positive stories about him – to hide the negative."
In my career I have worked for the best news organisations in the world (one later turned out not so good) and have supplied material or produced for:
The Times, Observer, Daily Mail, Evening Standard,
Channel 4 Dispatches, Granada- World in Action, ITV Granada, BBC Everyman, BBC World, BBC Panorama,
News of the World (pre-industrial action in 1986 when I left) Monitor World TV, ABC 'Four Corners' ,
Fox – The Reporters, San Francisco Chronicle, Toronto Globe & Mail, Canadian Broadcasting Corporation CBC, the Crime & Investigation Channel (current)
Mail on Sunday, Trinity -Mirror Group, Express Group newspapers, News Ltd Australia, New Zealand Herald, and a mix of these organisations have sent me round the world several times for which I am very grateful.
(left and below Scott Gold's expose of Drew Noyes in the Wilmington Morning Star, now the Star-News. Scott Gold now works for the Los Angeles Times. Followed by the documentary which catalogues some well known scammers in Thailand – the Thai version is underneath)