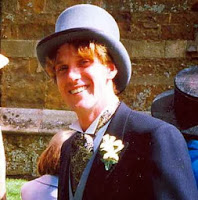 AMAZINGLY HE PLEADED GUILTY AND WAS SENTENCED TO A TERM HE HAS SO FAR NEVER HAD TO SERVE-
In a remarkable case of seemingly misplaced justice in Thailand a Thai man who stabbed a British tourist to death in a fit of jealous rage today remains free despite pleading guilty at his trial and being sentenced… over eight years ago.
Mrs Yvonne Hart, 62, has had to live with the fact that the Thai authorities have let the killer of her 35-year-old son Richard Collins roam free, even though he has already been sentenced to seven and a half years in jail.
Amazingly he had been allowed bail while the Thai courts decided whether he should actually spend 15 years in jail instead.
Mum pleaded for full sentence
Shocked at his small sentence Yvonne Hart had asked the Thai Appeal Court to re-instate the 15 years -which they did. His sentence had been halved by the original court because he pleaded guilty.
Then the killer 29-year-old Uten Duangnoi appealed to the country's Supreme Court to have the sentence reduced again.
And all the while he was been out on bail. But he had to put land down worth 500,000 Thai baht, more than£10,000, suggesting he was a lot more than a local motor-cycle taxi driver as was originally claimed.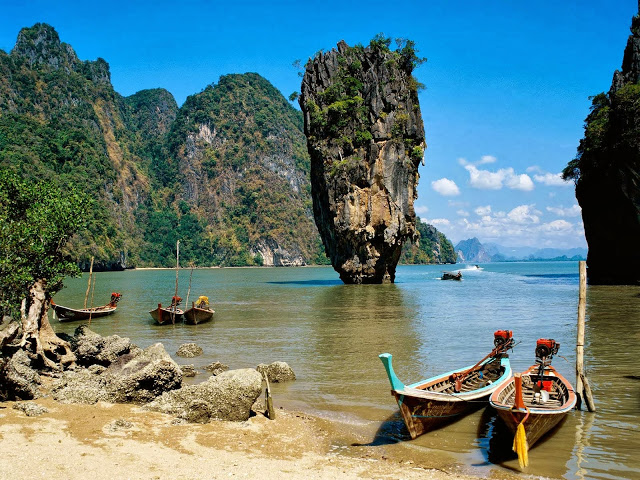 Ao Nang – Krabi
If the defendant Uten Duangnoi turns up at the court to hear the Supreme Court judgement on Tuesday next week he should finally go to jail for one of the two periods, or something in between.
Scant regard for foreign victims in low profile cases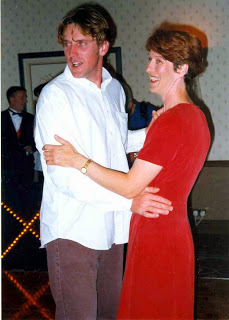 Younger days: Richard with mum Yvonne
But Mrs Hart from Belmont, Hereford, says whatever the result it shows the Thai authorities show scant regard for foreign victims of crime unless they are high profile and the Foreign Office should do more to support the families and press for action.
"Its an unfortunate fact that when young British women are attacked and murdered abroad it makes headlines in all the newspapers. When it happens to a young man its just a few paragraphs at best."
She has asked an official of the British Embassy to attend the case as a token of concern but was told it will not be possible.
March on FCO
She intends to take part in a march to the Foreign and Commonwealth Office on October 9th by family members of Britons murdered abroad who have, she says, ' felt the FCO have been wanting with the assistance they presently provide'.
Richard Collins, a rock climbing, poetry loving, young adventurer, was murdered in Krabi in March 2005. An outdoor adventure type he had worked there in previously as a dive instructor in Ao Nang in Krabi but had left to earn better money supervising the construction of the roof structures of Thailand's Suvarnabhumi International airport in Bangkok.
He was killed when he returned for a visit to Krabi with his Thai girlfriend Phanida Meedee, 24, ( nicknamed Nid) and they checked in together at the Greenery Hotel in after being picked up from the local bus station by an old diving school friend Sunitsa Sririrot. Sunitsa asked him to drive.
Jealous Rage
When Sunitsa's estranged husband however saw a foreigner driving a car he car he bought for his wife he flew into a jealous rage, demanding to see Collins and confronting him with his wedding photograph. Sunitsa had spoken fondly of Richard but there had not been any romance.
She told police: "Uten ordered me to send Richard to talk to him otherwise he would kill all three of us."
Richard Collins thought he could handle the situation and borrow a motorcycle to go and see Uten. But a fight ensued in which Collins was stabbed to death with a hunting knife. The serated knife pierced his back, side and heart.
Resentment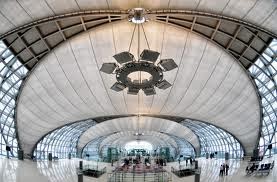 Roof at Suvarnabhumi airport
Sunitsa fiercely denied claims that she had had a relationship with Collins. Uten insisted he murdered in self defence as Richard first hit him over the head with a dive-belt weight. As Collins no longer had access to such equipment Uten's story was discredited.
But the case highlights a not often spoken about resentment Thai men have of what they perceives to be rich foreigners who date Thai women.
Said Mrs Hart: " My son was murdered because he sat in the wrong seat of a car. He had done nothing wrong and was ready to clear the air with the Thai man, but they should never have met, Sunitsa should never have put him in this position but she was under threat."
Body was neglected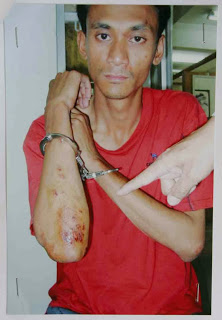 Killer Uten Duangnoi
One of the nastiest aspects of the case was that the Thai authorities in Krabi made no attempt to preserve Richard's body. It was not kept in frozen storage. Mrs Hart was not allowed one last glance at her son after on advice from a Hereford funeral parlour.
"Not being able to say goodbye properly has been horrendous. I could not even have a lock of his hair to remember him by because they cut it off when he was embalmed."
'Unfortunate occurence'
FCO officials have since expressed regret at the "unfortunate occurrence" and set up an aftercare group for similar cases,
But Mrs Hart said: "That's not good enough. They say they cannot interfere in the Thai way of doing things but surely they have a duty to check the bodies of British citizens murdered abroad and make sure everything is in order.
"We spend millions of pounds on maintaining British embassies abroad, but for what? So they can send my son home to me like that? I still cannot understand how things could have gone so badly wrong."
Richard pictured in Krabi before his murder
She added:" Everyone who knew Richard would tell you the same he would always be there to help a friend and was a kind and very generous dearly loved son to me. I am very protective of his memory."

Footnote: Anybody in Krabi bi-lingual and willing to attend the court to hear the decision and represent Yvonne please contact this site. The black case number is 972/2548. I will try to get the red case number.