Bangkok Tense As Internal Security Act is enforced
From Andrew Drummond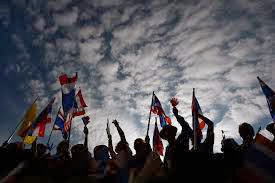 Bangkok: A sea of anti-government protestors surged through Bangkok
today occupying key government buildings and demanding an end to the
Premiership of Yingluck Shinawatra.
Anti-government protesters with a long list of grievances
stormed into the Finance Ministry, Budget Bureau and Ministry of Foreign
Affairs and nd Public Relations Department and called on the army to join them.
Late last night they were still occupying parts of the Ministry
of Foreign Affairs, and Ministry of Finance and Budget Bureau, but the majority had returned to two major sites
in the city from which they had launched their invasion.
The protesters were asked by their leader to occupy the buildings
peacefully, and give flowers to the occupants, but there were isolated incidents of
violence. Force had to be used to enter the Ministry of Finance.
A German journalist, Nick Nostitz, was set about, after
witnesses said an opposition democratic M.P. described him as a 'Red Shirt'
journalist. The red shirts were
supporters of ousted Premier Thaksin Shinawatra. Thaksin Shinawatra, former owner of
Manchester City F.C., is in exile in Dubai after fleeing the country when he
was convicted of corruption charges.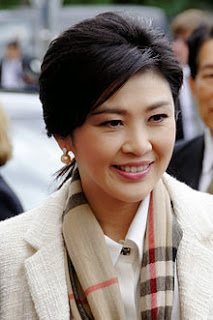 Prime Minister Yingluck Shinawatra, his younger sister last night went on air to announce that the
Internal Security Act was being put in force in Bangkok and neighbouring
provinces.
It gives the government the right to crack down on the
demonstrators using force if they do not obey police or military commands.
The capital has been simmering for days and sixteen
governments have warned 'non essential' visitors to stay
away.
Last night crowds around the city's democracy monument were said to have
numbered in the region of 40,000 – considerably less than a figure of 400,000 claimed earlier.
Central to the protests was a bill which would have provided
Amnesty to Thailand's former Prime Minister Thaksin Shinawatra. It was
railroaded through the lower house but vetoed by the upper house of senators.
But there were other issues too.
Protesters were angered by the sneaky way in
which the government tried to present a bill which would redefine who could
qualify to be a senator and allowed MPs to vote while being absent from
parliament. That was ruled as illegal by the Constitutional Court.
And protesters complained of the widespread plundering of the economy by the government, and a scheme to subsidise rice, and stockpile it to drive world prices up, which failed miserably and cost the country billions.
Thaksin won landslide victories with his Thai Rak Thai
(Thais Love Thai) Party mainly due to his populist policies which put more money
in the pockets of poorer Thais from the North East of the country, whose
support kept him in power. Most Thais believe he controls his sister from
exile.
Democratic leader, Eton educated Abhisit Vejjajiva, a school
and university friend of both Boris
Johnson and David Cameron, was keeping a comparatively low profile, leaving
things to his political fixer and deputy party leader Suthep Thuagsuban, who
led the first march on the Budget Bureau.
At the Finance Ministry he shouted: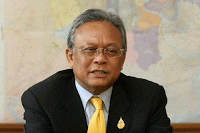 Suthep
"I invite protesters to
stay here overnight at the Finance Ministry. "I urge other protesters to do the same and seize other
government buildings and offices around the country."
"Go up to every floor, go into every room, but do not
destroy anything. Make them see this is people's power!"
Thousands of people went to blow whistles outside the
Department of Special Investigations (Thailand's FBI) which made 'whistle
blowing' illegal on public demonstrations, punishable by both fines and jail
sentences. The DSI is now being viewed
as merely a political arm of the government.
Last night the situation remained tense as protesters waited
to see how the government would enforce the ISA. In the past is has ended in
bloodbaths. Several government departments are expected to close down tomorrow
if the protesters are not removed.
Foreign & Commonwealth Office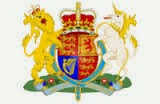 The political situation in Thailand is unpredictable and sometimes volatile. Over recent years there have been instances of civil and political unrest resulting in large demonstrations and in some cases violence.
On a number of recent occasions, the Thai Government has activated the Internal Security Act (ISA) in some parts of Bangkok in response to planned political protests including in areas frequented by tourists. The ISA provides law enforcement officials and the military additional powers to address concerns about national security. Actions include the power to impose curfews, operate checkpoints, restrict the movement of demonstrators, search for weapons and use force in the case of violence. You should avoid demonstrations and follow the instructions of local authorities, including when the ISA is in force.
Speaking today, FCO Minister Hugo Swire said:
I have been following the current situation in Thailand closely and will continue to do so. As a friend of Thailand, the UK urges all sides to adhere to their commitment to the values of democracy and rule of law in the interests of Thailand's peace and stability. I hope that all parties can resolve their differences peacefully, avoiding violence, and in line with democracy and the rule of law.
US State Department: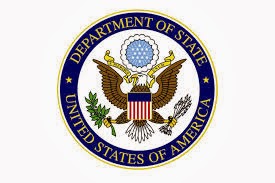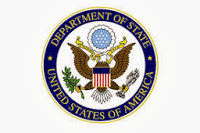 Domestic political activists in Thailand are holding large demonstrations at several sites throughout Bangkok, including at several government complexes. These demonstrations may continue throughout the week.
In consideration of these activities, the Thai government has increased the police presence around government buildings and in other locations. Demonstrators moving around the city may cause significant traffic delays; please plan travel accordingly.
Even demonstrations that are meant to be peaceful can turn confrontational and escalate into violence. You should avoid areas of demonstrations, and exercise caution if in the vicinity of any large gatherings, protests, or demonstrations. Be alert and aware of your surroundings and pay attention to local news media reports