CAUGHT IN SOMEONE ELSE'S BATTLE-
A 22-year-old British tourist was killed (today) in the cross
fire when rivals gangs clashed on the Full Moon Party Island of Koh Phangan
after the New Year countdown.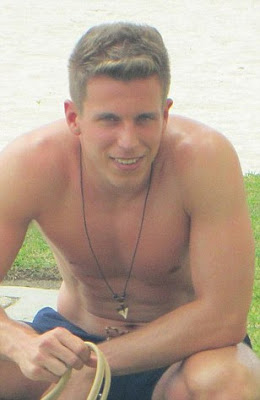 Stephen Ashton was shot in the side apparently while dance
on the sand on Haad Rin Beach on the island, just north of the tourist hotspot
of Koh Samui.
The Foreign Office Travel advisory singles out the island as
a place of concern and specifically mentions roving Thai gangs.
Nurses at Bandon Hospital which
has only elementary surgical facilities were unable to revive Stephen Ashton, from Purley.
Ashton from Redhill, Surrey, was staying at the Pink Bungalows and partying with friends outside
the beachside Zoom bar on the island, which is famous for its Full Moon Parties, when the shooting took place.
The gunman was later seized by Thai police and names as Ekkapan
Kaewkla. He is expected to be presented
in court on Wednesday after a police press conference. He has however denied
being the killer, while admitting being involved in the fight.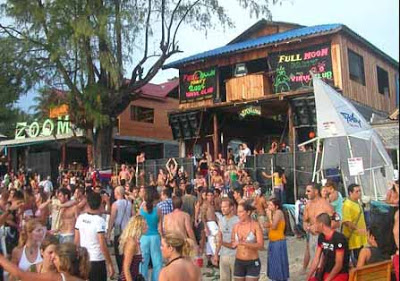 Zoom Bar
The Deputy Regional Police Commissioner Police Lt Gen
Kittisan Dejsoonthornwat,is flying to the island to oversee the case.
The shooting incident happened after a fight between two
groups of Thais at the Zoom bar.
Police Colonel Kittakarn Kramothong, the head of the island's
police station said: "Stephen was not involved in the fight. The gun used was home-made.
He was arrested in Ban Tai."
Ban Tai is a hard to reach community in the central forested
hilly area of the island
The Koh Phangan Full Moon parties are on many youngsters and
gap year students 'to do lists'.
But foreign tourists have been attacked and even raped in
the past and many Thais from Bangkok just do not visit the Samui archipelago because
of what they derscribe as ' ísland mentality'.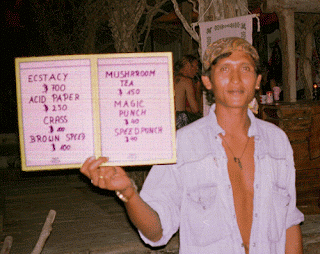 A historical photo of a drugs menu being offered on
Haad Rin Beach. Drugs are still available but not quite so
openly
Other deaths of foreigners on Koh Phangan include frequent drugs overdoses and drownings of young intoxicated people who go swimming
during the all night raves. There can be
a strong undertow at Haad Rin.
But three Thais were gunned down in a similar fight on Haad
Rin beach in 2004.
In 2007 Israeli tourist David Kakitelashvic, 31, died after
being stabbed eight times in the
Drop Inn Bar on Haad Rin Beach.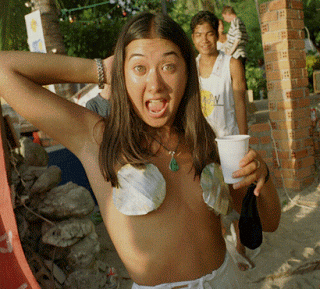 British party raver sending the wrong signals on Haad
Rin Beach
The Foreign Office Travel advisory pays special attention to
the Koh Samui archipelago a popular destination for British tourists.
"Western tourists have been victims of vicious unprovoked
attacks by gangs in Koh Phangan. These attacks are particularly common around
the time of the Full Moon parties and generally occur late at night near bars
in Haad Rin. Exercise caution when walking in this area at any time, especially
after dark.
"Violent assaults and robberies have been reported in
Chaweng, Koh Samui. Attacks have also occurred in other tourist districts in
Thailand frequented by western tourists including Chiang Mai. Care should be
taken in such areas, especially at night.
"There have been incidents of sexual offences committed
against foreign men and women, especially in the Koh Samui archipelago. Since
2009, a number of British nationals were victims of serious sexual offences"
Daily Mail
Evening Standard
One or two readers have expressed concern that this story has gone up late on this site. Yesterday I was working for a number of news organisations in London. In these circumstances I have to let them publish first or I do not get paid. If I put on the net they will simply take what they want.
PREVIOUS: PLEASE KEEP THE FLYING SPORRAN FLYING