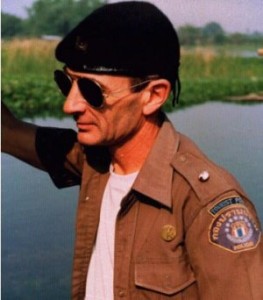 Michael Clarke
The Thai capital of Bangkok has attractions for not only honest foreign businessmen but a wide range of scammers. The scams have continued over the years. Only the bait changes.
One on end of the scale was the 'film company executive' who set up a company to make a 'Hollywood block-buster' and then selected thousands of people from around the world to go there on an all-expenses paid trip as extras.
The sting? Each 'winner' had to send a £50 cheque to cover insurance first. This was an operation operated by one man above a go-go bar, who also had a second scam.
He used to blackmail tourists by posing as a Thai Tourist Policeman and crashing hotel rooms of punters who had taken girls from local bars demanding cash from whomever he caught inside.
Michael Clarke was later jailed for 16 years in the Philippines for offering under-aged girls to sex tourists.
Then there were the 'offshore men' who offered work to hundreds of people in Guam, on condition the men each put up a $10,000 security bond.
The offshore crews were duly put up in a hotel next to the city's 'Nana Plaza' red light area. They were even given uniforms for their new company, and discount vouchers for the bars. But first they had to put up the cash. When they did, they all woke up one morning to find their new bosses had disappeared.
Both scams were exposed by Andrew Drummond. One of the victims of the second scam was Irishman Colin Martin (above left) who later did 13 years in a Thai jail for murdering the principal scammer, a New Zealander carrying an Irish passport.
Martin who lost US$150,000 in the scam wrote a book about his experience and subsequent prison term 'Welcome to Hell'.
Andrew Drummond and Andy Chant provided the illustrations.
But perhaps most successful and in quite a different league have been the 'Boiler Rooms' – so called share trading houses, which continue until this day.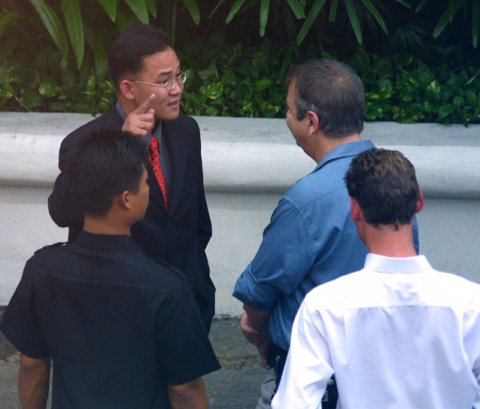 Confronting 'Foreign Currency International'
In 2001 however their activities were gathering world-wide attention. People from Australia to Europe to the United States were losing their life savings. Embassies in Bangkok were being deluged with complaints. The subject had even made a Hollywood film.
'Wanted Suckers' was an investigation for 'The Times' into Bangkok's notorious 'Boiler Rooms', where hundreds of young ex-pats were holed up in tower blocks working round the clock selling shares to gullible targets throughout the world.
Treachery in the business can mean death, and so it did for one New Zealander, Ian Travis, who decided to split from one 'boiler room' to start his own.
In this investigation a Thai boiler room 'security official' Janit Sanitchon working for Foreign Currency International, confronted Andrew Drummond near one of the tower blocks and warned him he knew his address and where to find him.
Below inset Mueller and his wife
Police Reconstruction
Ian Travis was shot six times in the head and chest by two men who lay in wait for him as he went to work.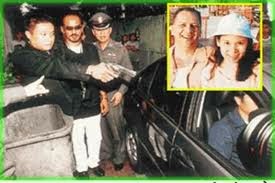 He had left Foreign Currency International, which included Global Options Trading Ltd., to set up a rival company called Platinum Asia.  F.C.I. was run by American James Mueller.  Thai pulled in Jalit Sanitchon in connection with the murder and announced that they were seeking the extradition of Mueller.
Later the investigation was dropped after a witness withdrew his initial testimony. Mueller is reported back in Thailand running businesses again and Sanitchon was last heard of managing the Star Beach condominium in Pattaya. Its unlikely the truth will ever be told.
However an angry representative of Star Beach, the committee's chairman Briton Peter Hallett, later demanded 'The Times' correct a report suggesting Jalit was behind the Travis murder.  Tenants who objected to Jalit were apparently hounded. One had to sell out.
In July 2008 Jalit disappeared. Hallett admitted that Jalit had run off with a sizeable amount of tenants funds.
Andrew Drummond carried out two separate investigations with Andy Chant.  Andy Chant's surveillance and arrest pictures here.
From The Times
August 5, 2003
Rich? Gullible? It's the boiler room calling…
By Andrew Drummond
A British army officer's son is on trial in Taiwan accused of a £520 million share-trading scam. Despite his arrest, Asia remains a haven for 'boiler rooms' – staffed by ambitious young Britons taught how to sell bogus shares to targeted victims in the West. Our correspondent reports from Bangkok.
IN A LARGE, open-plan office in the business district of Bangkok, 20 or so young men are working the phones. Some are wheedling, some persuading, others are boasting. All are selling, and all are selling the same thing ' shares in companies that have hardly traded, or may not even exist.
Welcome to the boiler room, Britain's latest export to the Far East. You will find boiler rooms ' illegal share-dealing operations ' all over South-East Asia. From these offices, which appear and disappear regularly, young 'business travellers' ' the great majority of them Britons ' are busy selling bogus shares to the wealthy and gullible in the West.
Their method is simple, but frighteningly effective: they pick out names from business and company directories, then cold-call them offering advice on how to make millions by buying shares in the companies they recommend. A great number of the recommended companies don't exist. Some do, but aren't trading. But by the time the victims have learnt the truth, they will have lost thousands, sometimes millions, of pounds, and the advisers who milked them will have disappeared.
And there is little the authorities can ' or will ' do about them.
In one of the few cases to reach the courts, the son of a former British Army officer has just gone on trial in Taiwan accused of fraudulently building up a £520 million fortune in the boiler rooms of South-East Asia.
Sheridan Cox, who the authorities claim set up operations in Thailand, Taiwan, Indonesia and the Philippines, allegedly told colleagues that it was his ambition to become the world's first boiler-room billionaire.
He has already been convicted in his absence in a Belgian court of a £30 million fraud and is also charged with the attempted murder of a colleague whom he blamed for police raids on his broking rooms in Phuket, Jakarta and Taipei. He denies all charges.
In a separate case, last week 14 Britons were among 20 people deported from Cambodia by the Ministry of the Interior. Cambodian Government officials accused them of operating a share-trading racket, but their lawyers say they are guilty only of making international calls illegally.
Cox's arrest and the Cambodian deportations will have little effect on the boiler-room industry. A number of companies have already been closed down and their employees deported from Bangkok, only to be replaced by slicker and even bigger operations.
New recruits, mostly in their 20s, have answered advertisements in regional giveaway newspapers in Britain, Australia and America, offering the chance to make a fortune in the sun.
Cox, who has been described as one of the top fraudsters in the world today, apparently depended not on newspaper advertisements but a recruiting agency to find educated, personable young Britons to act as his brokers.
Bangkok is the boiler-room capital of the world (the term reflects the high pressure put on salesmen and their clients, and was first used in the cult movie of the same name starring Ben Affleck, which dealt with illegal share-trading firms in the US).
Of 54 boiler rooms recently named in a watch list by the Australian Securities Exchange Commission, 24 are in the Thai capital. Although the scam is simple, most boiler-room operations are run as efficiently as genuine share-trading companies. They rent office space in the business district, often complete with brass nameplate on the door, and each employee is given a specific role to ensure that the victims are, first, reeled in and then kept on the hook.
Brokers are divided into qualifiers ' who draw up a list of potential investors by questioning them on the phone; openers ' who get the customer interested; and closers ' who make the final deal. The less experienced recruits are the qualifiers, working from scripts; the openers and closers are more experienced, with the gift of the gab necessary to persuade clients that they are authentic traders.
A typical script used in Bangkok from a boiler room called Foreign Trading International, which was raided 18 months ago, ran as follows: 'We have seen an incredible opportunity of returns on the euro. For instance, did you know that a US$10,000 investment in the euro placed in the market in December returned over US$30,000 in January! Yes. That's the type of return you'd like to see, isn't it?'
James O'Connor, 37, a mechanical engineer from Bolton, was recruited to Foreign Trading International and sent to Bangkok after being interviewed by a fellow Briton at the Piccadilly Hotel in Manchester. He had answered an advertisement in the North West Trader, a Manchester-based freesheet. O'Connor says: 'In Bangkok we were put up in a hotel and told that the Prime Minister, the chief of police and a member of the Thai Royal Family were in the company.
Our group was divided into who was selling currency and who was selling commodities. We had a script to follow making amazing offers on, in our case, a petroleum company. We would start work at 5am calling people in Australia. The evening shift would call people in the UK. We couldn't leave the office at all during the day until close of business; the doors were locked electronically.
'We were told to tell customers that with a minimum investment of $3,000 they could make $18,000 in a month. The guy who recruited me was shouting to the salesmen at the top of his voice, 'Get 'em (the punters) to the f***ing bank!' It was all rubbish, we knew it was. I knew it was a sham by the nature of the people I had to work with. None of them was a commodity dealer. Also, I was told to say stocks increased without any evidence. They said, 'Tell them that and they will buy more'.
'We had to phone the customers the next day to tell them how much their shares had gained and persuade them to send more cash. On the second day I was there a guy called Mark closed a deal and was immediately given a wad of dollars and the prize of a champagne dinner for two and a massage and Jacuzzi with two prostitutes.'
O'Connor finally left with Geoffrey Higson, from Nelson, Lancashire. The two got out just in time. Foreign Trading International was closed down after their boss, a New Zealander called Ian Travis who described himself as an ex-mercenary, was shot dead as he was climbing into his BMW to go to work.
Global Option Trading – Platinum Asia
Travis had seen the easy pickings made from boiler-room operations and had apparently decided to go it alone, taking half the staff with him.
Meanwhile, in July 2001, Thai police, Australian federal police and an FBI legal adviser raided the offices of Benson Dupont Capital Management and the Brinton Group in Silom Road in the business district of Bangkok. The companies were accused of defrauding Australian citizens out of A$200 million under a range of different names and with different products.
In their offices police found scripts that the salesmen followed. These showed that the callers were expected to call from Tokyo to give their deals more business credibility. Tokyo fact sheets were also found, indicating that callers would chat to clients about the city as if they really lived there.
Several executives were charged with running a securities business without a licence, but directors insisted that their products were genuine. One of the companies' products was golf.com, in which the golfer Gary Player was a minority shareholder.
Player licensed the right to use his name and likeness in connection with the company's equipment. He cancelled the agreement after royalty fees were not paid and he became unhappy about the companies and their business, but they continued to use his name.
The companies' chief executive, smooth- talking Irishman Jon Kealy, insists that all his products were genuine and the only reason shares collapsed was because of the publicity following the raid. 'A lot of people made good money in genuine deals,' he insists. 'There are bad companies out there but we are not one of them.' No members of Kealy's organisation have been convicted of fraud. But the Australian Securities Exchange Commission still has his companies listed among those to be avoided.
Sheridan Cox's alleged sting operations were more elaborate than any of the boiler-room scams previously uncovered.
According to investigators, Cox, whose victims number over 5,000, bought dormant American and Canadian shell companies quoted on little-known stock markets. Using his own money and that of a number of front companies set up by friends, he would buy and sell shares in large volumes and advertise in legitimate business magazines such as The Economist for other high net worth investors.
If his victims checked the share prices, it seemed that legitimate trading was taking place; but none of the invested money stayed in the companies. Cox's clients realised they had been the victims of a huge scam only when he stopped 'investing', the share prices plummeted and the companies collapsed.
The proliferation of boiler rooms in Asia is a result not just of low overheads but ' more importantly ' the inability of local police and investigators to deal with the problem. Cox faces a 20-year sentence if he is found guilty, but his trial is the exception rather than the rule.
Legally, this is a difficult crime to prosecute. Although the calls are being made in South-East Asia, the victims are thousands of miles away in Britain and Australia.
'In one way it's the perfect set-up,' says a British Customs official in Thailand. 'The fraud would not be difficult to prove in a court in the USA or Britain but here it is viewed as 'foreigners cheating foreigners' and often senior Thai officials have been bribed to smooth over the operations.
Moreover, once charges are brought a case like this can take 10 years to get through the legal system. The worst that can happen is that the operations are shut down and their employees are deported for breaking work permit and visa regulations.'
What is more, as Nataya Nyamanusorn of the Thai Securities and Exchange Commission points out: 'Sometimes we arrive at an address and find that it is only a post office or a device switching telephone calls.'
The authorities are resigned to the fact that they will probably never defeat the boiler-room boys. Many boiler rooms that are closed simply start up again within weeks under a different name.
And there is no shortage of greedy and gullible people in the world willing to believe that someone they have never met can make their fortune for them.
COLD CALLS, HOT TIPS
THIS is a script used by boiler-room traders cold-calling prospective victims:
'I know you're a busy person so I won't take up much of your time and I wanted to offer you some information on my company. The information you'll receive is on the great opportunities available in the options market. Specifically right now we see an incredible opportunity for returns on the euro. Did you know that a $10,000 investment in the euro placed in the market in December returned more than $30,000 in January! That's the type of the return you would like to see, isn't it? Of course, anyone would. Obviously the only way to see those types of returns is to be aware of the opportunity ahead of time. Correct?
(Wait for response. If the client says immediately 'Where are you calling from?')
'Well, our American parent company has been in business for more than 20 years and this office has been open in Bangkok for just over a year. Our trading advisers and account executives are skilled at identifying these returns. After you receive the information and you see an opportunity that you feel would show you a good return, are you liquid for $10,000 dollars to invest?'
IF YES: 'Are they liquid to you or would you have to sell something?'
IF NO: 'How close to that could you comfortably come?'
'OK, great. I will make sure one of our advisers gets you all the information you need to make an intelligent decision. By the way, what keeps you busy for a living out there? How long have you been doing that? Have you ever traded in options before?'
IF YES: 'Great, then I know you will like what you hear.'
IF NO: 'Great, then I know you will wonder why nobody has brought this to your attention in the past.'
(If the prospective client says: 'I have a broker or a financial adviser who deals with all of that for me.')
'Did your financial adviser advise you to invest $10,000 in December which returned $30,000 in January?'
(Wait for answer)
'That's the type of return you'd like to make, isn't it? Anyway, thanks for your time, we're really busy so I will try go get one of my senior trading advisers to contact you as soon as possible. Have a good day.