BUT CHIEF OF PAI POLICE WAS DISMISSED FROM THE FORCE-
-From Andrew Drummond, Bangkok, January 7 2013-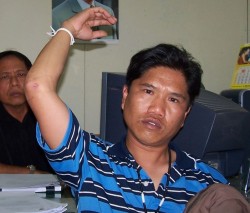 (Pic: Uthai who also clubbed to death his 18-year-old
wife)
The Thai policeman who shot dead Canadian Leo Del Pinto in the northern Thai village of Pai in January 2007 shot downwards into his body on both occasions contrary to statements put out in police cover up.


Police Sergeant Uthai Dechachiwat fired one shot which entered Del Piinto's check "running from front to back – upper to lower penetrating throw his jaw, larynx and clavicle, before lodging itself in his left armpit" said Dr Kanda Wichairat, of the Forensic Department.
The second bullet was also shot from above entering through the side of his stomach penetrating liver, kidney, and exiting.
"The first bullet crush larynx restricting the subject's ability to breathe causing his death," Dr. Kanda told a court in Chiang Mai.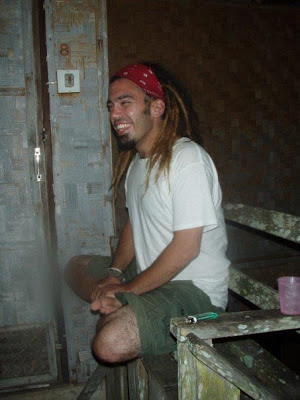 Leo del Pinto
Both shots fired in the alleged murder of Leo were shot from a distance of more than 18 inches said Police. Colonel Noppakhun Keeritkarnkul, a Forensice Officer of the Royal Thai Police, as there was absence of burn marks on clothes or gunshot wounds.
But Leo's hands had primer residue which led to the assumption that hands might be in the range of less than 18 inches from the gun when fired.
"There were bruises on right knee which also leads to the assumption that subject (Del Pinto) might have fallen on the right knee after the first shot. Also that as the defendant is much shorter than subject, subject could not have stood over the shooter at the time of the second shot.
"It was assumed that after the second shot subject would have fell onto his back at the spot where the blood spots and stain were found. He might not have died immediately but made some moves at this spot before he died."
The evidence totally contradicts statements issued by Pai Police in January 2008 when Leo Del Pinto and Canadian friend Carly Reising were both shot by Sergeant Uthai.
Police Colonel Sombat Panya the head of Pai Police was accused of persuading local bar and show owners to say the Uthai was being threatened shot in self defence and that his gun went off when he fell backwards.
But witnesses who gave evidence to the Thai National Human Rights Commission say that Leo was begging the policeman to put the gun down.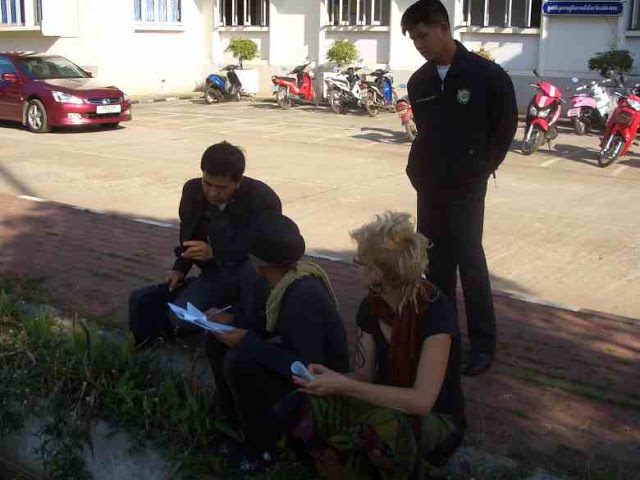 Colonel Sombat Panya approaching witnesses including Carly Reisig interfering with a National
Human Rights Commission Investigation
Uthai had arrived from a local bar and intervened in an argument between Carly and Leo both of whom had also been drinking locally. Carly had rowed with her Thai boyfriend.
Colonel Sombat was subsequently dismissed from the force after an investigation by the Thai Ntional Human Rights Commission unearthed the cover-up.
Uthai Dechachiwat was arrested after a DSI investigation and charged with murder but he was given bail. While out on bail he took an 18-year-old wife whom he clubbed to death two weeks after they were married. In January last year he was sentenced to 25 years for her murder.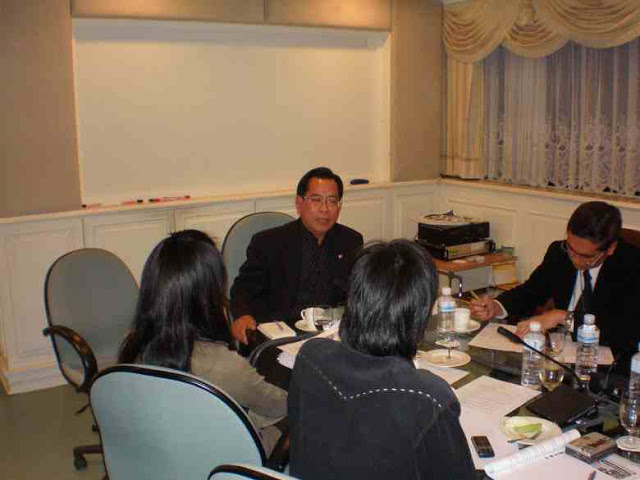 Protected witnesses give evidence to Thai National Human Rights Commissioner Surasee Kosolnavin.
Later Uthai was reported to have tracked them down and threatened them.
There are 3 witnesses prosecution witnesses left in the Leo Del Pinto and the court sits again in Chiang Mai on March 11 2013.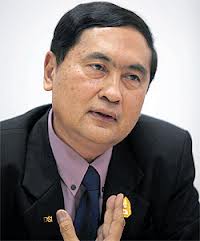 Piyawat Kingkate
However two of the witnesses are Police Colonel Sitthirat Phuttisaengchan, the leader of the Pai Police Investigation Team and Police Colonel Sombat Panya, himself.
As Police Colonel Sitthirat had recently retired and attempts to locate him had failed and that Police Colonel Sombat Panya had been dismissed from the Royal Thai Police both witnesses would most likely be waived.
The investigation had been taken out of the hands of the Pai Police in any case and given to the Department of Special Investigations
Colonel. Piyawat Kingkate from the Department of Special Investigation would however testify.
Then court dates for the defendant Dechachiwat and his witnesses would be set in Pai, Mae Hong Son Province at a later date.