The Flying Sporran's Full Moon Diary-
Nobody dances outside the Zoom Bar on the Thai island of Koh Phangan anymore. Well they won't until the fuss dies down. It was closed down by police order after Briton Stephen Ashton took a bullet in his side on New Year's morning.


I don't suppose the bar was to blame. But Koh Phangan has that air of 40's Casablanca about it – without the desert – and I guess some Claude Rains of a police officer had demanded 'round up the usual suspects'


But 100 yards along from the shooting outside the Cactus bar, which according to diplomats is the scene of the most carnage on this holiday island, about 100 twenty somethings raved into the night, dressed as they might do in any club in Europe – less 70 per cent because of the tropical heat.
I got here quite safely. I guess travelling is the first 'health & safety risk'. A British travel journalist working for the Washington Post lost his credit card stowed in a bus luggage compartment somewhere on the way from Surat Thani….and a thousand pounds within a couple of hours.

Dancing in the sand a few Thai girls were among a group of Westerners being squeezed acting as though they were having fun.
And in the shadows nearby groups of Thais came to watch the show. Some old ladies, quite a few young lads, some tattooed, beach gigolos – waiting for some fringe benefit perhaps?
From a line of stalls Thais offered buckets of booze to the young ravers. 'Lisa Mojito Bucket', 'Sam F@CK My Bucket', 'Jackson Cheap Bucket. I am not a C@NT' read the signs.
.
The local Thais have picked up the English vernacular and think it is cool to advertise their stalls this way. The mixtures of cocktails in these buckets, says Embassy officials, creates problems on a monthly basis.
Over in the Andaman Sea on Phi Phi Island two Canadians are recently reported to have died drinking one of these concoctions which contained such substances as mosquito repellent.
On this night I would be hard pushed to say if anybody was sober when I left, bar myself of course. As I returned to my hotel three times I was asked 'Go Boom Boom?' – once from a passing motorcyclist. I was in a holiday paradise island being hassled by a Patpong style touts?
I passed several groups of Thai men hanging around together. What were they waiting for? The flotsam I guess, the last people drifting of the beach – to sell them something, if only a taxi ride.
Foreign & Commonwealth Office statistics show an alarming rate of rapes and sexual assaults in the 'Samui Archipelago'. But Brits do seem to attract misfortune abroad.
Looking at the foreigners dancing on the beach and their audiences suggested a major culture clash. Thai-Foreign relations here are mainly restricted to one sales point or another.
Multiply the numbers by two hundred and that's what it's like at a Full Moon Party. When Stephen Ashton was killed it's believed there were 30,000 people in Haad Rin.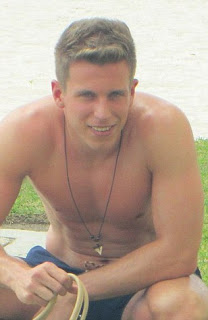 Stephen Ashton
The police then set up toll booths and charge everyone 100 baht a head. It's not a free beach. And I don't think much of the cash goes towards 'guest security'.
Koh Phangan and Koh Samui were discovered in the 70s. Both islands became quiet hippy hang outs; Koh Phangan even more so until they hit on the Full Moon Party idea.
Bangkok people I know do not as a rule come here on holidays, though some have become owners of resorts and hotels. They talk about the 'island people' with some caution, perhaps even fear.
But the island people decided the 'raves 'were a real money spinner so now Koh Phangan Full Moon, Blue Moon, Dark moon parties have been on many a young person's 'to do' list for years.
So why has the Foreign Office put out such a strong warning on the Samui Archipelago?
This is what they say:
Seven British nationals have been murdered in Thailand since January 2009.

Western tourists have been victims of vicious, unprovoked attacks by gangs in Koh Phangan. These attacks are particularly common around the time of the Full Moon parties and generally occur late at night near bars in Haad Rin on Koh Phangan. On 1 January 2013 a British national was killed in a shooting incident while at a beach party in Haad Rin. Exercise caution when in this area at any time, especially after dark.

Violent assaults and robberies have been reported in Chaweng, Koh Samui. Attacks have also occurred in other tourist districts in Thailand frequented by western tourists including Chiang Mai. Care should be taken in such areas, especially at night.

There have been incidents of sexual offences committed against foreign men and women, especially in the Koh Samui archipelago. Since 2009, a number of British nationals were victims of serious sexual offences.

There have been incidents where tourists have had their drinks drugged in both tourist areas and red light districts. Be careful about taking drinks from strangers and at clubs and parties, particularly in Koh Samui and Pattaya and, at the Full Moon party on Koh Phangan, where date rapes have been reported. Some British nationals have suffered severe psychiatric problems because of drug use, resulting in some suicides
There is actually an English language Koh Phangan news site. Its editor a 44-year-old German calling himself Becki Beckman arrived on the island and fell in love with it at first sight.
He now edits his news from Weisentheid, Germany. He does not love it anymore. He was shot three years ago after campaigning against the Full Moon Raves. A bullet entered his side and came out near his left his buttock. He has put the pictures on the internet. His site publishes what it says is the 'awful truth'.
Today he says: "I thought the same things about 3 years ago when I got shot but actually nothing is ever going to change … it just gets worse and worse."
The local governor in the wake of the publicity had just announced that he was making the Samui archipelago a 'Gun Free Zone'. That's a joke, says Beckmann, real name Ralph Flederer.
"It's a gun culture".
The attack against him was reported by 'The Nation' newspaper in Bangkok.
"Pol Colonel Jaroon Uchupharb, chief of Koh Phangan police on the island off the Surat Thani coast, said Ralf did not fully cooperate with police, without explaining why the victim was uncooperative", read the Nation report.
"The officer said he thought the attackers did not mean to kill Ralf, but possibly wanted to merely threaten him.
"I learnt that the attackers knocked on Ralf's house with a baseball bat, but were attacked first by Ralf. So the attackers fired some warning shots," he added.
"Anyway, police will take action to locate the attackers," he said.
They did not mean to kill him just threaten him. That's alright then. No action was of course taken nor did any of the foreigners expect it to be taken.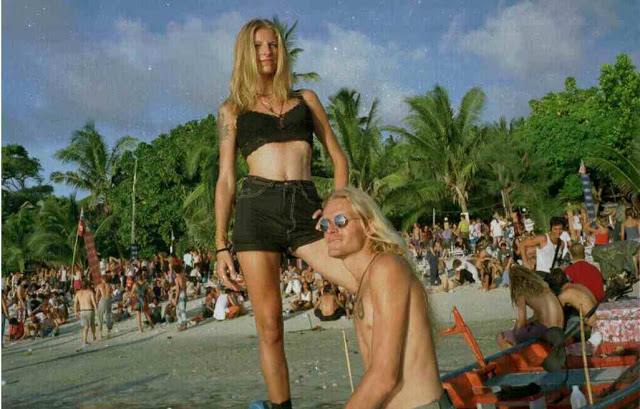 This picture was taken by Philip Blenkinsop on the morning of August 26 1994 after a Full Moon Party
Look people are still standing!They look a bit hippy-ish though
An American guest house owner said: "Becki had to go. Although he had support from some of the older Thais, by objecting to the raves he was taking the money out of the locals' pockets. If he stayed his death would have been inevitable".
Inevitable? In this dream holiday paradise?
Foreigners on this island will talk. But they will not be quoted. That's normal. They would not wish to end up like Becki. They cannot expect to fight against the island's economy. Most of them have 'local' friends, as a foreign guest to buck the system would be suicidal.
But what they do is regularly update Beckis Kho Phangan News with news reports of the latest incident.
But they have to be outraged.
Koh Phangan News
October 2012: A 23-year-old Israeli woman is beaten and raped after Full Moon Party on Haad Rin Beach.
January 2012. British backpacker killed by electric shock from faulty fridge. Grant Harrison had been relaxing by the pool when he went back to get a beer from fridge when he was electrocuted.
February 18th 2010: Koh Phangan News issued warning about motor cycle scam. The same as a jet ski scam where the renter claims the unit is damaged and the hirer can be forced to pay thousands of pounds for repair.
Other reports include the murder of David Kakitelashvic, 31, from Israel stabbed to death on the beach outside the Drop Inn Bar, and an Indian tourist being stabbed to death outside the Cactus Bar.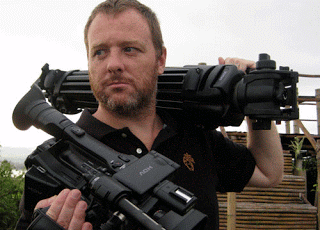 Gavin Hill
Gavin Hill, from Manchester, a former producer for Associated Press TV in Asia produced a documentary series "Big Trouble in Tourist Thailand" (Bravo/SKY).
He said:
"In researching the series I had to make trips to Koh Phangan to those Full Moon Parties. In Britain at these mass events there are things in place. There is security, ambulance people and police you can trust. In Koh Phangan people are taking their lives into their own hands and they do not think about it so much.
"Actually you can die of many other things. You can die of poisoning. You can drown while going for a swim because there can be an unadvertised undertow.
"You can be badly burned in the fire shows and many people are. You can overdose. You can be even electrocuted because there is no supervision over the lights which are put out over the water.
"Shooting is one of the rarer alternatives. But each time I was there hole-in-the-wall clinics were operating overtime.
"These young tourists are also under the impression that they can go to the police if they have a problem. Not true. This island runs by itself. It has its own way of working.
"I remember sitting watching the scene from a rock and being approached by a Frenchman covered in blood. He had been in an argument with some Thais. He went to the police. Whoever did it he was subsequently beaten even more."
The series 'Big Trouble in Tourist Thailand' also revealed how Thai police themselves profiteered from the 'Full Moon Parties'.
Each month the police are sent out to make arrests of foreigners with drugs. In Thailand the penalty for the possession of a small amount of cannabis is small usually the equivalent of £50 to £80
.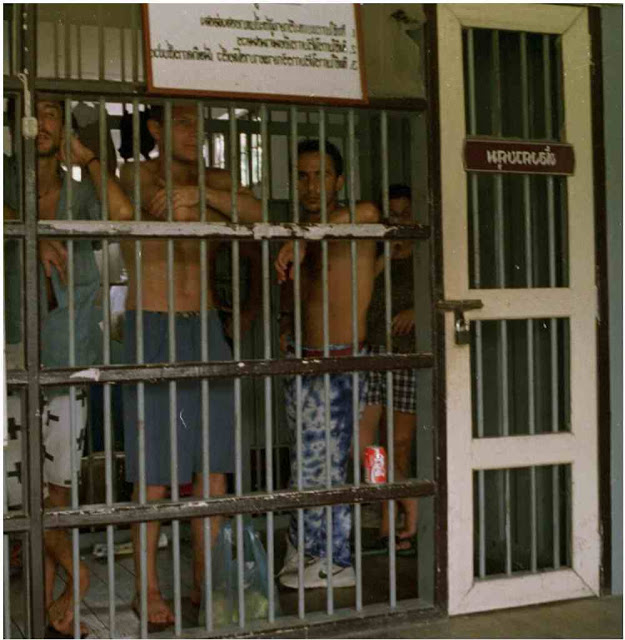 File Picture: Philip Blemkisnop – from our much earlier trip
But if foreigners are found to have it the problems multiply massively. They are taken to the local lock up in the island's capital Thongsala where the shakedown starts.
They are told that they will have to wait to go to court unless they pay a fee. That fee can often be over £1000. The court case may not take place for weeks meanwhile they have to stay in custody.
"Every month kids are phoning home for to parents to find the cash," said Gavin Hill.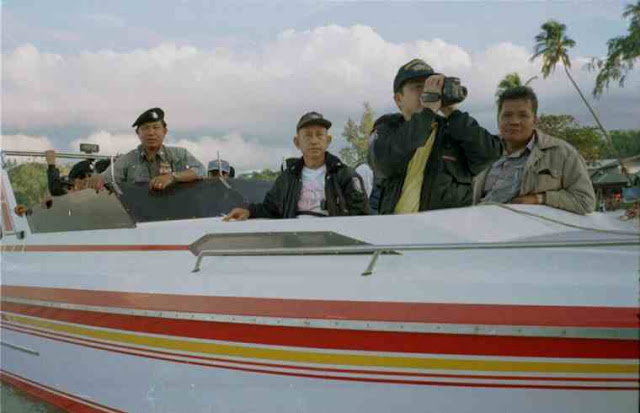 Police on boat off Haadrin Beach look out for crime…or
Police are estimated to be able to triple their pay from the Full Moon parties alone. Serious drugs dealers are rarely arrested at the parties.
In fact in earlier days, under the noses of police, drugs touts even carried their menus on boards. But those message boards were banned when the news got to Bangkok.
As a result of what has been offered in Koh Phangan many youngsters have developed mental problems. And there is a drug rehabilitation centre on the mainland to which victims are sent.
Here's a reminder of what happened to British holidaymakers in Koh Phangan last year:
May: Briton stabbed by local Thai at Full Moon Party
July: Two young British women raped
August: Briton from London of Greek Cypriot origin shot in the leg. At first he thinks he has been hit by a firework. Police disinterested.
September: Another rape reported.
October: Four injured in family of in Britons in minibus crash. Driver driving recklessly.
When people get hurt in Koh Phangan they want to get off the island quickly rather than await the local justice system.
I myself left quickly but found myself marooned in Koh Samui.
Had a great chat with a young Scots backpacker who loves Thailand and is aware of the most of the scams. Actually he was not merely a backpacker, he told me.
He had graduated from backpacker to flashpacker and now to splashpacker. Splashpacker is apparently the first class version. They still travel the same way, go to the same places, well at least some of them, but to spend more money to enjoy the finer things in life.
I prefer one level up. Travelling in boats on these islands , being ordered here and there, terrified of your bag being interfered with on a bus, and being forced to queue and queue, is no longer my preferred mode of travel.
(The night before I relaxed at the Lava Bar in Lamai with Jeni Cooke – the former member of 'Culture Club' turned nutrionist who was there Paul Cook former member of the Sex Pistols..a great evening as usual in this place..helped by a couple of Long Island Iced Tea. That's the drink I take to keep me out of trouble.
As usual it did not work)
My co-traveller and I were heading for Surat Thani because all flights off Samui were booked. He was from Aberdeen and in the oil industry, seemed pretty much aware of the scams, yet still did the Full Moon Parties. But he was pretty savvy.
The British press had a lot of negative stuff about Koh Phangan this week. People were coming out of the wood relating stories of misfortune to downright violence on the island.
Savvy or not I would be still worried if I had kids in the teens and twenties to Koh Phangan – but then again they reject elf and safety don't they? That's I guess why Vang Vieng in Laos – the world's tubing capital – was closed down.