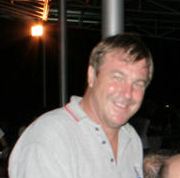 A remarkable Brit who received two major awards for 'outstanding airmanship' was killed when his micro light aircraft plunged into the Gulf of Thailand at the weekend.

Tom Grieve, 57, died in the Pattaya Memorial Hospital from chest injuries after desperate attempts to revive him failed.
A passenger in his micro light, Patrick Esser, 31, from Dorset, received a broken arm and is being treated in hospital in the resort of Pattaya.
In a bitter twist the two men were flying the ashes of a recently deceased friend, who had died of throat cancer in Pattaya last week, to be scattered over the sea when the engine of their micro light failed on Saturday afternoon. Reports suggest that the micro-light was only at about 500 ft when the engine cut.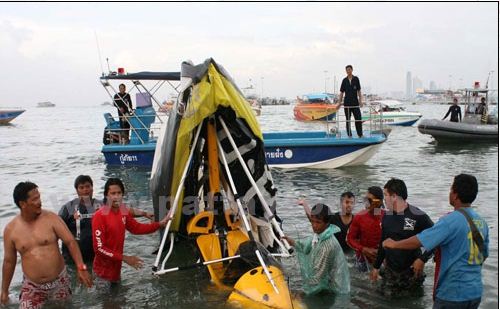 Other friends were below on speedboats waiting to witness the event is reported to have clipped a newly constructed pier before going under the water.
Today Patrick Esser recovering in the Pattaya Memorial Hospital 100 miles east of Bangkok told how they both crashed into the sea at about 70 m.p.h.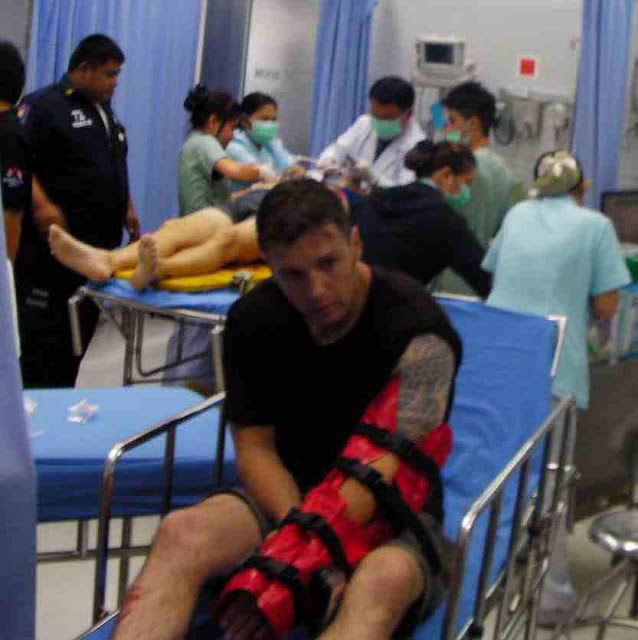 Patrick Esser in the Pattaya Memoral Hospital as behind him medical staff desperately try to revive Tom Grieve
"I was making a tribute to my best friend when suddenly
things went terribly wrong," said Patrick from Lyme Regis, Dorset.
"My friend Stuart Long had died of throat cancer aged just
41 and we were about to scatter his ashes in the sea. I had done a rehearsal flight the previous
day with Tom and everything went fine.
" We were circling on the southern end of Pattaya bay when the engine cut out. Tom tried
several times to start it but failed.
"He was gliding it down and aiming for a large piece of
concrete to land on. We must have been going about 70 miles per hour when we
clipped something. We went head over heels and crashed into the water upside
down.
"I managed to get out and started looking for Tom then I saw
him surface. He seemed okay but was in some pain. We were taken straight for
hospital and I ask him on the way if he was okay. He did not reply. But he looked okay.
"But in the hospital medical staff desperately tried to give
him resuscitation but failed. They told me he had internal injuries in his
chest."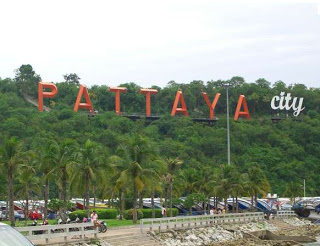 A witness to the crash was Khun Prichar, Chairman of the Thappraya Community who told the news site Pattaya One that he saw the micro light circle three times close to the Pattaya City illuminated sign on the Pratamnuk Mountain. Smoke was seen coming from the engine and the aircraft then fell into the sea.
In fact they clipped the newly constructed jetty of a new marina which, it is believed, Grieve had chosed to make an emergency landing on.
Tom Grieve was the force behind micro light flying at the Nong Prue Flying Club, Pattaya, and a man very well known in the micro light community.
He learned to fly in Morpeth, Northumberland, and went on to be a leading figure in the Connel Flying Club in Oban, Argyll.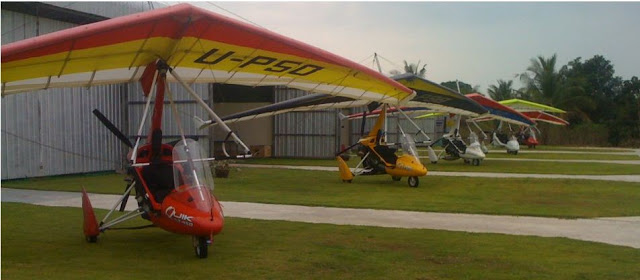 Nong Prue Flying Club
While there he flew the 'Dawn to Dusk' taking off and landing at every inhabited island in the Orkneys in one day to receive an award from the Duke of Edinburgh.
He knew the Highlands and Islands from the air like the back of his hand and made the first micro light flight across the North Sea from Sumburgh in the Shetlands to Hagesund in Norway, before flying down to Denmark.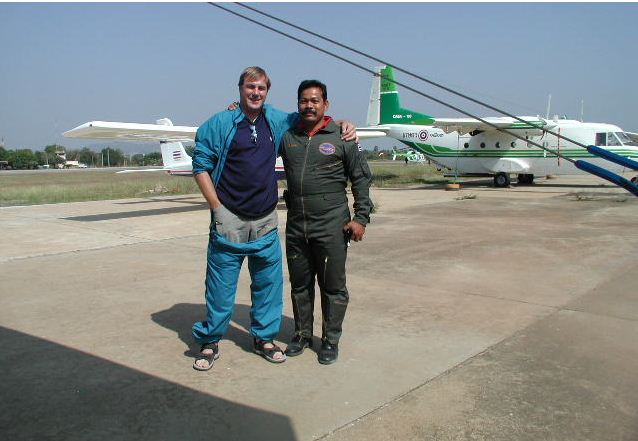 Tom in Korat
He received the Steve Hunt award in 1974 for his outstanding airmanship.
Then three years later he won the Steve Hunt Award again with two others for circumnavigating Australia anti-clockwise.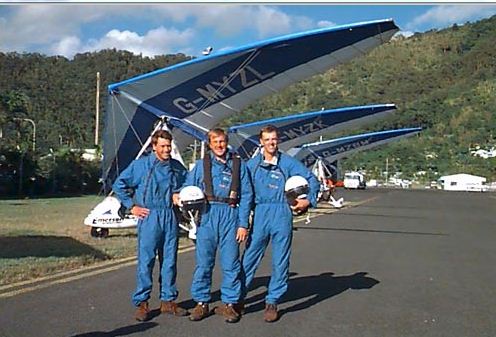 An enquiry is being held into the crash.
Pictures: Pattaya One
Fly Thailand/Nongprue Flying Club





A comment from a fellow flyer This micro light pilot believes that Tom Grieve failed to start the micro-light's engine again because the dynamo switches were set at the 'Off position'.
Daily Telegraph Daily Express The Scotsman The SUN Daily Mail Daily Record BBC
The Herald