– AMERICAN CHIEF EDITOR AND 'LIBEL EXPERT' CLAIMS HIS STAFF BETRAYED HIM-
WAS IT THE VEGETARIAN FOOD WRITER,THE BRAZILIAN SNAPPER OR REALLY THE CHIEF EDITOR AFTER ALL? SURELY NOT THE GAY ENGLISH VICAR IN THIS CLASSIC PATTAYA WHODUNNIT?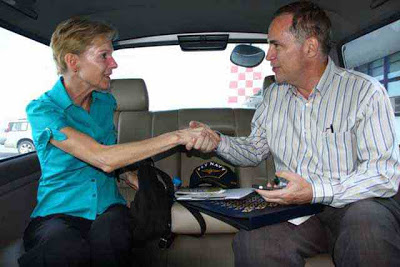 (Picture -U.S. Ambassador to Thailand with Drew Noyes)
The chief editor of an English language newspaper in Thailand and partner paper to the Bangkok Post told a court today that he believed his staff betrayed him.
It was either his food writer or photographer who posted a libelous comment on the internet accusing a seasonal Father Christmas in Pattaya of dealing in drugs.
"Anyone can use my computer at my office," said Drew Noyes, 56, former publisher but now describing himself as Chief Editor * of the Pattaya Times, a newspaper which has claimed a circulation of 500,000 – ten times that of its senior partner the Bangkok Post.
Drew Noyes denies libeling Andre Machielsen, also owner of Master Safety Home Security, and a former chairman of the Pattaya City Expats Club.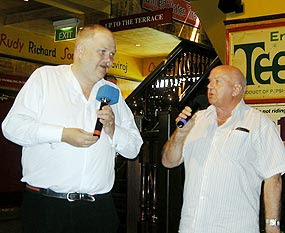 Food writer Thor Halland with his replacement Les Edmonds
Noyes, 56, named Briton Thor Halland, the vegetarian food writer of the Pattaya Times and Brazilian Ivan Schiffer, a Pattaya Times photographer/reporter as the most likely candidates.
He said his email drewnoyes@gmail.com could be used by anybody but it was certainly not him who wrote that Andre Machielsen, 65, was a drugs dealer and deported from the U.S..
The allegations were not put to Thor Halland who admitted to the Pattaya Court that he helped create the noyeswatch.blogspot.com website on which it is alleged Drew Noyes wrote the libelous comments.
(The website was allegedly started to warn foreigners and new retirees in the Thai beach resort about Drew Noyes, who not only ran a newspaper and dealt in property but also had a visa and legal business.)
Nor have they been put to Ivan Schiffer, 64, who Drew Noyes 'exposed'earlier this year as a person involved in drugs and who had overstayed his visa.
(This was a hammed up story by Drew Noyes in the Pattaya Times. Just like with Machielsen it was a minor cannabis charge, but Noyes also gave immigratuon copies of Schiffer's passport.


Schiffer was on overstay and was arrested at the Cambodian border trying to leave the country, pay the fine of 20,000 and come back. Instead he was 'asked to return to Brazil.' He can however return to Thailand.)
Mr. Noyes, who describes himself on the net as an expert on Thai libel and immigration law, told Pattaya Court that he had an MA in Journalism and Public Relations (He claims variously a BA and BSc in journalism on the internet) and in his introduction said he had helped the Governor of Chonburi and Thailand during the avian flu crisis by showing that Thailand was a safe destination around the world.

From one of Noyes' many internet self profiles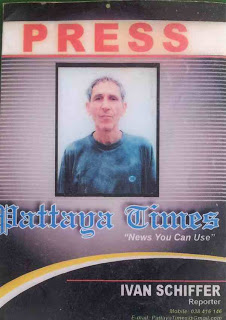 He said his message had been broadcast in 16 different countries. As well as that he had many awards, he said, and he presented the court with a file of black and white pictures of himself with various dignitaries.
He said he raised his family in Thailand and conducted three businesses. He had nine children *, he said, by four different mothers.
As for the workings at his companies he said that after he logged into his personal computer "Anyone could sit at my computer and do anything".
Was anybody able to access his computer from somewhere else other than his office?
''No".
Question: Are you not afraid? Answer: "I am now".
Mr. Noyes said all the business of his three companies was on his computer.
Earlier Aree Jivorarak Director of the Ministry of Information and Communication Technology Crime Suppression Computer Division had told the court that man who posted the libel definitely did so from drewnoyes@gmail.com and would have needed a password.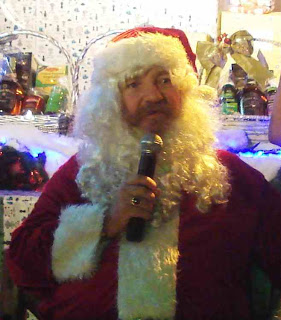 Andre Machielsen
Mr. Noyes said he was the first chairman of the Pattaya City Expats Club and had heard about a meeting of some members of the Pattaya City Expat Club, headed by Andre Machielsen, who also claimed to be Chairman of the Pattaya City Expats Club*, at which they planned to put up an internet blog writing bad things about him.
Among those he named at the meeting were Andre Machielsen, Alan Sherratt, Thor Halland, Ivan Schiffer and Keith Avery. (It was not made clear whether the Rev Sherratt, 64, was for or against the blog but with his pious 'bells and smells'background I am assuming he was an abstention or against it *)
He said Avery was a friend who told him immediately that Andre wanted him to post on the blog and write bad things.
He claimed Thor Halland willingly made a statement implicating Andre Machielsen as having created the website noyeswatch.blogspot.com com.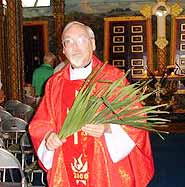 The Rev Allan Sherratt, former
secretary -Pattaya Gay Festival
But in evidence already given to the court Thor Halland had admitted creating the site but only actually wrote that Machielsen 'probably' created the blog after being summonsed to Noyes office to make a statement. (It is alleged he faced being sued himself)
Lawyer Apichart Pihusuite one of Noyes' two witnesses and who witnessed the Halland signing along with Wanrapa Boonsu however said he thought Thor just wanted to say sorry for creating the blog.
Asked if he knew if the Thai translation was accurate he replied: "I don't know".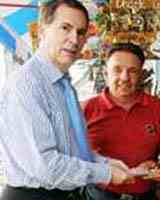 Noyes and Keith Avery
Noyes' second witness was Keith Avery, 79, American, retired, and the person who delivers the Pattaya Times twice a month to sales points.
In evidence in chief he merely confirmed that he had a signed a statement which was presented to the court. The contents of the statement were not read out (see note at end of story).
In cross–examination he admitted being a close friend of Noyes but when asked if he would show anyone his email password he replied: "No-one has my email password. No-one."
Asked whether he knew 4 years ago that Andre wanted to talk bad about Drew Noyes he replied: "Only through Noyeswatch".
Mr. Noyes a controversial American businessman claims to have worked for 14 years in service to the King of Thailand and has reported he is writing a book dealing with libel with the chief judge of Chonburi.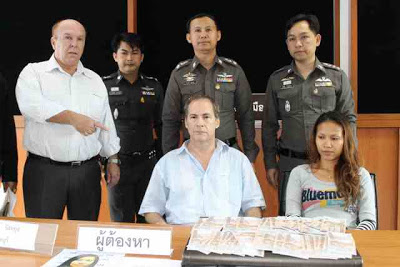 Arrest picture Michel Goulet of the Thonglor Clinic fingers Drew Noyes
and his 'wife' Wanrapa Boonsu
Before his arrival in Thailand however he was exposed in an article in the Wilmington Morning Star in North Carolina, which cited cases of share and property fraud and sexual harrassment – and he actually started off in Pattaya running beer bars.
Judgment will be passed on February 15th at which point a case in which together with his wife Wanrapa Boonsu he is charged with the attempted extortion of the Thonglor Clinic, Jomtien, will have already started according to the Pattaya Court schedule.

From the Drew Noyes 'PAPPA' site – "The buck stops with Drew Noyes" – er, unless there is somebody else around to blame.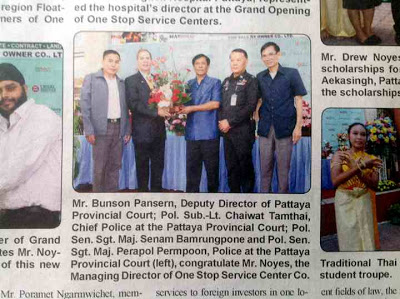 Meanwhile of course Mr.Noyes has done his best to ingratiate himself with court officials and judges.
He had the court officials congratulate him in the Pattaya Times as Managing Director of One Stop Legal Center – although in court he said he was only the managing director of PAPPA.
And of course he gate crashed Thai law day as earlier reported here and had himself photographed, rather incongruously with the judges.
Then of course he did run that legal seminar which ran on one of the earlier days the Machielsen libel case was hearing.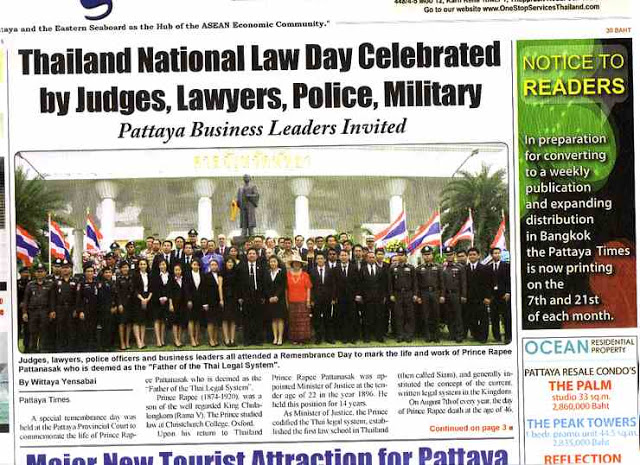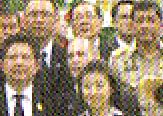 If you can't spot him in the main picture above – that's him (right) in from a section blown up right at the centre.
BELOW – THE ALLEGED LIBEL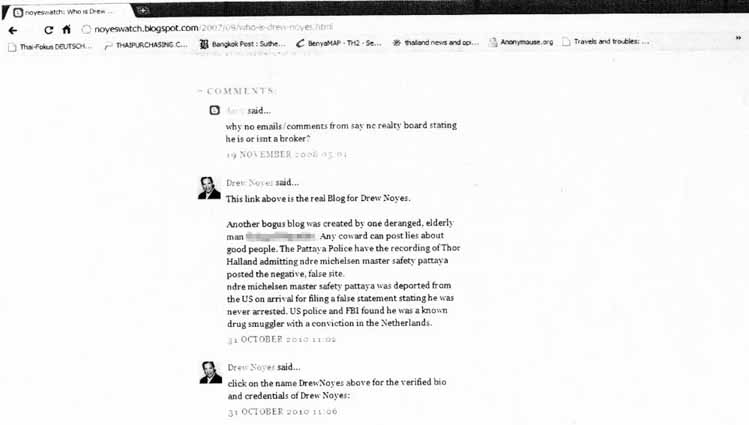 =======================================
LET US PREY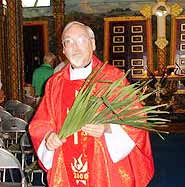 Palm Sunday?
The Reverend Allan Sherratt was the subject of an exposé in the now defunct News of the World newspaper in Britain in 1996.


Under headlines such as 'Let Us Prey', 'Revolting Rev' and 'Stairway to Heaven' the newspaper claimed he had dumped his wife and resigned from the Church of England because he could not accept women priests.
The newspaper claimed he had become 'a pimp' running the then Sky Bar in Thappraya Road. The sky bar was above a hotel where boys danced naked – hence 'Stairway to Heaven'
Rev Allan Dennis Sherratt, Bachelor of Divinity and Associate of Kings College, London, said the newspaper, was ordained by close friend Bishop Peter Ball-who was forced to resign his Gloucester diocese in 1993 for seducing a l7-year-old novice monk.
For a number of years Sherratt was a divinity lecturer at Harrow public school. And in the early 80s he became chaplain of the top public school in the Channel Islands, Guernsey's Elizabeth College.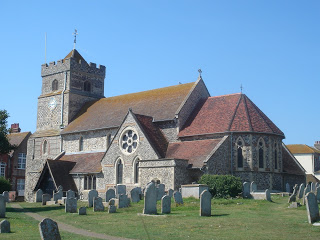 St.Leonard Parish Church, Seaford
His (ex) wife June taught at Roedean, one of Britain's top girls schools. Technically he resigned his position in the Church but at the time he said he could resume were he to be offered a parish. He was last the Vicar of Seaford, Sussex. Pattaya became his new parish. He allegedly told the reporter that he was High Church and missed the frocks and bells and smells. But in Pattaya he was able to put on his frock again and found his true calling.
The newspaper claimed the Reverend Sherratt did not have a prayer if he returned to the UK. The writer appeared to be something of a homophobe. He wrote –

`If a man lie with a man, both of them have committed an abomination-they shall surely be put to death." LEVITICUS 20:13.'
It is unnecessary to go into details of the story. It was a typical newspaper sting of the time. But the Reverend Sherratt was engaged in nothing more than what many foreigners are doing in Pattaya both gay and heterosexual, if that is a justification. I should point out that he has been regarded as a pillar of the expat community.
And there of course is no truth in the allegation that he was bar fining naked young men at 'seven pounds a pop' as this would be illegal and if it were going on Chonburi Police would have closed the place down. The Sky Bar of 1996 should not be confused with others carrying the same name today.
Footnote: The court in Pattaya allowed reporting but would not let the journalist take a verbatim note from the proceedings.
* While Drew Noyes claims to be the founder of the Pattaya City Expats Club but when the first elections were held he was not elected to office.
* Noyes did not include the children he left behind in the United States

* Chief Editor is very rare journalistic title. One can be a Chief Sub Editor. One can also be an Editor in Chief. Chief Editor might suggest that Mr. Noyes is the overall editorial boss of several publications, but he does not have several publications. It also suggests they he is in charge of his Editor – his wife Wanrapa Boonsu is listed as editor of the Pattaya Times. This obviously does not work in practice as in court she appeared as his interpreter. And while she clearly showed she was the boss, by telling him what to say (An objection was raised) even her husband had to correct her after she translated his newspaper delivery man Keith Avery describing Mr Noyes as being an honour man. 'Honourable," insisted Drew 'honourable!'
Of course Chief Editor may be a common term in the US, but I can't find any. It is a title used by television companies for the most senior film editor.
'I'm no drugs dealer' says Father Christmas
Out on bail and out of control!
Thailand's pornography trade- going..going…bong. (The first story on this site naming Drew Noyes)