BUT THIS PAGEANT SHOULD BE SHUT DOWN SAID BRITAIN'S AMY WILLERTON!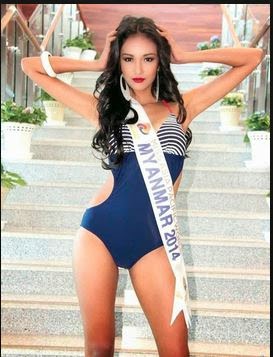 Burma (Myanmar's) first ever international beauty queen has been sacked for her 'lying' and lack of 'trustworthiness' and for trying to get a three months visa out of Burma (Myanmar).

The decision was announced by the Korean President of the Miss Asia Pacific Super Talent Organisation which hosted the event in Seoul, Korea in a bitchy announcement placed on the internet yesterday.
The organisation itself does not have a history of trustworthyness – but has been linked to allegations of bribe taking, fixing and even sexual assault of contestants.
Miss That Thet Aung who entered under the name Mae Myat Noe was elected Miss Asia Pacific World in in Seoul in June.
Although there were contestants from Europe and Australia, all six finalists were Asian.
A judges' interview section of the contest had to be abandoned as few of the judges could speak English and only two of the Asian contestants from the Philippines and India could speak it with any fluency.
The statement issued by the sponsoring organisation said she "has never been qualified enough by her attitude to be winner of such a 'big pageant'.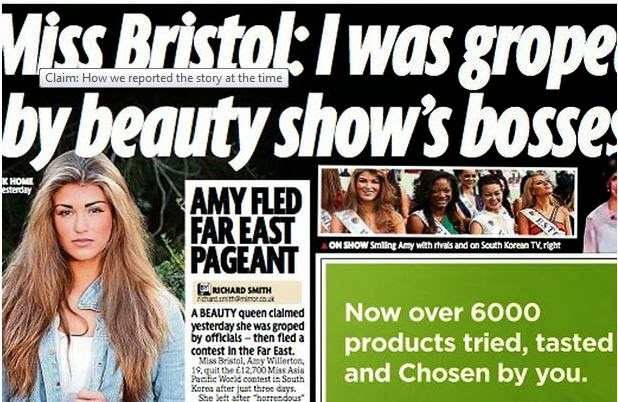 From the Mirror
This was apparently due to her "lack of personality, integrity, loyalty to the organisation, and lovely character" and she has no respect of her main organisation, National Director, manager, media, and fans.
One of the main reasons for the decision against the eighteen-year-old beauty queen is her "ungrateful attitude and trustworthiness" so the organisation will not work with her anymore, the statement said.
"Moreover we shocked with her mother's illegal attempt to get three months visa although we issued Letter of Invitation and Reference letter for her mother until August 29," it said.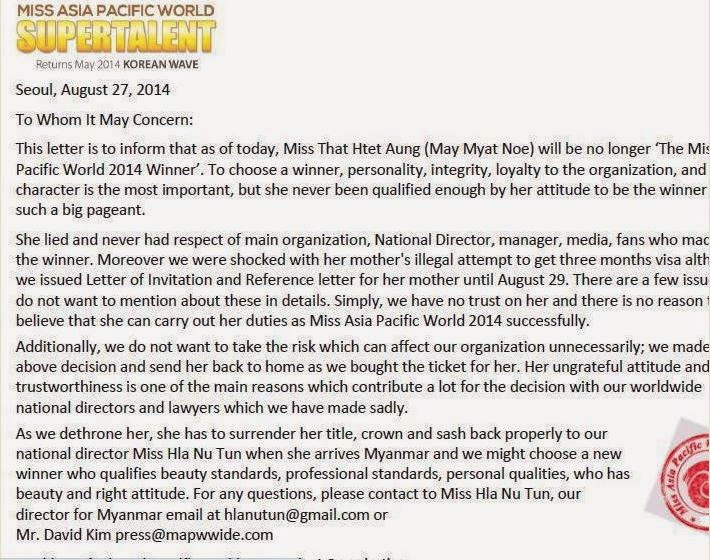 "There are a few issues we do not want to mention about these in details. Simply, we have no trust on her and there is no reason to believe that she can carry out her duties as Miss Asia Pacific World 2014 successfully.
"As we dethrone her she will have to surrender her title, crown, and sash back properly to the National Director Hla Nu Tun when she arrives in Myanmar.
"The organisation plans to choose a new winner with qualified beauty standards, professional standards, and personal qualities and right attitudes, according to the statement.
On the website missosology.info critics decried the contest and offered support to Mae Myat Noe who was not available for comment.
Hla Nu Tun, the Myanmar organiser said he could not comment: 'Please contact her first. She left for South Korea without telling us."
and finally….to put the producers of this pageant in another perspective.
In 2011, Amy Willerton caused controversy at the pageant, held in South Korea, while representing Wales. Amy who went on to become Miss Universe 2013 called for the pageant to be banned, and reported fixing, bribery and even sexual assault.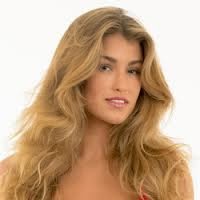 Amy
Along with a number of other representatives, Willerton claimed the pageant had been fixed after the girl representing Venezuela was apparently placed runner-up of the talent round before she had competed.
Led by Willerton, a number of contestants demanded answers from organisers and later made claims that some contestants had been offered automatic top-ranking placements in exchange for sex, by organisers.
The events were filmed by Willerton and other contestants (which were later uploaded to YouTube under the title "Confessions of a Beauty Queen" and spread throughout the pageant industry). Subsequently, she and the representatives from Aletha Shepherd of Guyana and Costa Rica] and Pamela Peralta … fled their hotel to the airport, claiming the pageant organisers had tried to keep them there against their will and had followed them to the airport to stop them escaping.
The Korean National Police Agency and organizers denied all accusations. (wikipedia)
In the film above the pageant bosses are accused of being mafia who fixed the results. 'Girls for your own safety stay away!' is the message
……..ah just like Mecca!