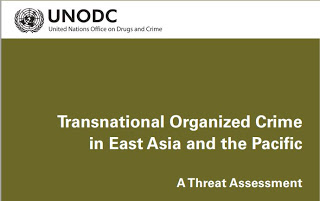 Organised criminal activities in East Asia and the Pacific could not only destabalise vulnerable societies but also create world health and environmental problems, according to a United Nations report out today.
A variety of mafia organisations, often working with authorities, are grossing an estimated US$90 billion a year equal to twice the GDP of Burma, concludes the report by the United Nations Office on Drugs & Crime.
The report 'Transnational Organized Crime in East Asia and the Pacific: A Threat Assessment' is billed as the first ever comprehensive survey on transnational organised crime threats in the Asia and the Pacific'.
It details criminal flows and provides estimates of annual revenues generated for criminal groups by activities related to human trafficking and migrant smuggling, illicit drugs (heroin and methamphetamine), environmental crime (wildlife, wood products, e-waste and ozone-depleting substances), and counterfeit consumer goods and fake medicines.
From its office in Bangkok the UNODC report, while using diplomatic language estimated that 500,000 illegal migrants were smuggled into Thailand annually – the vast majority from Burma – generating the traffickers US$192 million, while employers/exploiters gained the equivalent of US$33 million.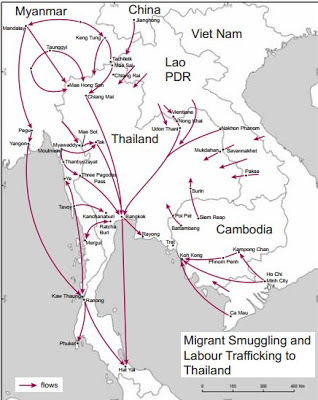 The heroin trade, which has had a revival with some 3.3 users in East Asia and the Pacific, generated US$16.3 billion.
And the Yabba methamphetamine and crystal meth trade generated US$15 billion.
Thailand was also named as a prominent country involved in the smuggling of illegal wild-life bringing in about US$17 billion in the region.
As far as the trafficking in women and young girls to Thailand from nearby countries, that, it is estimated, has brought in the country some US$181 million.
And after China and together with Indonesia, Vietnam and the Philippines Thailand was one of the biggest dumping grounds for toxic electrical waste.
Malaysia and Indonesia not surprisingly got UNODC's top billing for organised crime in illegal logging. But this was not done secretly, rather with big companies being openly allowed to flout the laws.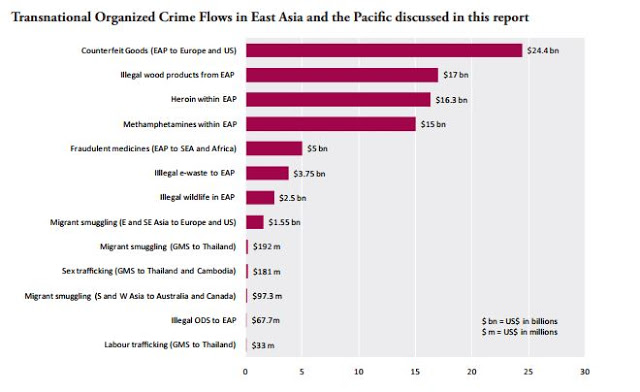 Counterfeit goods (US$24.4 billion) were another problem area, particularly in the field of pharmaceuticals. Most of these fake products of course came from China where making them is a national hobby. This from the report is of some concern.
"Between one-third to 90% of anti-malarial drugs tested in Southeast Asia are fraudulent: They do not contain what they say they do. Sub-standard drugs have two serious public health consequences: One: people get sicker or die; Two: drug-resistant strains can develop – as we now see with anti-malarial – and cause a global health threat," said Mr. Jeremy Douglas, UNODC Regional Representative, Southeast Asia and the Pacific.
"These transnational criminal activities are a global concern now. Illicit profits from crimes in East Asia and the Pacific can destabilize societies around the globe. Dollars from illicit activities in East Asia can buy property and companies and corrupt anywhere. We need to talk about this, and organize a coordinated response now. It takes a network to defeat a network."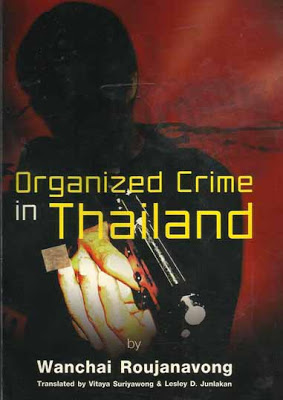 Recommendations? Well in the main UNODC recommends that the countries concerned apply their own laws more rigorously. It needs a law enforcement network of course but a credible one is some way off.


The statistics on Burmese migrant workers, particularly when it comes to how much they have to pay the authorities, look similar to statistics produced by Andy Hall the human rights and migrant workers campaigning Briton who is being sued by Natural Fruits in Chonburi.
The UNODC report also details activities in Thailand's fisheries industry under the umbrella of organised crime, which is as it should be.


What it of course does not reveal is the extent of organised crime in Thailand and how its roots are everywhere. In fact if you read Wanchai Roujanwong's book 'Organised Crime in Thailand' (Ruamthai Press Co Co.Ltd) you might even get the impression that many people posing in pictures giving money to charity are in fact local mafia dons.


Wanchai is recognised by UNODC as an expert in organised crime in Thailand.