GUNMEN SPRAY RESORT WITH BULLETS – JUST ANOTHER DAY IN PARADISE.


While a family back home still does not have the body of Luke Miller – found drowned at the Sunset pool bar on Koh Tao earlier this month – independent but non-identifiable reports to this site again say that it has 'extensive injuries'.


And they are not, insist the sources, in any shape or form wounds inflicted by barbed wire as police on the island suggested.
Full Moon Party – Haadrin at 8am (Picture Phillip Blenkinsop) Many moons ago.
Despite anger on Facebook by Luke's elder sister Maria, and Nichola Gissing, a travelling companion, Thai Police say they have closed the investigation after insisting on handling the post mortem themselves. They said that there are no clues signaling murder.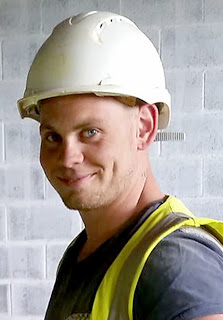 Luke Miller
At the Bangkok Police hospital a spokesman says it can hang onto the body for fourteen days but did not say whether the body had been released or not. In Britain over £11,000 has been raised to 'Bring Luke Home' and give him a sendoff.
But almost certainly a post mortem will be conducted and inquest held first.
Attempts had been made by Luke's travelling companions to have the body sent to Thailand's Central Institute of Forensic Science headed by Dr. Porntip Rojanasunan, who gave evidence against the police in the trial of Wai Phyo and Zaw Lin for the murders of Britons Hannah Witheridge and David Miller, from Norfolk and Jersey respectively.. This was to ensure if indeed there are discrepancies there will be Thai witnesses to testify if needed.
But Luke's mother had been anxious that her son's body be returned forthwith and that his friend's James and Nichola Gissing get out of the country. This they have done while being highly critical on Facebook of the British Embassy's role.
Meanwhile in just one incident on the neighbouring island of Koh Phangan in the Samui archipelago the Thai authorities have confirmed two essential facts which police have been at pains to deny for the last year.
Those are claims that (1) the islands are run by 'mafia' and secondly that the Thai authorities go chasing after foreigners when something bad happens which might affect their tourist industry.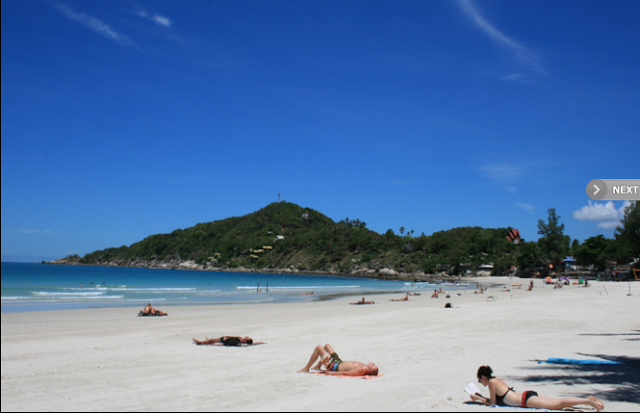 View from Palita Lodge to Chang Phuak on the hill
A local mayor, his manager and two assistants have been arrested in connection with the shooting up of a resort called the Palita Lodge which is being reported as next to the Mayor's Simiram bar which is now apparently managed by Russians – or at least they have been sold a lease.
The Mayor Chanin Phetsri, 54, was arrested at his home on the mainland where he runs Tha Khanom municipality in Khiri Ratthanikhom and has been charged with hiring two men to spray the Palita Lodge with gunfire. Police took away three handguns from his house.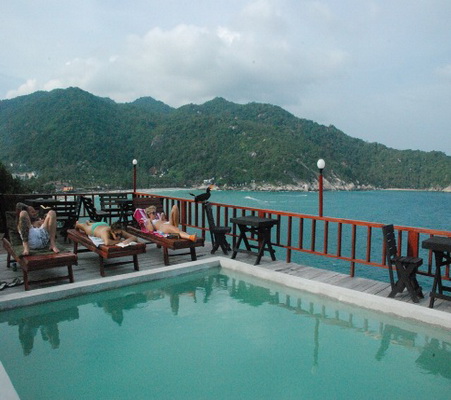 Chang Phuak looking across to Palita Lodge
.
His manager at the Chang Phuak on Haadrin Beach jarong Hongthong was charged with delegating the job to two employees, Sihanart Chaipinit, 62, and Jirat Khuadkaew, 38. Sound like a Thai dispute.
But this is how the Bangkok Post ran the story.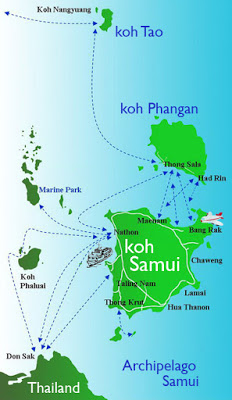 "SURAT THANI — Provincial authorities will look into foreigners running tourism businesses on three islands in this southern province following a shooting incident on the full-moon party island of Koh Phangan.
A local mayor is facing an attempted murder charge in connection with the incident that was triggered by neighbours' complaints about the Russian-managed bar that he owns."
Wongsiri Promchana, the Surat Thani governor, said on Saturday that officials would inspect businesses on Koh Samui, Koh Phangan and Koh Tao. The crackdown follows a shooting at Palita Lodge at Hat Rin beach on Koh Phangan early on Jan 12."
Thai media reports suggested that the Russians had newly leased the Simiram bar and had then applied to the owner of the Palika if they minded if they held more parties.
Why we do not know? But the Palita Lodge owner Pairot Charoenwan is reported to have replied: 'I am not in charge of this, why don't you go ask the authorities?'
It seems it was down to him because he duly went off to organize a meeting of the authorities, the local mafia or big noises on the island council at which it was unanimously decided that the Russians' bar could not hold any extra parties.
Pairot told the Thai media that he had many complaints from guests unable to sleep after the recently opened bar began holding loud parties in the open past permitted hours.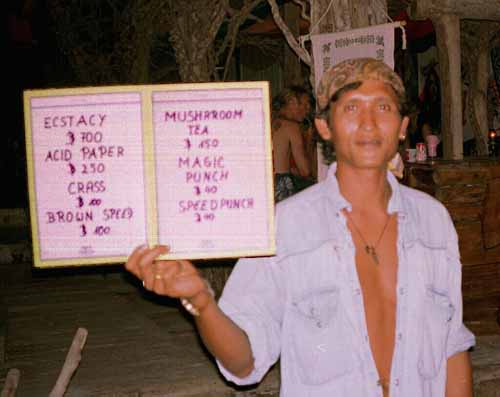 Dated picture at a Full Moon Party on assignment with Philip Blenkinsop. Pic: Blenkinsop
"They were partying until 8am on Jan. 7," he said. "So my wife sent a message to police via Line messenger, asking them to intervene."
Meanwhile police are quoted as saying something along the lines of 'tut! tut!' we can't have the sleep of tourists disturbed.
And then came this quote from a Police Colonel Prachum: "This is a tourism destination. It's unacceptable for this mafia action."
Mafia action. Who is the mafia here?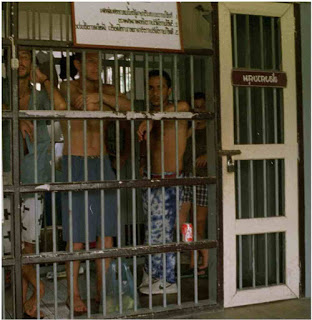 Lock up and pay up. Local police had millions of
extra income every month
This is of course the point at which this story goes into wild fantasy. A party is not a party on Haadrin Beach until it goes on long after dawn and there are revelers collapsed on the sand down to the water line after watching the dawn. Permitted hours means foreign businessmen's permitted hours I am guessing.
Reports say that the Simarim bar is next to the Palita Resort. I guess it must be because guests at the Palita might have trouble hearing any noise from the Chang Phuak. It's up a hill on the other side of the bay.
Half way in between is the spot I went to a couple of years back when Phillip Ashton was killed in the crossfire between warring parties on Koh Phangan.
What gives? Looks like the Russians have been sold a pup. And yea. Despite internationals by the Regional Police chief who says if there were mafia he would catch them, there are indeed mafia throughout the Samui Archipelago.
What to do for five minutes: Check out the TripAdvisor reports for the Chang Phuak Resort – They are very similar to reports on the AC/DC bar owned by the local mafia on Sairee Beach, Koh Tao, where Hannah Witheridge and David Miller are said to have had an argument a few hours before their bodies were found on the beach.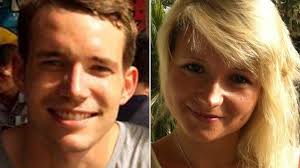 Hannah Witheridge and David Miller
DECLARATION OF INTEREST: As the reader might guess I'm not a great fan of the Samui Archipelago. I was first there 27 years ago when Brits being found dead there today were not even born. Nor would they realise that at this time 27 years ago and even more recent fisherman from these islands became pirates* freely raping and murdering Vietnamese boat people.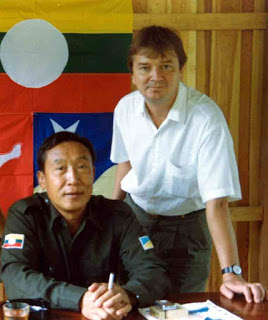 With Khun Sa. (I have changed a bit)
After filming in Burma in 1989 for 'Lord of the Golden Triangle' on heroin warlord Khun Sa (Chan Shi Fu) camera director Jon Woods and soundman Les Honess went down to Samui for a four day break while I fixed up interviews on the Thai side with the DEA, ONCB, and anti-drugs militia in Fang, Chiang Mai. When I caught up with them in Samui they had hired one of those ridiculous big wheeled jeeps. The brakes failed and with Jon at the wheel it rolled on the road between Chawaeng and Lamai almost sending us over the cliff. We were then subject to the customary extortion by the owner aided by police who had seized our passports. We all had to get out our credits cards and bank cards to get off the island. No choice – we had to continue filming. Not to have done would have cost more. Actually because of the nature of the film, illegally crossing borders, and filming with dodgy people, we had to pay a massive insurance premium – and the insurance company paid the cash back. Jon suffered a neck injury though and ended up directing 'Coronation Street' and Les and I remain friends and have met up several times since.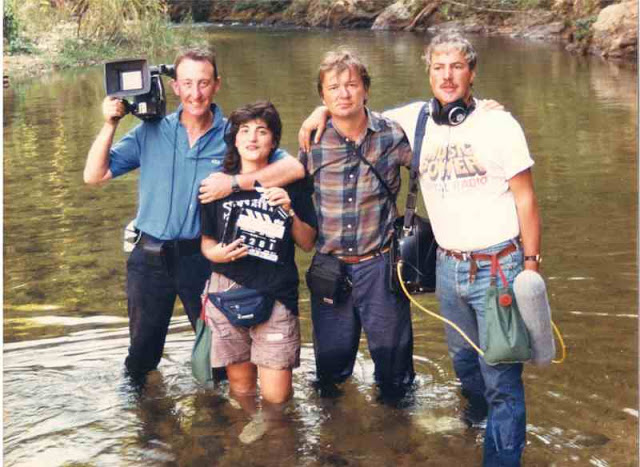 Jon Woods, Kimi Zabhiyan, self, Les Honess in the Shan States
*Some 800,000 people fled Vietnam between 1975 and 1995. No statistics were gathered until 1981 by the United Nations but in the first year they were it was recorded that.452 boats carrying Vietnamese boat people arrived in Thailand carrying 15,479 refugees. 349 of the boats had been attacked by pirates an average of three times each. "578 women had been raped; 228 women had been abducted; and 881 people were dead or missing." An international anti-piracy campaign began in June 1982 and reduced the number of pirate attacks although they continued to be frequent and often deadly until 1990.
The Thai pirates in the main came from southern Thailand from Hua Hin to Songhkla including the Samui archipelago.
Its not known exactly how many Vietnamese died at see. Figures vary from 200,000 to 400,000.