PHOTOSHOP TAKES THAI LIBEL WAR TO NEW HEIGHTS AS AMERICAN FOUNDER OF PATTAYA RAG ACCUSES BRITISH JOURNALIST OF BEING 'NEO-NAZI ON THE RUN.'-
Flying Sporran's Midweek Diary-
Drew Noyes, the founder of the Pattaya Times newspaper in Thailand, who faces two charges of extortion and fraud in the local courts, has seemingly ceased hiding behind anonymity on the net in his battle to silence and discredit British investigative journalist Andrew Drummond.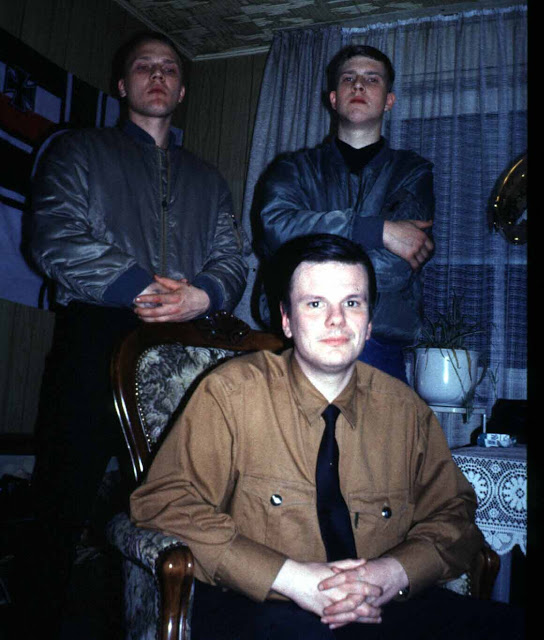 German neo-nazi leader Michael Kuhnen – Picture by Andrew Drummond while working as
Producer for 'The Reporters' Fox TV (Not Fox News)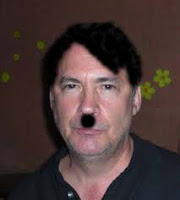 Drew Noyes as Hitler – but
we are only joking. 'Ein Volk,
Ein Pattaya, Ein Fuhrer'.
On his Facebook Page Drew Noyes described Andrew Drummond as a Nazi who had to flee to Asia as a result of being exposed as such.
A picture he publishes, supposedly of Drummond sitting down with two thugs behind him, is in fact a German neo-nazi leader whom Drummond was investigating.
Andrew Drummond was the recipient of the Maurice Ludmer Memorial Award for Investigations into Fascism and Racism after infiltrating British and European Nazi groups in the 80's.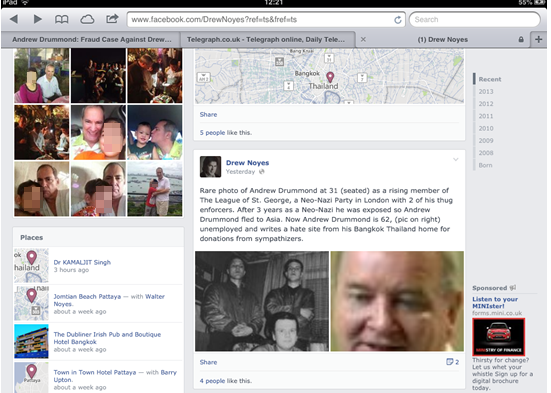 This is an unusual departure for Drew Noyes, 57, and Scotsman Brian Goudie both of whom have been exposed on this site as fake lawyers with very dubious pasts.
Both had been hiding behind the anonymity of 'blogspot' sites to attack Drummond and publish where he lived, his car registration number, and where his children went to school.
Goudie,46, from Falkirk is also currently in the Pattaya Court accused of two cases of fraud.
He was previously jailed in Australia for fraud under the name Brian Goldie and in Thailand has claimed both that he was a former Royal Marine Commando officer and a barrister with cases at the Old Bailey and High Court in London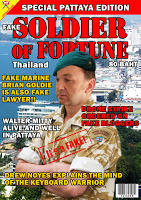 In one of the two cases each, Goudie and Noyes have been charged as a direct result of exposés on this site.
Drew Noyes was exposed by the Wilmington Morning Star in North Carolina as a man of 'myriad lies' with court judgements against him, and cases being pursued against him by 'assaulted' women.
In Santa Ana District Court in California a judgment has been made against Noyes for US$72,000 for selling bogus shares to a Mr. Tom Flanagan.
Drew Noyes has been charges in Pattaya with the attempted extortion of the Thonglor Clinic, Jomtien, out of 2.3 million baht on pain of a police raid and bad publicity in his Pattaya Times and also in the civil court for allegedly cheating Dutchman Theo van der schaaf out of 2.5 million baht.
Both Noyes and Goudie are suing Andrew Drummond for libel under both Thailand's criminal libel laws and the Computer Crime Act.
So far all cases have been dismissed. But two are scheduled for September and October. Their strategy is to deprive Andrew Drummond of funds.
Brian Goudie and Drew Noyes have also recently claimed that they have laid new charges against Andrew Drummond and the administrator of a Thai English language forum – subzerosiam.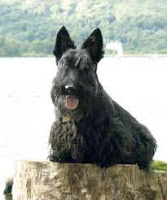 Goudie claimed he was libelled in photo-shopped pictures posted on the subzero and andrew-drummond sites.
He told the forum administrator he would only call off his dogs if all references to him, Drew Noyes, and David Hanks, a former Melbourne brothel owner were removed from his site.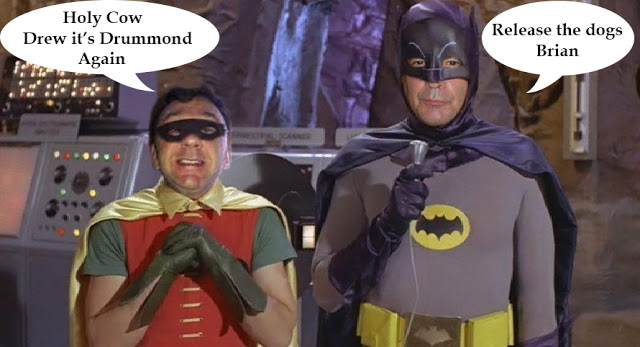 Subsequent stories have created a rash of caricatures of both Goudie and Noyes.

Andrew Drummond said: " I could sue to get Drew to come up to Bangkok to face charges, but then I would just be playing their game and wasting my time, and they have taken up too much already.
"Judging by recent stories in Thailand I am not sure many people here know what a Nazi is anyway."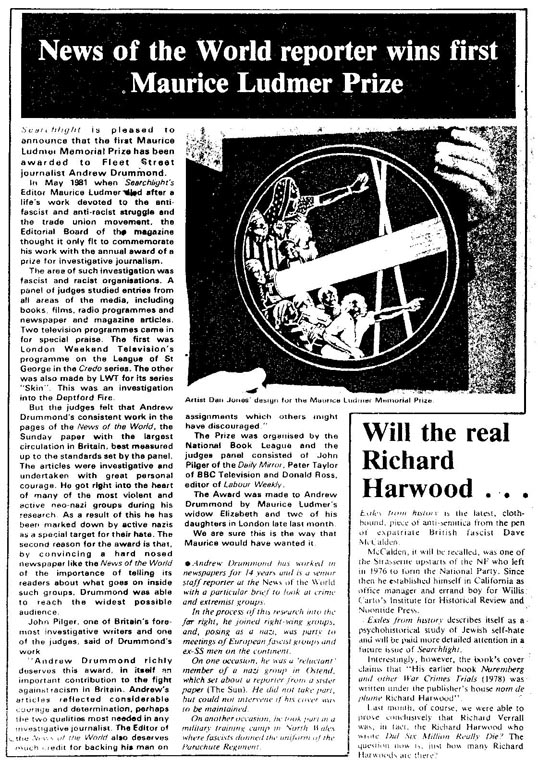 With thanks to 'Tommy'