DISCOUNT LEGAL SERVICES FOR FOREIGNERS
CUT PRICE EXTORTION?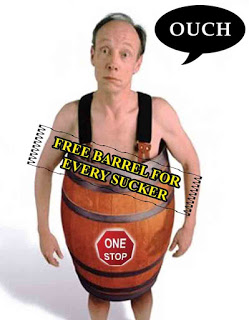 Sometimes you really have to laugh.
Just a day after warrents of arrest were ordered for fake American lawyer Drew Noyes and his Thai sidekick Wanrapa Boonsu, who were sentenced to jail for extortion, up crops Wanrapa again advertising their One-Stop Legal Services in Pattaya, Thailand at discounted rates.
Here she is with the her staff, which seems to be cut down a bit since the glory days advertising discount legal advice on Black Friday?
Black Friday? Well as far as I know there's no Black Friday in Pattaya. It's the day after American Thanksgiving and regarded in the US as the start of the Christmas shopping season, Britain is trying to copy it. So shop early at and get reduced extortion at One Stop Legal Services Center.
That's not the real company name by the way but who cares. If you think you've been cheated and tell them so you'll be threatened with prosecution under Thailands criminal libel or if you comment on net, computer crime act libel laws.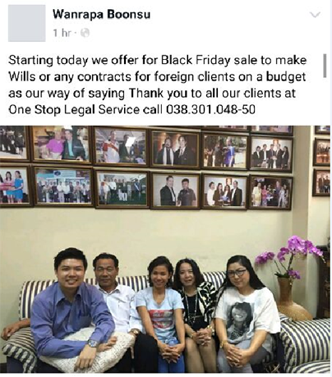 November 25th was 'Black Wednesday'' for Drew Noyes and Wanrapa Boonsu when Pattaya Provincial Court ordered their arrests for failing to turn up for their appeal against conviction and sentence to two years imprisonment for the attempted extortion of the owners of the Thonglor Clinic.
Their message to joint owner Michel Goulet was that if you want to work in our town you need to pay us 7 million baht. And if you don't you'll get raided by police where illegal products will be found and that won't look good in our newspaper the 'Pattaya Times.' *
So is Wanrapa on the run or not? Clearly not as she is proud to show. She apologized to the court and said she was too ill to attend. Never mind said the judge. Come back in a couple of months' time.
Noyes of course has fled to the United States.
If you are a foreigner in Thailand and need a lawyer. Don't use one employed by this company. After all Drew Noyes and Wanrapa did not. Most of the time they use a lawyer for Bangkok. But they do not recommend that to their clients.
Oh and in terms of wills watch that percentage clause! And in property deals their advice is simple. Don't put your property in your Thai wife's name.. that could be disastrous, Put it in the name of my wife Wanrapa.' Drew Noyes put property in his wives names, If you are going for a divorce – make sure they get your Thai wifes name right. It won't be the first time they got it wrong.
This company is not on any Embassy's list for foreigners in trouble.
*The Pattaya Times folded