BUT THAI PRESS FINGER OF ACCUSATION RETURNS TO BRIT – AS TWO ARE STOPPED FROM LEAVING THAILAND.

'Hannah was gripping blond hair before she died' – claim (but perhaps not as dramatic as it sounds)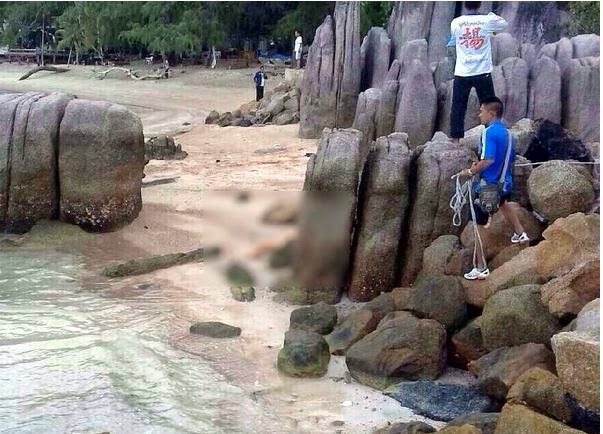 Murder victim David Miller likely struggled with his attacker in the sea off the Thai holiday island of Koh Tao before being hacked to death. He may have been protecting fellow victim Hannah Witheridge.


Hannah did have sexual relations before she died but there was no sign of rape, according a report from the Police Hospital's Institute of Forensic Medicine in a report leaked to the Thai newspaper Matichon and confirmed by the Institute's Commander Police major General Pornchai Suteerakhun.
The report states that Miller was most likely killed with a bloodstained hoe found some 50 yards away, but forensic results show an intense struggle before he died during which he probably entered the sea with his adversary or adversaries, as water had entered his lungs.
Hannah was found further up Sairee Beach on Koh Tao and there were also signs that she had put up a fight. She too, it is believed was hacked to death with the same weapon. David Miller's worst injuries were to the back and side of his head – Hannah's injuries were direct to her face.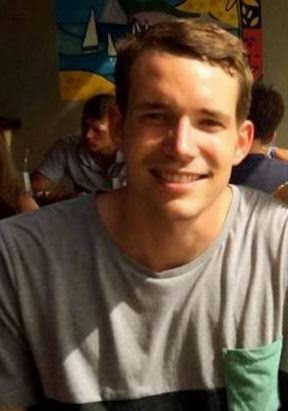 David
The newspaper reports (the Bangkok Post followed Matichon's lead) state that a pair of Christopher Ware's blood-stained pants were found in the possession (in the luggage) of David Miller, who, along with Hannah Witheridge, were killed Monday on Koh Tao.
But David Miller, Christopher Ware and James Ware all shared the same room, K8 at the Ocean View Guest House in Koh Samui. Why would a murderer put a paid of incriminating jeans in a place where they would immediatelty be found?
It becomes apparent these claims are not part of the forensic report.
The Matichon report copied by the Bangkok Post then appears to add further claims which are not in the Forensic Report.
There are now police claims that that they found blond hairs in Hannah's right hand suggesting a foreigner was involved because again Christopher Ware's 'blond' hair is mentioned (He does not have blond hair)
Christopher Ware and James Ware were stopped on Tuesday night before boarding a flight to London. They have been asked to wait in Thailand pending the results of forensic tests.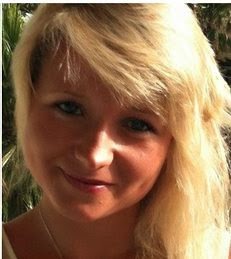 Hannah
Thai Police have asked the British Embassy for their co-operation.
Christopher Ware was interviewed by police in Koh Tao and then released. Its alleged that he had some wounds on him, but he said they were days old and from an incident on the neighbouring island of Koh Phangan.
Police were surprised he left the island so quickly but yesterday their interest in him appeared to diminish by the hour. In fact last night Colonel Somyot Poompamoung confirmed they were not being held prisoner and were merely awaiting confirmation of the forensic results.
"I believe they have rebooked their tickets already."
COMMENTS
———————————————————
It should be stressed that this is not part of the Forensic report because these hairs still have to undergo forensic examination. So the newspaper reports appear to have been marshalled info so the facts point in one direction.
If for instance Hannah had blond hair in her hand as it is suggested the logical answer would be that she reached up to touch her wounds. A report suggesting it was not her hair is not directly linked to the official forensic study.
There is also a report that they found blond hairs snagged in an i-phone, but again the source of this story is not official,maybe another red herring. The owner of the phone is not identified.
That's another myth debunked unless of course the General is as unrealiable as other police quoted in the various media which is unlikely.
There are not many journalists who have not heard the one about the mad gay foreigner who attacked the couple in a raging fit of jealousy who was caught on CCTV picking up the hoe from a building site.
It appears CCTV footage identified by police as being that of David and Hannah is now not CCTV footage of David and Hannah.
There is a press conference in Koh Tao tomorrow morning. This is presumably to announce that yesterdays' reports were a pile of manure and now there are an exciting new set of circumstances – so although General Panya Mamen, Commander of Region 8 has announced that the Burmese immigrants already interviewed, can we expect the pendulum to swing back?
UPDATE 7am September 18 2014: The Thai Bangkok Post is now quoting police as saying the blood on Mr, Ware's trousers is not blood but possibly a chemical substance. DNA tests had failed to produce a match so far. Further DNA tests showed that the DNA from semen matched the DNA from a cigarette discarded nearby. There is no further mention of a condom found nearby.
Meanwhile Thai police including the Regional Police Chief General Panya Mamen are being quoted as saying another Burmese was being held for questioning on Koh Tao,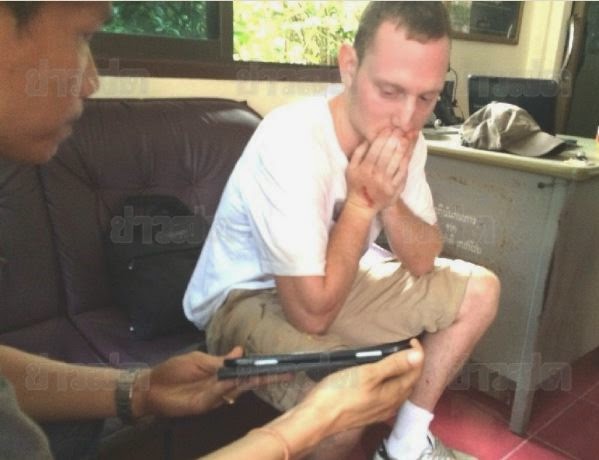 Christopher Ware interviewed in Koh Tao. He is now detained in Bangkok – seemingly framed by innuendo
Picture: Khao Sod