NOW 'CELEBRITIES' TAKE THEIR OWN SELFIES AND HIRE THEIR OWN STALKERS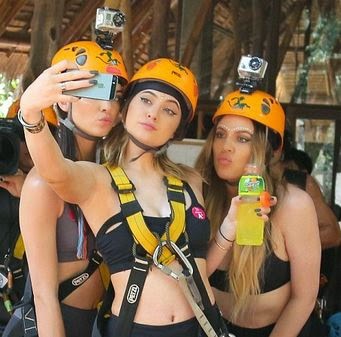 They also have cameras shooting out of the places the
sun don't shine
It's been on the cards for years but the inglorious days of the paparazzi have gone and there are only a few who can make good business stalking pop stars, films stars, tv and sports celebrities.
This is not because of privacy laws and the wealth of pictures taken by members of the public, although these have not helped – it's more because all these celebrities now hire their own paparazzis and control what pictures go out.
They have all become their own 'Max Cliffords' and many have become better at inventing stories about themselves than the press.
A case in point is Kim Kardashian currently on holiday in Thailand, who has been taking selfies, Instagraming pictures, and has also brought along her own paparazzi – a photographer from 'Splash' in LA.
Her pictures are all over the place. Personally I do not watch her reality show, do not intend to, and am not impressed with her antics with elephants etc in Phang Na. Nor do her crowd impress me in bikinis, slacks, whatever. It's all very tacky – but I guess that's what the show is all about. Its surely not about style.
I did read the comments by Daily Mail readers at the end. Its one of the few times we have come together
Pictures: Splash – enjoy until Splash sends me an email.
Humans In Musth Terrify Elephants In Phangna