'Protest Leaders, Authorities Should Act to Prevent Violence'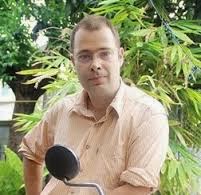 (New York, November 27, 2013) – Protesters have assaulted journalists, in some cases at the instigation of protest leaders, at rallies in Bangkok since November 25, 2013, Human Rights Watch said today. Thai authorities and protest leaders should act to prevent violence during ongoing political demonstrations.
The rallies involving more than 100,000 people have been led by members of the opposition Democrat Party against the government of Prime Minister Yingluck Shinawatra. In some cases, protesters have forcibly occupied government buildings.
"Opposition groups have a right to protest peacefully, but that doesn't mean assaulting journalists or anyone else," said Brad Adams, Asia director at Human Rights Watch. "At the same time, the Thai authorities need to allow antigovernment demonstrations that are secure and don't degenerate into violent confrontations."
The protests have targeted journalists considered supportive of the government. On November 25, opposition protesters assaulted Nick Nostitz, a German freelance journalist, after remarks by a speaker at a mass rally. According to witnesses and news footage, a former Democrat Party member of parliament, Chumpol Junsai, announced to thousands of protesters in front of the Bangkok Metropolitan Police headquarters that Nostitz was affiliated with the pro-government United Front for Democracy against Dictatorship (UDD), known at the "Red Shirts," and urged them to chase him out.
Several protesters immediately attacked Nostitz, punching him several times in the face, until police officers intervened and rescued him. Shortly thereafter, a pro-Democrat Party cable TV station, the Blue Sky Channel, posted Nostiz's profile on its Facebook page, and his photograph has been spread widely on antigovernment social media sites, raising concerns for his safety.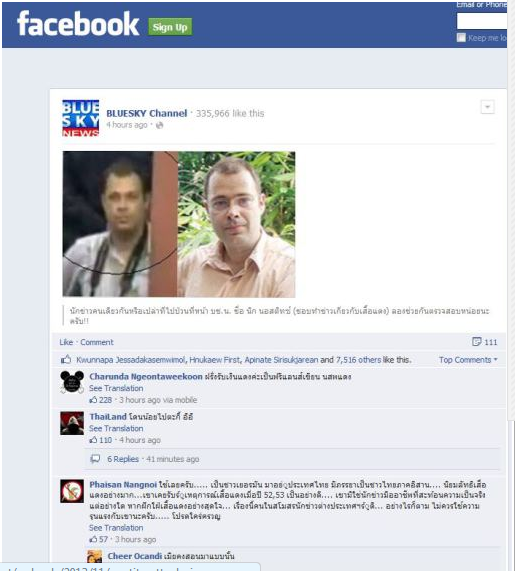 On November 24, reporters and a broadcast van from TV Channel 3 were pressured to leave the main protest site on Ratchadamnoen Road after protesters accused them of presenting biased news. A day later, Democrat Party politicians led hundreds of protesters to the headquarters of TV Channels 3, 5, 7, 9, and 11 to pressure them to end "biased reporting" about the demonstrations.
Protesters singled out and surrounded the popular TV Channel 3 news show host Sorayuth Suttassanachinda, claiming he was a government mouthpiece. In a tense confrontation in front of TV Channel 3 station, hundreds of protesters demanded Sorayuth apologize to them and compelled him to blow a whistle – a symbol of the opposition campaign – before permitting him to return inside the station.
The Thai authorities need to take stronger action to deter violence, including fully investigating reports about attacks on demonstration sites and protesters' motorcades, Human Rights Watch said. On November 23, unidentified assailants fired slingshots at buses transporting protesters from southern Thailand to Bangkok. Bus tires were spiked with long nails scattered on the road on their way into the capital.
On November 25, in response to the worsening situation and the protesters' occupation of the Finance and Foreign Ministries, Prime Minister Yingluck ordered the enforcement of the Internal Security Act (ISA) in every district of Bangkok, neighboring Nonthaburi province, where key government agencies are located, and parts of Pathum Thani and Samut Prakan provinces to protect Thailand's satellite station and international airport. The ISA grants the government powers to set curfews and seal off roads and buildings. Neither the parliament nor the courts are given any role in considering, reviewing, or approving the use of these emergency-style powers.
Government measures to protect public safety may be justified so long as they are provided by law and are proportionate to the level of threat or legitimate objective to be achieved. In policing demonstrations, all members of the security forces should abide by the United Nations Basic Principles on the Use of Force and Firearms by Law Enforcement Officials, which provide that authorities shall, as far as possible, apply nonviolent means before resorting to the use of force. Whenever the lawful use of force and firearms is unavoidable, the authorities shall use restraint and act in proportion to the seriousness of the offense.
"Left unchecked, the dramatic escalation of confrontations on Bangkok's streets poses serious risks of violence, so both the authorities and protest leaders should change course," Adams said. "Protest leaders should ensure that their supporters act peacefully, and the security forces need to maintain order within the bounds of the law."