* 'CORRUPT' ARMY AND POLICE OFFICERS MAY FOLLOW


* WILL ARMY ACT OR BLOCK EXPOSURE SITE?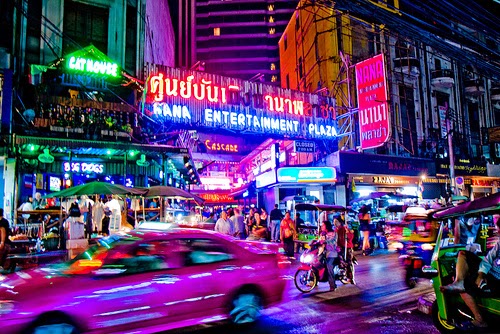 An international consortium of academics and businessmen has today named the 'Bangkok Wolves' – Bangkok's notorious British and American share fraudsters.


The consortium, which has begun a naming and shaming campaign on the net has suggested it may also name top police and army generals involved in the rackets in days to come.


"We have names and identities of Thai Police Officers and Thai Army Generals receiving massive amount of bribes from the fraud syndicate", the consortium with members in Europe, the USA, and Australia states.
The internet 'naming and shaming' campaign not only names the 'Wolves of Bangkok' but also demonstrates how they have taken over large slices of Thailand's commercial sex industry.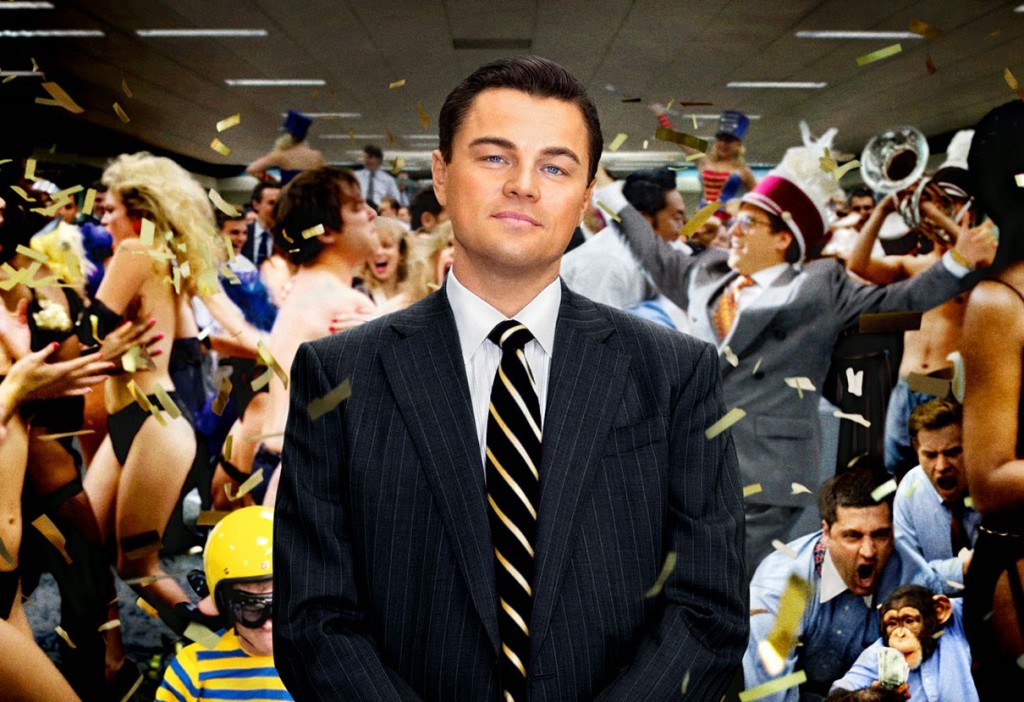 Di Caprio in 'The Wolf of Wall Street'
The sex trade areas under the 'Wolves' control include Bangkok's sections of 'Nana Plaza' which the consortium claims is owned 'secretly' by a British 'Wolf', a well-known theme pub and restaurant group, and a wide range of sex bars in Soi Cowboy Sukhumvit 7/1 and Pattaya. These areas have long since replaced Patpong in Bangkok as the busiest sex tourism area in the country.
The Thai Army, which now runs Thailand's military government, could put an end to the rackets which thrived through the years of administration by Shinawatra governments. But it may block a 'name and shame' internet site in Thailand. This may be only a short term solution if the intention was to keep the rackets quiet. A prestigious international news and investigations documentary team have already started filming.
But the consortium has insisted it would be willing to talk to army officials and assist in any investigation. Members are cautious in dealing with several police units.
The results of an investigation conducted with the aid of international detective agencies are now being published after talks with army and police officials broke down and the 'Bangkok Five' ignored calls to come to the table.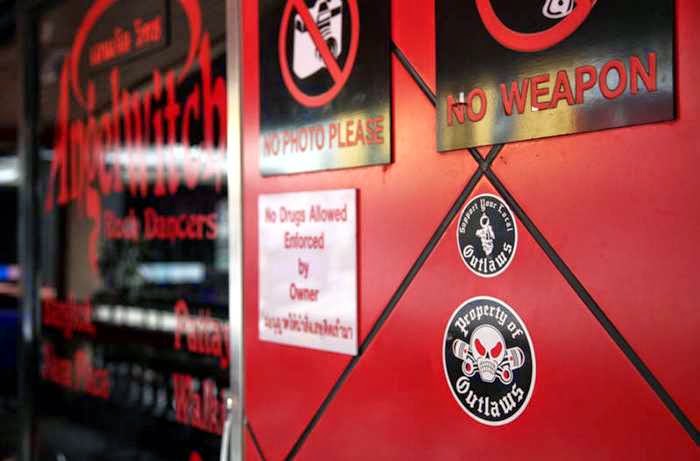 'Outlaws' sign in Nana Plaza
Members of the consortium have personally between them lost US$20 million – but that is only a fraction of the money cheated by illegal share traders operating out of the Thai capital.
They have named the Bangkok five as, one British citizen, and four American citizens. It has been estimated that one Thai officer is paid US$1million per month. This is not so dramatic taking into consideration that one single boiler room scam has pulled in US$80 million in eight months.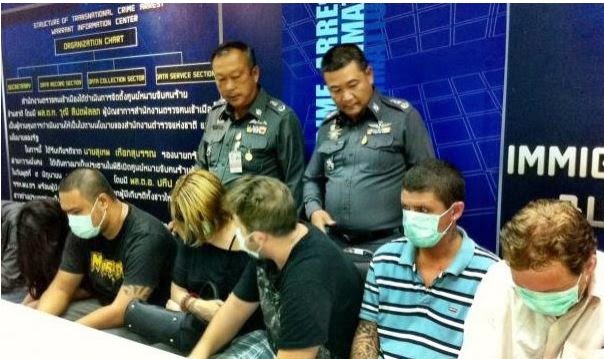 A typical boiler room or 'call centre' raid in Bangkok. Lots of publcity but no action. The culprits are charged
with working without permits and receive fines, which are paid by their bosses, and deported. Often they are
back on the next plane. If not their bosses will pay them compensation of up to US$20,000. Its a win win
situation. Picture – The Nation
Highlighting and profiling the first of the 'Bangkok Five' today – the president of a chapter of a motorcycle gang – the consortium also names him and his alleged Dutch and British accomplices and couriers who bring cash into Thailand in suitcases.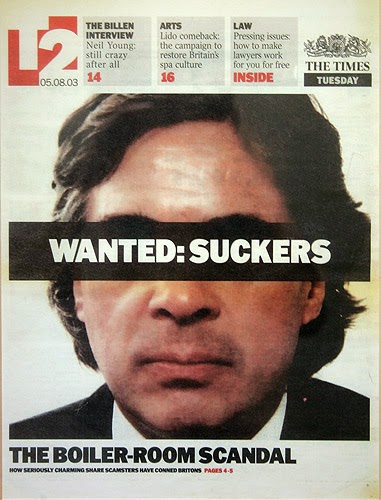 An expose by Andrew Drummond
for the London Times
"We know that the identified group of investment fraudsters residing in Thailand, have victimized thousands of private investors in Australia, New, Zealand, Central Europe, Scandinavia, United Kingdom, Singapore and beyond, since early 2000 up until present time. The scale of the wash of criminal boiler room money into the hospitality and property sector in Thailand that we've encountered during our investigation is just phenomenal. The single most important factor to make this possible is due to the level of corruption in the Thai Society.


"We have names and identities of Thai Police Officers and Thai Army Generals receiving massive amount of bribes from the fraud syndicate. This will possibly be a topic to be covered by a forthcoming document on this blog site.


"Ben Younger's film from year 2000,"Boiler Room", is just a bleak piece of entertainment compared to our crime story building on due diligence collected across jurisdictions for more than five years. Our story embeds real victims from many different nations as well as the identified boiler room principals now residing in Thailand, splashing their wealth on luxury cars, property, bars and restaurants including brothels, Rolex watches, drugs and beyond."


'Boiler Room' starring Ben Affleck was the fore-runner to 'Wolf of Wall Street' played by Leonardo di Caprio.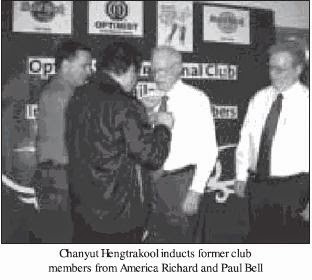 Father and son at the Pattaya Optimists: Pic Pattaya Mail
The first 'Wolf' to be named with a photograph is from Hampton, Georgia. The investors group names his sex establishments and states: 'If you decide to visit these places it is likely you will be contributing to Mr (name redacted) profits.
(Several of the people named today have already been named on this site – including the British businessmen who supply the VOIP communications for the BR offices – and Paul Richard Bell, one of the first members of the Pattaya Optimists chaired by American businessman Drew Walter Noyes – currently in court in Pattaya on extortion charges.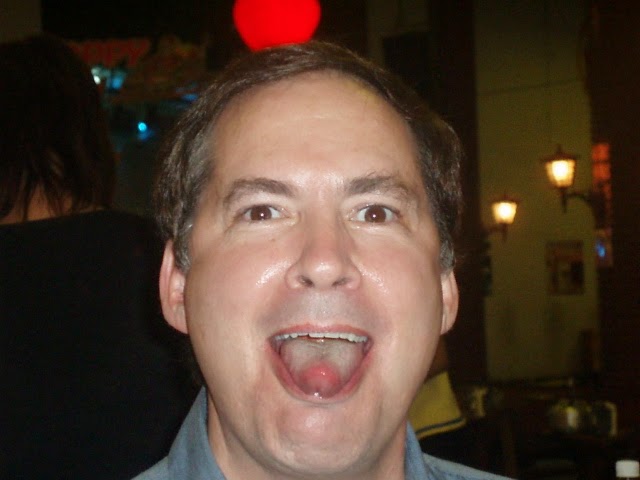 Noyes, opening men's club in
Pattaya
In fact a team on 'nine' boiler room boys went to join the now defunct organisation. The man in the picture Chanyut Hengtrakool has already spoken to the military.)
Also named is a Thai lawyer involved in the setting up of numerous companies for the wolves. This lawyer has been taken off the British Embassy law list but remains on the site of one major Embassy in Bangkok.
The consortium has been working closely with British investigative journalist Andrew Drummond, correspondent for the London Evening Standard. Its believed that among Thai officials profiting from the scams have been officers from Thonglor and Lumpini police stations and the Immigration Department, who it is alleged have 'walked through' money couriers into Thailand through the major airports.
The consortium has begun its expose with the following net pages. Caution should be exercised as one or two businesses have been wrongly named as being owned by the Wolves.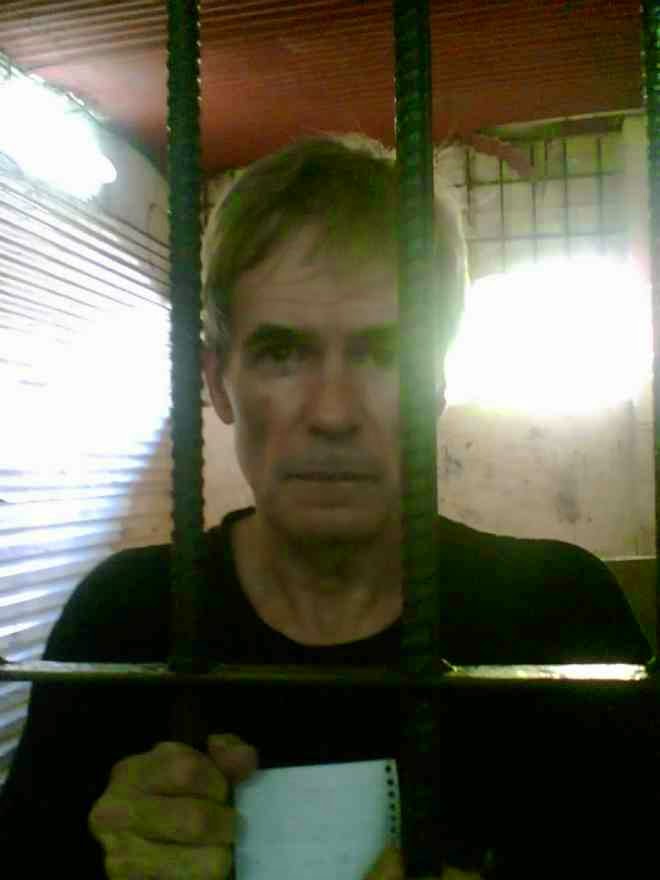 Steve Burt: Pic: Andrew Drummond
COMMENT: As readers may know I have been following Bangkok's boiler room boys for years and have worked closely with this consortium and international detective agencies – although I am not the author of these reports and others shortly to be published I understand. I was however used by the consortium on two occasions as a 'go-between' but no meetings were ever arranged, and of course I have picked off some of the lesser figures like Bell and the VOIP men and recently Bill Haines in Pattaya.
The reason I have not named the the big five has of course been for personal security. Hand in hand with the boiler rooms comes kidnap, murder, and set ups on false charges, by pliable police in Asia.
Below right is a picture of one of the named top five Bangkok wolves, who police decided they would kidnap themselves and demand a ransom.
Canadian Steve Burt, aka Sharpe, fled after a police raid on a boiler room in a soi off Thonglor, Bangkok. He was the 'snitch'.
Unfortunately the police did not act on his information and he instead became 'the hunted'.
He fled unwisely to Manila where similar boiler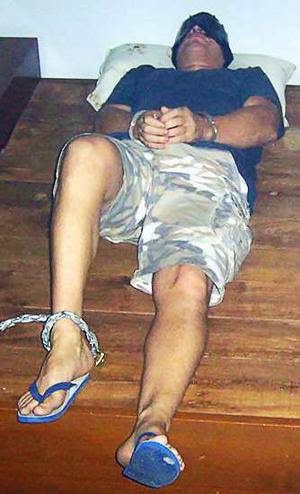 This Bangkok 'wolf" was considered
so rich that he became victim of
a police kidnap and extortion bid.
operations are in place and was put in jail on trumped up rape and drugs charges. He was released after an investigation by the Philippines Human Right Commission.
Recently some of the BR have tried to re-invent themselves as honest businessmen. usually in the food and beverage business. They also produce quite a lot of Bangkok's pub grub – even catering to international schools.
LINKS:
How incompetent authorities lost the boiler room money trail
Drugs, sex, loadsamoney, boiler rooms, and salutary neglect
Wanted suckers! Its the boiler room calling.