Pic: US Marine Corps. Colonel Werachon right
This is what I like about some coups in South East Asia. Here you can discuss the merits and demerits of a coup with the spokesman for the army over white wine and canapes.


The Foreign Correspondents Club of Thailand is hosting an evening this Thursday at 6 pm and the guest speaker will be Army spokesman Colonel Werachon Sukondhapatipak an all-round regular guy.
I'm hoping the more rabid members of the FCCT are on their best behaviour. Those who attend are guaranteed a freebie.
I remember a dinner years ago with Prime Minister Anand Panya Panyarachun where the most embarrassing and nasty stuff from the floor appeared to come from a member of the equivalent of the Tooting Popular Front accredited to 'Left Foot Weekly'.
The BBC's Jonathan Head is the President so he should be introducing the Colonel with a customary short spiel. Jonathan is of course on the army's 'to do' list but it will be smiles all around. Watch the smiles.
Today the military arrested former Minister Chaturon Chaisaeng at the FCCT after he gave an interview to Jonathan in the BBC offices next door.
In the confusion, reports Richard Barrow, some journalists forgot to pay their bar bills. Chaturon said he would not accept release if a condition that he would keep out of politics was part of the deal. It seems that is not part of the deal. He is being taken to a military court.
I understand on Thursday the military will be posted on the doors and afterwards all journos will be taken off to the 1st Infantry Barracks for a rest so they can no longer complain about journos being taken off to the 1st Infantry Barracks for a rest.
Anyway having been broadcasting around the world for the last week here are some tips for FCCT members when asked to do a 'phono' or 'skype.
Question: The United States have cut military aid to Thailand how is that going to be felt?
Answer: Are you serious? The military controls the national budget and they can write their own cheques?
Question:But the United States has condemned the coup, will that not have an adverse affect on Thailand?
Answer: (stifle a laugh) No. Usually the United States has an affect on countries when it orchestrates military coups. One of its biggest allies is Saudi Arabia an absolute monarchy.
Question: But the United States has called off military exercises with the Thais. That must have some affect?
Answer: (Blow a raspberry) Yes. The takings will be down at the 'Hello Sailor' bar in Pattaya and the sailors may have to pay S$18 for a beer in Singapore.
Question: How is the curfew affecting Thailand?
Answer: (slur) Well I have noticed that people are drinking a lot quicker and I am told the lights are off at the Hello Sailor bar in Pattaya but judging from the noise people say has been coming from inside and from many bars in Bangkok I'm guessing people are just saving in electricity and things are just getting a little naughtier. I'm told the B52 bar is roaring.
Question:So what do you think lies in store for Thailand?
There are three scenarios. The first is that the demonstrations will continue with the two groups, formerly the reds and yellows, now in disguise but now calling themselves 'Pro Coup' or 'Anti coup' and they will get bigger and bigger until the country goes to the dogs again because they still won't talk to each other.
Meanwhile lots of academics will get writers cramp and Jonathan Head will still be interviewing 'salt of the earth' people in Isaan who cry at the mention of Thaksin.
The second is that the army will stop the demonstrations forcefully in which case you'll need an armoured car to get to the 'Hello Sailor'.
In this scenario the army may screw up like the last time, in which case its back to the first scenario. But all indications and orders to 'round up the usual suspects' seem to suggest it is going to be in control for some time.
And third is that de-throned PM Thaksin Shinawatra will fly in from Dubai address his followers as 'Mes enfants' raise his standard in Mae Rim and march on Bangkok with the army units he believe will break away and join him. He will then set up Thailand's first democratic dictatorship.
Question: Is Thailand safe for tourists?
Answer: Thailand is very safe for tourists who are not coming to Thailand to start a mini-revolution, or who think rubber-necking at demonstrations is more fun than hiring a jetski in Pattaya which has previously been a lot more dangerous than joining a mob, but I am told will be a lot safer in the coming months. However if tourists do get into trouble many will be totally screwed as their holiday insurance will be invalid.
This will affect Brits in particular as the British Embassy is flagging up the troubles, while their staff appear to be all down on Phuket hiring jet-skis there.
Well that may be a little unfair, but have you tried getting through their switchboard? The switchboard operator has time to book a flight back to Bangkok and take a taxi in from the airport before announcing 'British Embassy, Bangkok'. Its easier to get through to the boss of Google.
Question: But living under martial law. This must be terrible.
A British court martial

Answer: (Uncontrollable giggle) You need to come here and see what its like living under normal Thai law. Being court-martialled has a certain romantic attraction and is definitely one item to put on the CV. It sort of gives you officer status. I am going to recommend this to Brian.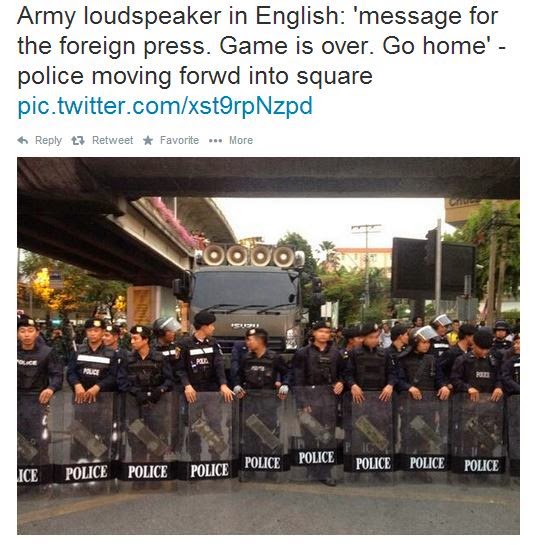 Tweet from John Sparks of Channel 4 news UK