TRAGEDY AS KIDS BECOME THE VICTIMS OF THAILAND TURMOIL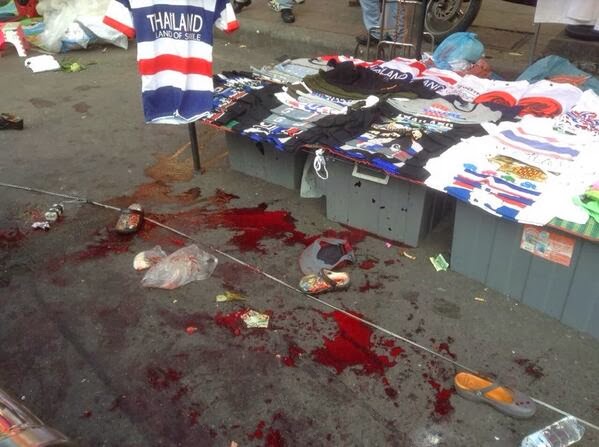 Two children were killed and three others children seriously injured in separate attacks on anti-government demonstrations in Thailand over the last 24 hours.

In the first incident late Saturday in Trat Province near the Cambodia a five-year-old girl was killed and 30 adults injured when gunman turned up at a rally held by the anti-government Peoples Democratic Reform Committee, tossed grenades and then sprayed the crowd with bullets.
The gunmen then fled the scene in the small town of Khao Saming 300 miles south east of Bangkok in two pick-up trucks.
Video: Bloodied kids being taken away from Prajasong
In the second incident today a five year old boy was killed, his sister was among three other children seriously together with 14 adults when an unidentified assailant through a grenade into a rally at Rajaprasong in Bangkok's city centre.
The five year old boy and his six-year-old sister had been visiting the nearby 'Big C' department store with their father.
At both incidents the crowds were listening to speeches from their leaders when the attacks occurred.
Anti-government demonstrators have partially paralysed the capital in their attempt to get rid of Prime Minister Yingluck Shinawatra and her Cabinet, all of whom, they believed, are controlled by exiled Prime Minister Thaksin Shinawatra, currently in exile in Dubai after being convicted of corruption.
But they blocked voting in recent elections are are criticised for being anti-democratic representing mainly the middle and upper classes.
The capital is abuzz with wild rumours, including one put out by a PDRC speaker, that Thaksin has told his supporters 'The Red Shirts' mainly from Thailand's poorer north east to 'set Bangkok ablaze'.
Tonight Caretaker Prime Minister Yingluck Shinawatra issued the following statement:
I strongly condemn the use of violence in recent days that has caused many deaths both at Trat Province and especially at Rachaprasong today, which is particularly saddening and disturbing since the lives of children were lost.
My deepest condolences are for the victims who are injured and to the relatives and friends of those who lost their lives. The violent incidents are terrorist acts for political gains without any regard for human lives. The government will not tolerate terrorism and has ordered a full investigation by authorities to find the culprits and bring them to justice without exception.
I would like to ask all sides of the political divide that we may see things differently and there are many ways to express those differences. But the use of violence that lead to deaths are not the civilized way of the living.
It is not the way of life of Thais who are naturally considerate and empathetic to fellow citizens, rather than resort to senseless killings. I would like to again call on all sides that it is best to use peaceful means to resolve the political conflict through the democratic process.
The parents of the victims will no doubt be enraged and not see any empathy in this video taken at a Red Shirt meeting in Korat. Some 20 seconds in the speaker says – 'I have some good news for brother and sister red shirts at a PDRC rally in Khao Saming some fifty people have been killed and 100 injured'. Later however he is taken to task for making those comment by a woman who interrupts and says 'We do not want anybody to lose their lives'.
Comment: Yingluck Shinawatra plays up the consideration and empathy of Thais. It is true – those qualities are there. But foreigners who have been following recent demonstrations on both side have been shocked by the total savagery of the speeches coupled with extreme xenophobia and hatred of foreigners. It is easy to see how this can escalate. There's a lot of talking without thinking going on.