-THAIS TELL GERMAN TO FICK OFF! –
Flying Sporran's Weekend Diary-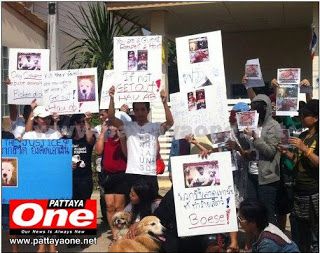 I was a little startled to see at the weekend a protest by Thais against a German national who
stabbed to death a Labrador belonging to a Thai Royal Navy Chief Petty Officer.
The German national claimed that the unleashed Labrador, or Golden Retriever in earlier reports, made a vicious
attack on himself and his dog as he walked his Rottweiler in Sattahip on
the Eastern Seaboard.
Now many dog lovers regard Labradors/Retrievers as very benign dogs and
Rottweilers as much more of the attack dog variety.They are on the U.S. list of dogs most likely to kill. But then I also read this report in the
Denver Post.
In any case the 65-year-old German Alfred Gatt was fined 1000 baht and in turn he is
suing the owner of the Labrador for 300,000 baht for injuries caused. Bad move, though he appears
to have genuine injuries he also appears to have, at least the reports say, stabbed the Labrador 17 times.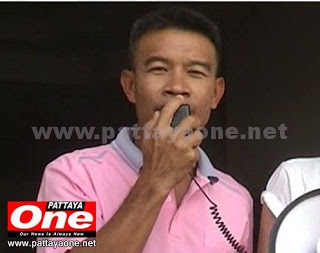 German speaking Thai
What he did not perhaps expect was the mob that turned up at
his door to protest. According to
PattayaOne
their leaders were invited in to discuss
the matter.
They declined. They wanted
him outside in front of the cameras so they could make a spectacle of the man. They brought a German speaking Thai along with them.
Coming from a nation of animal lovers, and animal rights groups, even I was taken aback at
the viciousness and language of the protesters.
On their placards
they wrote such things as 'Thai people hate you'', 'Ficken (Fick) Dich' (F*ck You!) Hau
Ab! (scram!) and 'boese' and 'grausam' – cruel and vicious.
The Petty Officer was there to thank them for their support
and police too appeared to be supporting the protesters and posing for pictures
with them.
The German's Thai wife brought out pictures of his injuries
but was shouted down.a Rottweiler mob protesting the
killing of a Labrador.
Alfred should not volunteer for an
interview on Channel 3 to put his of the story and should forget about the court case. Most importantly he should look after his own dog from now on very carefully and he might even consider moving.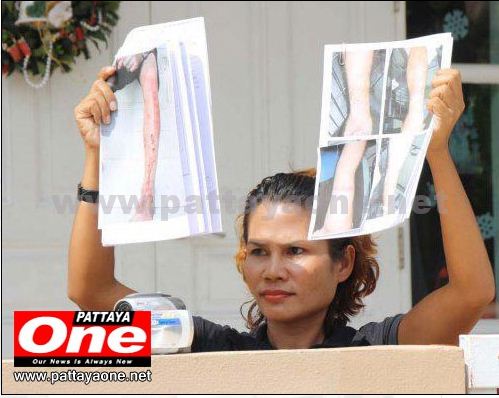 Wife shows Mr. Gatt's injuries
Reminds me of the time a newspaper sent me to Nigeria to
investigate why German Shepherd Dogs (Alsatians) were being stolen from homes in
the U.K. and being crated up and flown to Lagos.
The Nigerians as it turned out clearly needed more guard
dogs than the Brits did and were willing to pay good cash (or their security firms were).
I actually saw more human corpses in Lagos than Alsatians
being brutalised (including one corpse on a sun lounger in my hotel –
apparently it could not be moved until formally identified).
I thereafter spent the rest of my time there in an ex-pat
compound sleeping in a cage.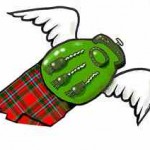 Having written the story thousands of protesters marched on the Nigerian High
Commission in London and I was giving interviews to the BBC Nigerian Service.
I do not have a copy of my article any more, but I am sure
that once the editors had finished with it the story must have had a racist
element. Why else would they be marching? It's horrible thing racism. Anywhere. I do not think the Sattahip protesters would understand this point though.