FIRED! – SUPREMO OF PATTAYA TIMES GAGGED IN CUPID'S CITY OF LOVE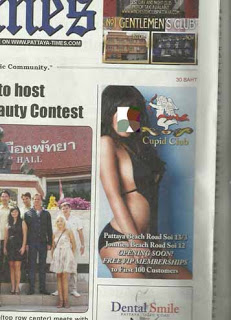 (Picture -advert for Noyes' Cupid Club in
Pattaya. The picture was stolen. See note
at end of story*)
In a shock move the Chief Editor of the Pattaya Times American Drew Noyes has fired his Thai publisher.
And he has taken an advert out in his newspaper to denounce Danai 'Charlie' Premasathira, who was technically his boss.
The media community in Pattaya is obviously reeling at the news. Trouble-shooter Charlie was brought in to shake up the company in July.
Tasked seemingly with making the paper even more obsequious and publishing more pictures of Drew Noyes with leading police and political figures 'Charlie' is said to be downhearted by the news.
He has told friends: "I got the circulation up. More and more people were turning to the Pattaya Times for a giggle at least. We were even going to dress Drew Noyes up as Santa and send him down to the orphanage. He already has his little helpers, Wanrapa, Nittaya, Anchalee, and Kim, and he's already got nine little elves. I'm sick as a parrot."*
Charlie's only public appearance as Managing Director of the Pattaya Times was on National Law Day, or Wan Rapee, where he laid a wreath at Pattaya Provincial Court on behalf of the newspaper.
He did however fail to turn the Pattaya Times into a daily or even a weekly newspaper and the paper has come to be known as the 'Pattaya Sometimes'
In an advert taken out in this week's Pattaya Times (which yesterday could not be found at Chonburi Immigration Office) someone called Tai who is described as 'General Manager states:
"The public is advised that these companies, PAPPA Co. Ltd., One Stop Service Centers Co. Ltd., and the Pattaya Times Media Company Ltd., are no longer responsible for his public actions'.
This left many people puzzled of course as refusing to accept responsibility is hardly a diversion from normal company policy.
It is hard at the moment to estimate Charlie's impact on the generally obsequious media in Pattaya. Niels Colov still however still seems to be ahead of the game in terms of self-promotion and the number of eulogies to Pattaya's leading figures.
But the Pattaya Times' renaming of the city this week to 'The City of Love' together with a front page advert for its own sex bar 'Cupid' may well put it in first place.
It also features display ads for the 'Winchester' in Jomtien to catch the local Arfur Daley quotient.
And Drew Noyes has himself pictured not once but THREE times on the front page plus pictures inside of him with the new Chonburi Police Chief and with General Kanit Permsap who was celebrating his 65th birthday party.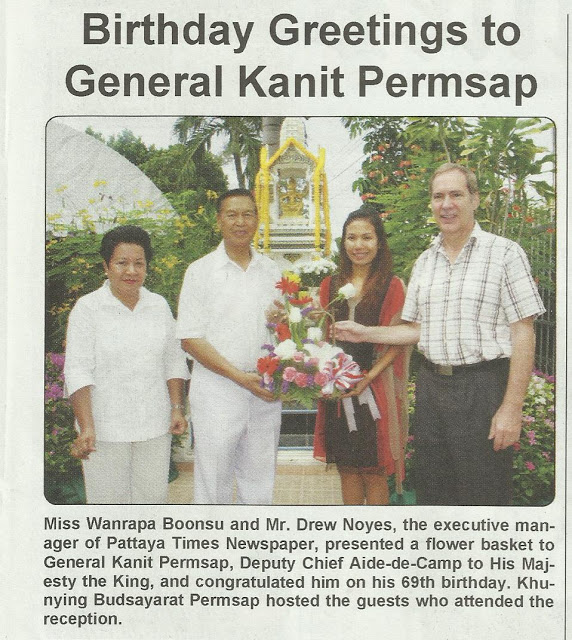 Noyes – 14 years in service to royalty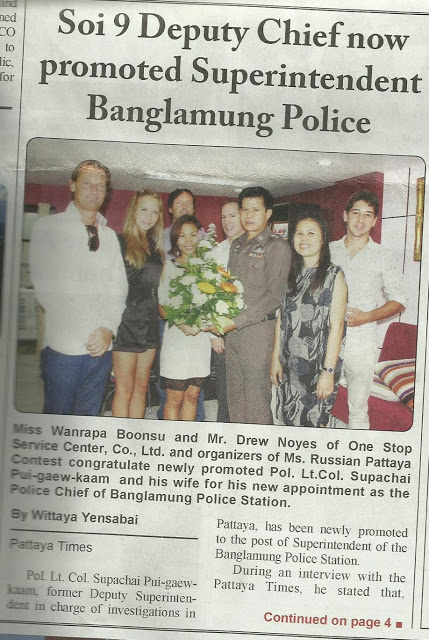 Yes- He's in there somewhere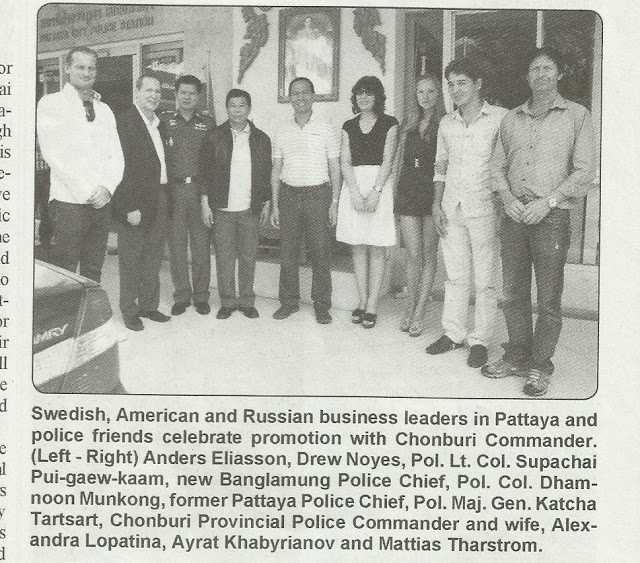 With Chonburi's new regional police chief. Fringe benefit?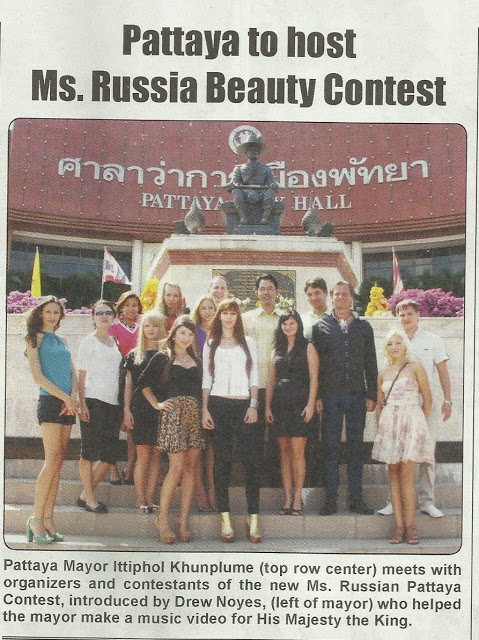 He's on his tip toes!
It's this sort of cutting edge journalism that makes you not want to put this newspaper down. Bravo alumni Faculty of Journalism, University of Tennessee, Knoxville!
(Ref * Advert for Cupid in the Pattaya Times. I am informed by a Thai model that the picture on the left has been stolen by the Pattaya Times and that at no time has she consented to allow her picture to be used by Cupid Club in Pattaya or the Pattaya Times or indeed this site. And she certainly will not be there. Accordingly I have pixelated her face to avoid any embarrassment and replaced a close up used earlier with a portion of the front page of the Pattaya Times)
(* Charlie never really said those things except of course 'Sick as a parrot'. So keep watching the Flying Sporran.)


But finally the funniest piece in the Pattaya Times is where Drew is fawning to the court again. This piece comes just a week after his own interpreter – his 'wife' Wanrapa Boonsu, in the Santa libel case had to be told to sit down, and defer to the fluent English of Santa's son.