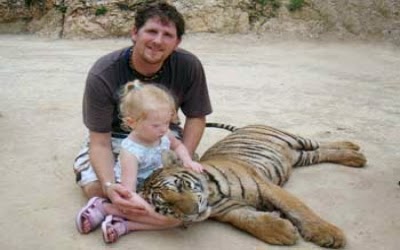 Picture used to promote a tour of Tiger Temple. Spot the mistake!
Yes, you're right. The baby is not yet actually in the tiger's mouth
Officers of the Department of National Parks were still moving animals out of Wat Pha Luang Tu Bua in Kanchanaburi, best known as the 'Tiger Temple', today after finally acting against what has been one of Thailand's most famous but most shameful supposed animal sanctuaries.


The move by the DNP is being congratulated widely in particularly by the Wildlife Friends Foundation of Thailand, whose boss Edwin Wiek said today: "On behalf of several animal NGO's I have called the head of the DNP enforcement to speak out in favour and support of the action the DNP currently is taking. The tiger temple has been involved in illegal wildlife trade for years and has to be stopped."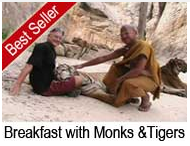 I presume tourists bring their own!
The abbot and monks of the temple were working what quite clearly was an avaricious money making business charging tourists for entrance, and for posing for pictures with the tigers contained there.
DNP officials took away over 100 tigers and 38 hornbills. The hornbills are along with tigers a protected species. Anybody handling them must have a permit.
Initially the 'Tiger Temple' had a feel-good image and the media was quick to latch on to the fact that devout Buddhist monks were helping preserve the tiger. Cute pictures of tiger cubs appeared in the media all over the world – and Mailonline – the internet London Daily Mail would use a picture almost whenever offered.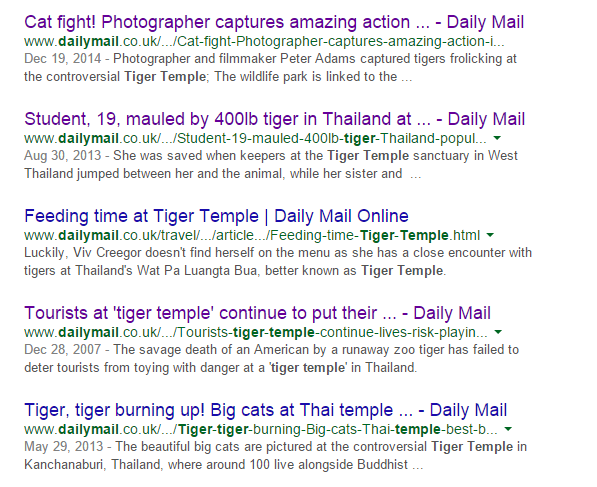 A Google search of Tiger Temple and Daily Mail
It recently ran a whole series of tigers playing in the sanctuary quoting the photographer as saying he thought they treated well. Mailonline did however admit in a throw-away line that the temple was 'controversial'.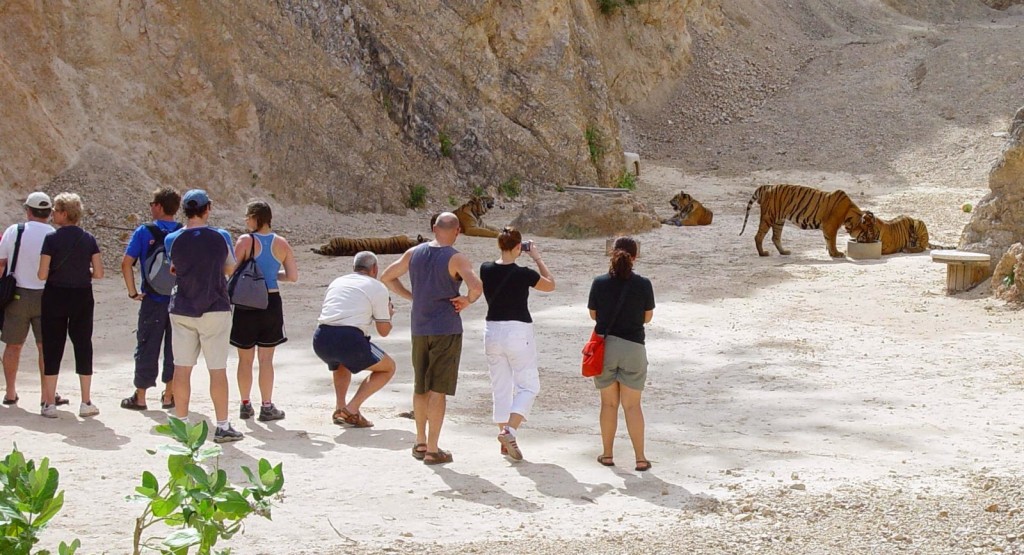 But there was nothing right about the temple; nothing right about the treatment of the animals; nothing right about how the animals were bought and sold; nothing right about how they were fed; nothing right about how tourists were allowed to pose with the animals for a fee; and nothing Buddhist about the operation. It was big business.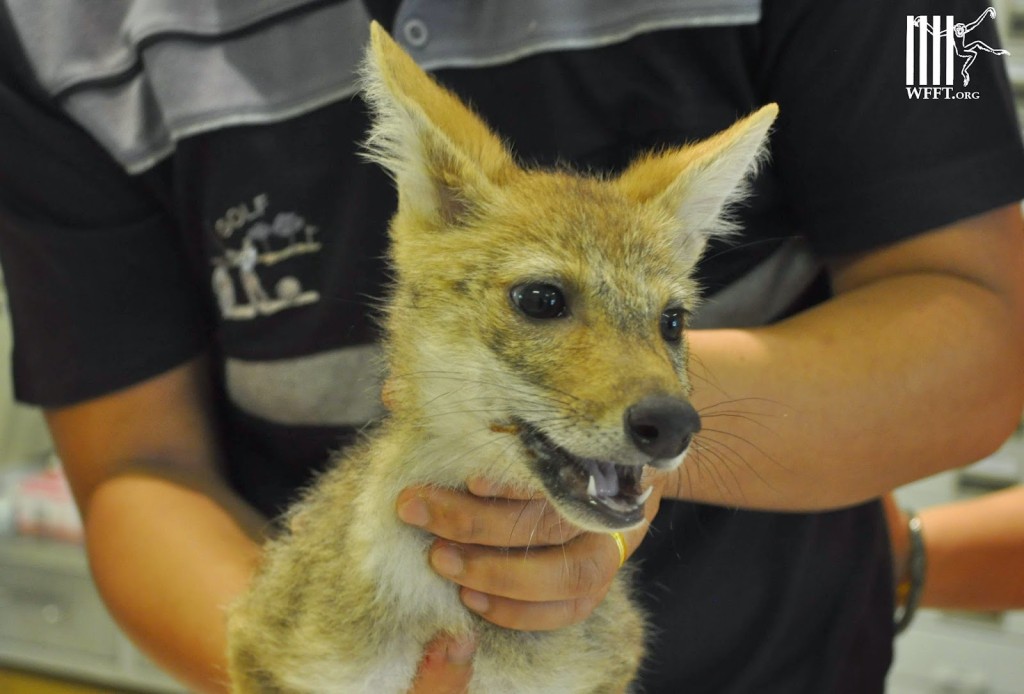 Basil Brush? No, a Golden Asiatic Jackel – Picture WFFT
Currently two Golden Asiatic Jackals have gone missing, not wolves as earlier reported, in a clear attempt to avoid the law.
The monks and staff are also reported to have had little patience with DNP officials and have been insulting.
But in the wild life business there is a general sigh of relief. Foreign wild life officials remain concerned.
A coalition of 39 conservation groups, including the Humane Society International, the Association of Zoos and Aquariums, World Animal Protection, and the World Wide Fund for Nature, had written to the director general of National Parks in Thailand under the name 'The International Tiger Coalition.'


They had expressed particular concern over lack of controls at the temple and the trade in tigers with contacts in Laos.
They still fear that if the situation is not watched closely, a settlement could end in the re-opening of the tiger business quietly in a few months' time.