Michael Taylor's alibi for murdering his Thai girlfriend was that he was on the beach having sex with a ladyboy –


But Phuket Police's excuse for not having him in custody goes one better – 'We are too busy'.


And thus law enforcement in Thailand carries on showing that of course all men are equal but some are just more than equal than others.
I am not a fan of giving bail to those on murder charges but accept that it is an important safeguard in countries where true justice can suffer due to outside pressures.
The only consolation to the friends and family of Jangtra Waengta, 27, who was stabbed to death in the couple's chalet in Chalong, Phuket, in 2005 is that Taylor is in an immigration jail in the Philippines.
At the time of the murder in 2005, Thai police were reported to have recovered a large Bowie knife and a pair of bloodstained trousers, while prosecutors had lined up 13 witnesses, including a DNA expert, to testify against Mr. Taylor.
But Taylor, from Hull, England, known in the Philippines as 'Mick the Pom' possibly because the Aussies there considerably outnumber the Brits, was granted bail after a land title deed, valued at 400,000 baht (£8,000), was posted as a surety. He just popped off to run 'Dog's Offshore Bar' in Pundquit – four hours north of Manila.
£8000 for a murder. That sounds cheap particularly when Thailand's borders seem to leak like a sieve.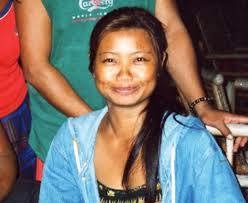 Jantra
Of course had the victim been more important than just the girlfriend of a foreigner. who is not really in the high class bracket– the urgency would have been greater.
This is how the Phuket Gazette presented the prosecutor's story:
Prosecutor Chiengsean Panhya has said he cannot pursue the extradition without a formal request from the police.
"I don't have the authority to pursue it unless the police ask me to. Our office is not even permitted to ask the police to file such a request.
"However, once they do, the next step would be for us to forward the case to the Office of the Attorney General in Bangkok and it would then be in their hands to get Mr. Taylor back to Thailand to face justice."
Can you imagine how long that will take. Police in Phuket have not even reached stage one. Extradition should be easy enough within ASEAN – but it won't be.
Meanwhile he case officer Lieutenant Colonel Danprai Kaewwehol, of the Phuket Provincial Police Col Danprai is reported to have told journalists he had been "too busy" to follow up on Mr. Taylor's case.
Presumably the prosecutors and police are much too busy trying to get Alan Morison and Chutima Sidasathien into court for libeling the Thai Navy over its alleged treatment of the Rohingya minority from Burma.