STANDY BY FOR THAILAND'S 6 DAY WAR
ISRAELIS DEVELOPERS ON THE DEFENSIVE
FLYING SPORRAN'S WEEKEND DIARY
Thailand's military have given the 'city fathers' in the world's most famous sex resort of Pattaya six months to vacate their chairs at city hall.
The deadline runs out on June 16th when the 'Flying Sporran' officially goes into retirement and has sent rumbles throughout the resort on Thailand's eastern seaboard.
A team of city fathers (elected by the military) will then take over but will they take on the mafia, or merely take them over?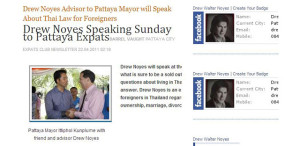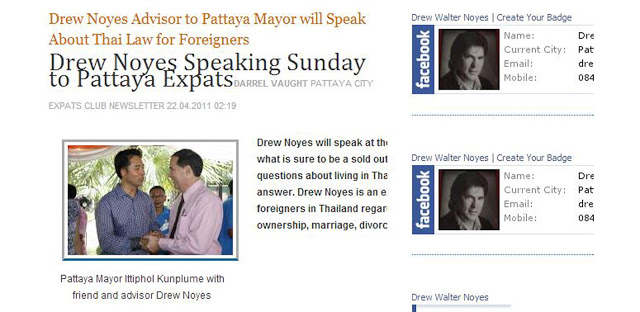 Drew Noyes  'advisor to the Pattaya Mayor' has already fled – after being found guilty of extortion – but this is probably not related as he was frequently photographed with military men before fleeing to the USA.
Having removed the head – Mayor Ittiphol Khunpleum, son of mafia godfather Somchai Khunpluem – aka Kanman Poh – the military is understood to be following up with pincer movements on the sex trade and foreign mafias.
There is no suggestion the sex trade will be brought to an end. But it is expected various uniformed delegations will be seen inspecting premises to ensure no-one is being, er, trafficked.
A city hall spokesman recently attending a meeting of the Pattaya City Expats Club, told foreigners they need not worry.
'We will still be around. And the police, tourist police, and immigration department, will still be there continuing their good work."
The last statement will not have been of much cheer to foreigners who have watched the antics of these greedy organisations. But of course its not really true.
The head of police is already a military appointee – Suktad Pumpanmuang.
He is the brother of Thailand's outgoing police chief Police General Somyot Pumpanmuang, who having declared that his officers read from the same books as New Scotland Yard then retired as a newly made multi-millionaire.
One section of the community requiring considerable scrutiny is of course the group of foreign property developers in the resort.
Currently foreigners investing their life savings in holiday homes are now more at risk than ever as unscrupulous property developers take cash for projects which will never be built.
Developers have set up lavish showrooms and advertised glossy condo in the sun projects heavily on the internet but time after time the projects are being cancelled or simply not going ahead after the money rolls in from buyers.
They of course always have something or somebody else to blame.
Currently it is the military government and the trickle of foreigners, likely to become a stream, leaving the country – to perhaps be replaced by Chinese. They will not be criticising the military openly now.
Currently buyers, from Europe (including Britain), Russia, China, India, Australia, are all demanding their cash back on non built projects.
They report that if they put out warnings on the net, they face libel law suits under Thailand's Computer Crime Act.
Some have discovered in their paperwork two contracts which upon closer examination show how they have been criminally defrauded.
An original master contract which gives a guaranteed completion date or money back clause is switched at the last minute with one which has no completion date at all.
Then there can also be a clause to go to arbitration, not civil or criminal court, if the client considers the developer is in breach of the contract. (buyers are not told that arbitration is super expensive and the costs can be as much as the condo being bought).
But if they have to take legal action it's at this stage that they realise that legal action is going to cost them more than their small condo anyway and will take years in a judicial system which is both notoriously pliable and dysfunctional.
And even if a Thai court was to order they be repaid – the buyer would have to enforce the order too.
For decades both police and city officials have turned a blind eye to the scamming property developers who frequently hob nob with city officials and senior officers and vie with each other at annual Property Award ceremonies in Bangkok.
Police will not investigate property scams. But worse they have even been used to intimidate victims of property fraud.
The city's Consumer Protection Office, serves only to protect some Thai victims.
Readers of this site may recall an interview with one of them over the 'Emerald Palace' scam.
The officer suggested the city could deal with transgressors by simply eliminating them and taking them out into the Gulf of Thailand in a fast boat!
Of course nothing happened* in that case where Briton Richard Haughton running Harlequin (Thailand) then TPME sold scores of units in his condo – then sold them again to the Kasikorn Bank for a 79 million baht loan!
(*Ten of the victims did fight on after we found them a way and the Emerald Palace will be the subject of an auction next month to pay off debts.)
To ensure none of the scams get out the developers have essentially bought off all the local English language media.
Thus if victims of property rip-offs try to complain to a local English language newspaper – they will be quickly shown the door.
The local rags depend on the advertising from the so called developers for their very existence even though they know the scams.
In fact a very well-known local media personality even recently approached this site asking on the basis of friendship whether I could 'lose' a story on the new Scandinavian player in the property business in Pattaya. The reason, he had a potentially lucrative media contract with them.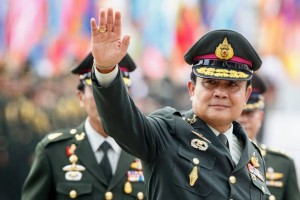 There is a certain irony in the fact that while Thailand's military premier General Chanyuth Chan-Ocha is severely clamping down on foreign correspondents, 'journalists' writing for the mafia remain as rich as their unchecked next advertising puff will allow them to be.
So now, if you still want to buy, let's see what's happening in the property market in Pattaya? The market is dominated by Israeli managed companies, who have been known in the past to offer deals of 12 per cent to a massive 18 per cent to agents who sold their products.
This may account for the fact that every third foreign business in Pattaya appeared to be a law office or real estate agent. – a lot now going bust.
It also tells you something about the mark ups on property to foreigners.
Here are some of the major players. Of course I am not saying any of the following groups are scamming. They may be at worst bad gamblers. But often its not their money and I am questioning whether some should be in the business at all.
THE NOVA GROUP
This group is widely known as one of the most professional of the Israeli companies.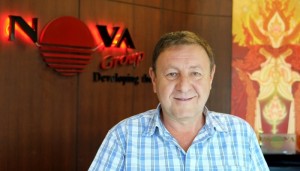 Projects normally come in on time. If not buyers have been refunded. In the last year for instance the Nova Group has cancelled highly publicised condo projects called Pacific Bay , Ocean Pacific, North Beach, Nam Talay Building B.
Also Nova principally owned by Israeli Rony Fineman seems to have 'let go' its entire condo staff.
This company is getting out of the condo business, towards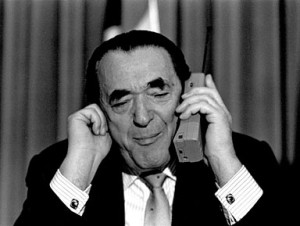 hotels, and the buzz is that it is moving much of its cash out of Thailand.
Fineman boasts of being a mate of Robert Maxwell, the thieving former British newspaper tycoon who drowned after falling off his yacht Ghislaine.
He was the General Manager of Maxwell's Restaurants based in Covent Garden, London. He has dual Irish-Israeli nationality.
THE TULIP GROUP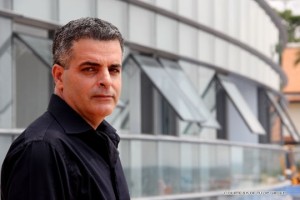 The Tulip Group is led by Israeli Kobi Elbaz, and other investors and, with the exception of the Centara Grand Resort which was running at 50 per cent occupancy, does not appear to have finished any of its other projects which include Waterfront, Centara Grand Condominiums Na Jomtien and Tulip Residences and Suites.
The Waterfront may have been this group's undoing.
I don't know whom he upset but all work has been stopped for a while, and City Hall has yet to issue a construction permit – hence their progress reports on their websites all seem to include photos of officials of one sort or another.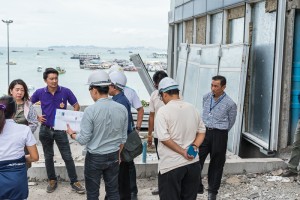 Nevertheless you can still buy a condo there and they are advertising on the net and denying media reports.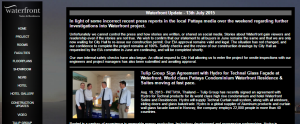 THE MATRIX GROUP
The Matrix Group of Israeli Miki Haim has the slogan: 'We build our promises'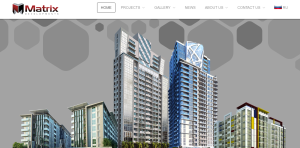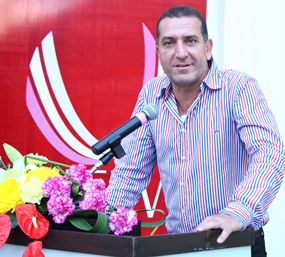 But seemingly recently it has not built its promises and is late delivering 'The Vision' , 'The View', and 'Sky Tower', while little work appears to be being done to finish some and start others.
So called completed Sunset Boulevard 1 & 2 have major construction faults, according to the buzz in the industry.
HEIGHTS HOLDINGS
Heights Holdings is run by Israeli Haim Bar-David & Herman Van Gucht this group has 18 projects with real problems. Only a few have been finished.
They are heavily advertising internationally. This may be the most controversial of all the development groups.
On his Facebook site ' feeling proud' Haim promises to supply some 5000 units this year. Or specifically he says:
"Pushing all construction sites this year we are going to deliver over 5,000 units this is crazy number in any scale."

And many will agree.
Belgium born Herman van Gucht has a 'Dr.Death' aura about him.
This relates to his time in the United States where he ran USA Real Estates Solutions in Florida before he departed for Thailand.
There were accusations of that a representative of his company was forging title deeds to acquire the properties of dead people, mainly Belgian who had bought retirement homes in Florida.
Heights Holdings have a number of court cases on their hands and others believed to be pending and complaints are appearing on the net in relation to how they conduct their business.
But they apparently have a 'pit-bull' lawyer according to the writer in the link above.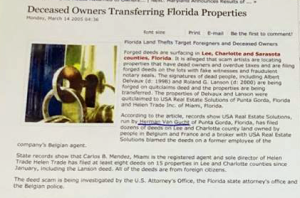 Herman van Gucht, 65, is also in the courts in Pattaya for allegedly stealing the assets of investors who has invested in a project called Thaisiri. In that case he has reported to have threatened his adversaries with the Computer Crime Act (libel).
His name is also of course associated with Town and Country Property (24.5 %) . Whispering Palms 49 %, Tropicana View- 47.5 % and with his wife Mayuree is linked to: The Cube, Peak Towers, Suan Sawan,The Residence Jomtien, Palm Oasis and Palm Springs Saranchol, La Royale and The Cove. He boasts he owned 1000 rai of land in the Pattaya area (through proxies of course)
POWERHOUSE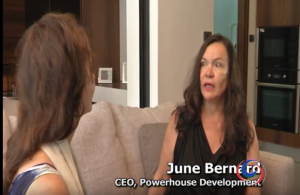 Powerhouse. This is run by Jewish New Yorker June Bernard and is years behind in the development of Skylight and Waters Edge.
Skylight was the subject of a section in a promo video by Capital TV's Raine Grady.
I thought for a moment Ms Bernard was being interviewed in the actual Skylight development, but no, it was the lavish sales office.
Skylight is still just a few holes in the ground although the video above went to air in June 2013.
Waters Edge is however reporting it is ready to move in.

June Bernard is better known throughout Asia from Bangkok to KL, Jakarta and Manila, for her involvement in 'boiler rooms' as the 'Slop Queen'- selling fraudulent shares but specialising in 'slopping' –  working on boiler room left-overs (slops).
The boiler room reaction is of course: 'If you send money to someone after just reading something on the internet and speaking to someone over the phone – then you're a total wanker' and deserve to lose it.'.
Ocean Tower and democracy.
OCEAN TOWER 1
And finally we go to 'Ocean Tower 1' billed in the Thai national media as the tallest residential building in Thailand and one of the tallest in the world.
This was due to be completed in 2008. The CEO Bruno Pingel still insists its going ahead and its website is still up and of course bookings have been made by those who believe in Father Christmas.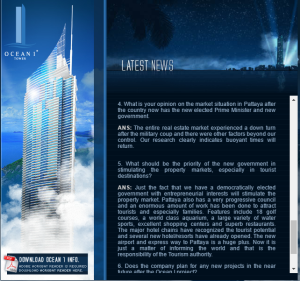 Pingel does not like military governments from this intyerview (above) which is second item down on the news section of its website. Oh dear, Time for an edit.
http://www.ocean1tower.com/index.php#home
*************
So there you g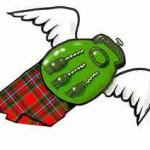 o for starters. Take a drive through town and have a look at the quiet construction sites.
A couple of simple tips: (1) If you really want to buy – buy where the Thais are buying. That is usually from a well established LOCAL or Bangkok property company. Thais by law will have to have control of your condo anyway 51/49 per cent (2) Buy property which is already built. (3) Do not believe anything the salesman says and study the contract closely.
Promises are made NOT to be kept in the property business.
In the coming days we will be taking a closer look at one rogue trader.
Footnote: The cover picture is of HTMS Chakri Naruebet the military's most formidable weapon down on the eastern seaboard although it only goes out once a month for engine tests and to shake off the cobwebs and all its Sea Harrier aircraft have been sent for scrap.