ALLEGEDLY HIGH ON 'ICE' THIS 'WOLF OF BANGKOK' GOT AWAY WITH KILLING TWO THAIS IN CAR CRASH.


A Bangkok 'boiler room' chief, who four years ago killed two people in Thailand while allegedly driving under the influence of crystal meth, has been helping Thai police with their enquiries after being arrested in a drugs raid in Bangkok.

Lebanese born Canadian Francois Giannini, 50, the brother of Simon Giannini, a real estate talk show host in Toronto, Canada, was arrested after police said they found both crystal methamphetamine and heroin in his possession during a raid on a 'boiler room' in a Bangkok suburb.
Giannini is believed to have swindled millions of dollars out of people in Britain, Europe and Australia in 'Wolf of Wall Street' operations selling bogus shares on the promise of a 'quick buck'.
Above video of the crash. Some scenes may distress
Giannini, who has lived in Thailand on an off for 20 years, faced drugs and manslaughter charges in Pattaya in 2010 when accompanied by two Thai bar girls he allegedly drove straight over a round-about and then turned the wrong way around the roundabout killing the driver of a local bus and a woman passenger and injuring many others..
It is not known what happened to that case – but Bangkok boiler rooms pay substantial amounts to police, claims a victims group.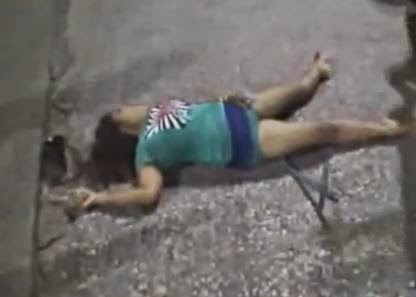 At the time a report on Pattaya One, a local news website stated:
"Mr. Giannini was arrested by police at the scene, who suspected he was heavily intoxicated.
Inside his badly damaged vehicle were two women he had just met at a bar.
Mr. Giannini claimed he was from Bangkok and was unaware of the roundabout and upon inspection of the vehicle, drug taking paraphernalia was found in the car which included items commonly used to ingest Crystal Methamphetamine, commonly known as "Ice".
A second person, Shahid O'Conner, 28, a Muslim carrying an Irish passport, was also arrested in the raid on a house in the 'Klang Mueang' housing estate in Lat Krabang near Bangkok's Suvarnabhumi International airport. He admitted that he was employed in Giannini's 'boiler room' which was operating out of the house.
He is understood to be co-operating with the police from a special unit of the Crime Suppression Division. Police took away a computer and 12 hard discs which may be made available to international police forces.
Giannini was reported to have burst into tears on his arrest. His method of wealth creation was completely different from that of his brother Simon, who is the owner of The Real Estate Centre in Toronto and who has his own syndicated real estate talk show. Frank Giannini is understood to be divorced from a Thai woman, with whom he has a 7-year-old son.
Police said that while Mr. Giannini may be a wealthy man he did not resemble any of the 'Wolves of Wall Street' scammers as they were depicted in the recent Hollywood film starring Leonardo di Caprio.
"These people are wrecks" said an officer in the team.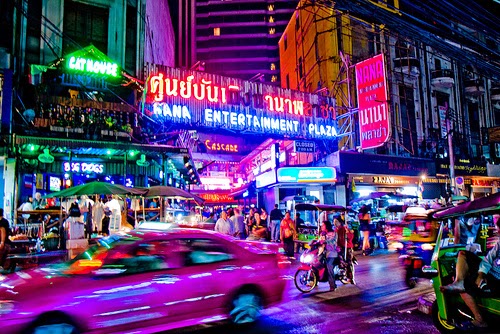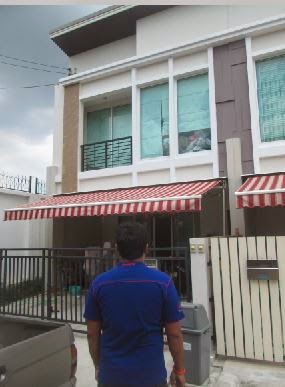 Plain clothes police outside the house in Lat
Krabang Bangkok
O'Connor, who told police he had worked in several boiler rooms over 9 years, has described how Giannini took his 'salesmen' to the red light areas of Nana and Soi Cowboy in Bangkok and bought them girls and fed them drugs.
In many boiler rooms the staff could not work without drugs, he said.
Two weeks ago an anonymous victims group which between its members had lost over US$20 million starting naming who they claim are the 'Wolves of Bangkok' on the internet.
The group's revelations suggest that boiler room operators have been laundering their cash in Thailand's sex tourism industry and have acquired numerous sex bars in Bangkok and Pattaya.
But the Thai police operation is concentrating on the drugs issues. Attempts by Thai police to deal with boiler room cold calling centres have all failed.
Recent drugs raids, including one on the home of a Briton in Pattaya names as Bill Haines have however netted victims lists which have been viewed by foreign police forces including Britain's National Crime Agency.
Haines co-operated with police enquiries and was fined just 5000 Thai baht at Pattaya Provincial Court for possessing a small amount of cocaine.
Information released to ww.andrew-drummond.news links Giannini to BR operations such as Smith Fairchild, AgroMicron, Jackson Cole, and Western Trust.
When asked about Frank Giannini spokesman for the boiler room victims group CDV – Confederation of Defruded said: " We can track his activities back over ten years.
"His name is linked to some of the biggest scams carried out by the people on our list and we believe that he and an associate were involved together with these people and also helped teach them the trade. We will continue to make more revelations."
The spokesman denied that the group had anything to do with the recent arrest, but added as a result of disclosures on the internet more and more people were volunteering information.