DREW NOYES AND HIS MAJESTY'S FOCUS PULLER


(Oh – and there's a boiler room alert in the text here too)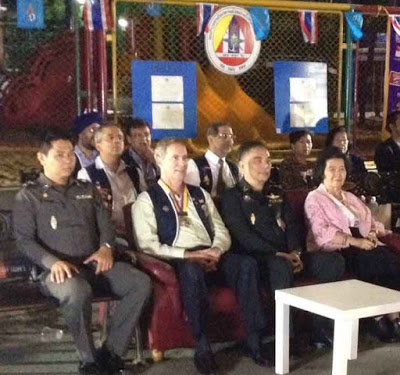 Posing as a philanthropist and kindly and honest businessman American Drew Walter Noyes established links with the Thai military and the Royal Palace to promote an image of being upright businessmen, while engaging in widespread financial scamming.

And it is almost beyond belief how many 'influential people' on the eastern seaboard of Thailand fell for his patter.
But part the fact that he was so successful can be attributed in the main to an assistant to the King of Thailand's personal photographer who provided many of the introductions.
Pattaya based Sermsakdi Sabhananda , seen in this video below; who loved nothing better to wear a Scottish Tam O'Shanter, was the assistant to Norm Pongkanjananukoon, personal photographer to Thailand's King Bumiphol Adulyadej.
Sermsakdi and Norm were there to cover every state visit and those of visiting royals, even Queen Elizabeth II.
Their contacts were wide raging and by association Sermsakdi was set up for life and he made his cash on the fringe of foreign society in the Thai report of Pattaya.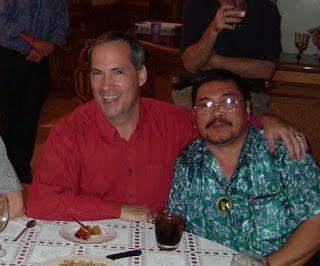 It was there that he became fixer to Drew Walter Noyes, 59, the American fraudster featured frequently on this website, who arrived in Thailand, with convictions for burglary and larceny and opened up beer bars in Pattaya.
Noyes, who is currently appealing a two year sentence in Thailand for extortion, claims he has been 17 years in the service of the King of Thailand and since the military government took over the country last year has been pushing his alleged devotion to the Royal family – even making an obsequious video to emphasis his 'devotion'.
In fact many people are surprised he has himself not been done under the country's Article 112 Lèse majesté.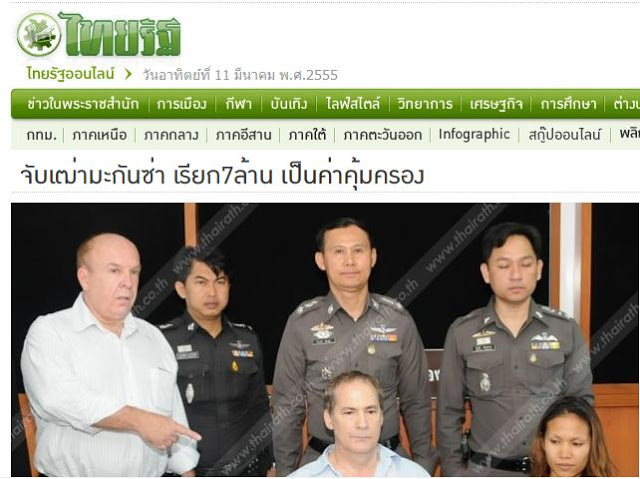 Thai Rath report on arrest of Noyes and anrapa Boonsu for extortion
Having been exposed in the Wilmington Star in the United States as a man of 'myriad lies' who had been involved in shady property and share dealing Noyes' entry to Thailand 17 years ago was fairly low key (but years later he claimed he had been invited by Royal Proclamation and was employed by the Bank of Thailand to help the country out of the economic crisis.)
According to a document which was circulated around members of the Pattaya City Expats Club he bought two bars called Lollipop and Zebra and then set about selling them to multiple foreign buyers.
When one buyer complained he ran him out of Thailand with threats of criminal libel actions. Noyes had found his niche – and the time had come to go upmarket.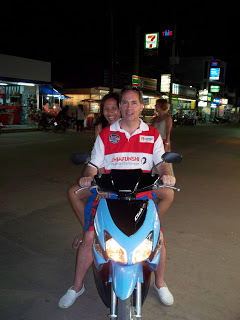 Noyes in his beer bar days
Like so many other swindlers he found he had entered the perfect state – where fraud against foreigners was rarely investigated by the police, especially if the victim was another foreigner.
Moreover libel laws designed to protect their wealth of the rich perfectly suited his own action plan.
The only people who could stop him were foreigners who could call in a 'person of influence' to put an end to his shenanigans or hournalists.
And his arrangement with Sermsakdi got him contacts with a whole host of influential people, who had no idea of his notorious past – and by now present.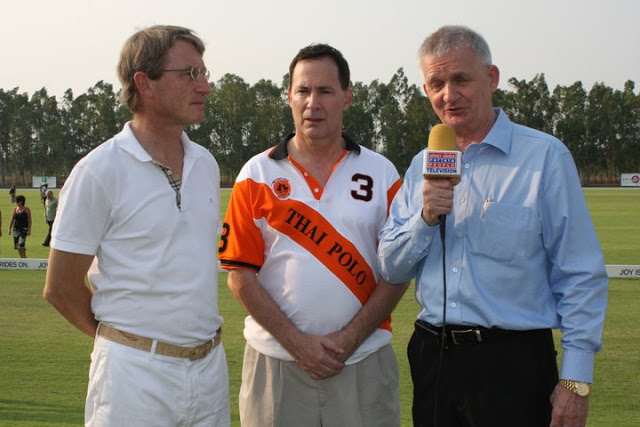 Noyes going upmarket at the Polo Club, with Niels Colov (right) and Harald Link (left)
His role model was Niels Martens Storm Colov, the boss of the Pattaya People Media Group, head of the foreign police volunteer assistants in Pattaya, a former Copenhagen gangster and pimp, who had re-invented himself in Pattaya as a philanthropist, and had achieved the distinction of being elected President of the Rotary Club, Pattaya-Jomtien and head of the Police Foreign Volunteers.
Noyes set out to emulate Colov intending to push him out of his comfortable slot and then with Sermsakdi started courted the movers and shakers in Thai local politics, military, and police.
He started the 'Pattaya Times' newspaper, became a founding member of the Pattaya City Expats Club, and used these two roles with Sermsakdi doing the arranging to mix with influential Thais.
Within a short period of time his newspaper was writing glowing reports of those in Pattaya he needed to know and free copies were given to city hall. Pattaya according to the Pattaya Times was a paradise and Drew was soon escorting his bar girl and illiterate wife Nittaya Chaisit Noyes to local functions.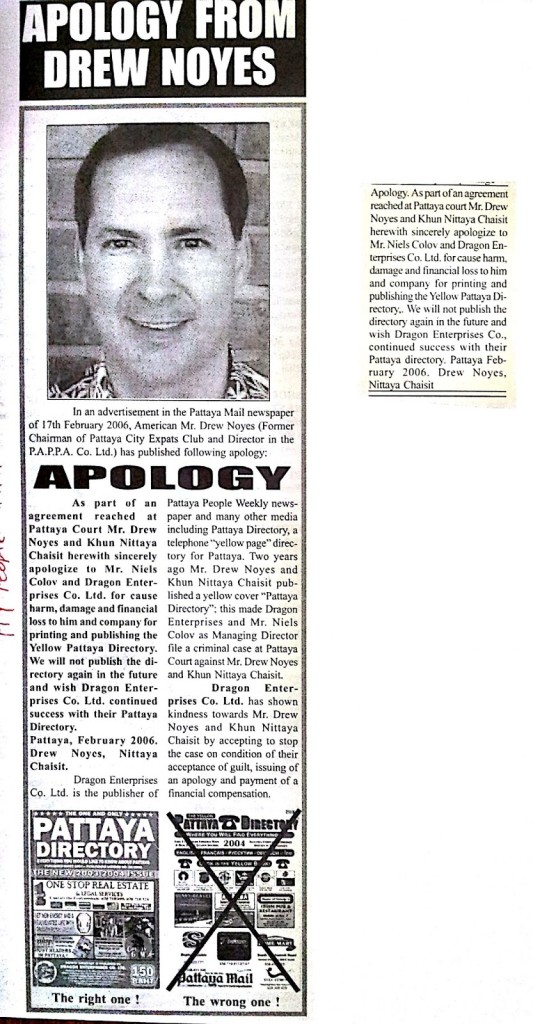 Niels Colov on the other hand was a Danish crook who beat his wife up, claimed Noyes – and the two publishers went to war in their newspapers at the end of which Noyes was forced to apologise after also stealing Colov's business directory.
Nevertheless soon Noyes was: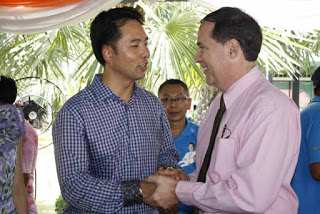 • Hobnobbing with the Mayor Ittiphol Khunpluem, and announcing in the Pattaya Times that he was Ittiphol's 'international adviser'.
This was not true of course, but what the hell, the Mayor did not really read the 'Pattaya Times' but as long as the foreigner was writing glowing stories why bother.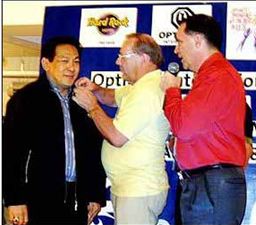 • Decorating local local influential person Chanyut Hetrakul, boss of Sophon Cable Television (see Optimists)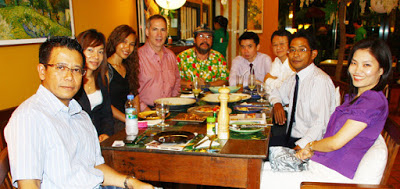 There's Sermsakdi at the end of the table
• Dining with the judges of Chonburi and Pattaya Courts and in his role as 'an American lawyer' arranging legal seminars at city hall for elderly foreigners.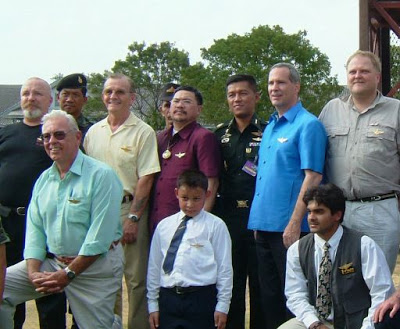 Machielsen, back left – Sermsakdi centre – Halland back right
• Organising a trip for foreigners to an army base where all were decorated with Queen Sirikit Service Pin.
The Pattaya Mail reported: "This service award is generally reserved for Thai nationals who have given a lifetime of service, but this year, it was felt that the foreigners and Thais at this specially arranged award ceremony were of the calibre and good merit to receive the special commendation.


The nominees were recognized as Pattaya expatriates and Thai nationals who have dedicated their lives in the service of the community and their noble efforts to bring about an understanding of the traditions and cultures of all the peoples of this world."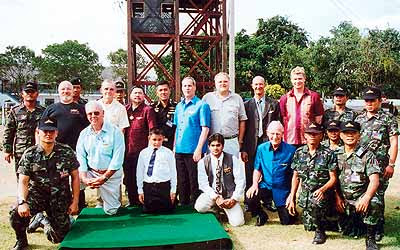 This was of course load of old tosh.
Among those on the trip to the 21 Infantry Regiment's camp were Scott Palinkas, a native American Indian who made his money on casinos, an American airline pilot on holiday in Pattaya, Thor Halland, now in jail on extortion charges after being reported to police by Noyes, and a 14-year-old boy.
They all received a royal decoration because they had all (perhaps excepting the boy) paid Noyes between 10,000 and 20,000 baht for the day trip!.
Noyes had also persuaded Palinkas to pay up 1 million baht for 12 per cent of the Pattaya Times. He did. All he got was a bomber jacket, press card, and dodgy work visa."
Noyes subsequently closed the Pattaya Times without telling the shareholders.
Meanwhile Noyes amended his biography to include the Royal decoration, plus qualifications in sky diving and sharp shooting.
He was later to accuse Andre Machielsen of being a drugs trafficker, Palinkas of being a shyster who went with lady boys, and entered into litigation with the airline pilot from Nevada. and just last month reported Halland a member of a winning team on the British television programme University Challenge, of the extortion of a French businessman. Neither of the first two allegations were true.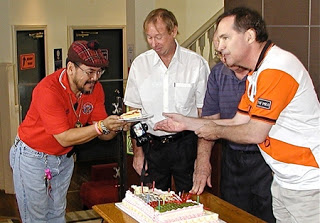 Thank you cake to Sermsakdi at Pattaya Optimists
• Giving influential persons free membership to an Optimists Club which he had packed with boiler room fraudsters, a child sexual abuser, and an American pornographer as founding members.
The Pattaya Optimists was short lived. Noyes never paid the dues due to Optimists International and the club's membership was suspended within a couple of months.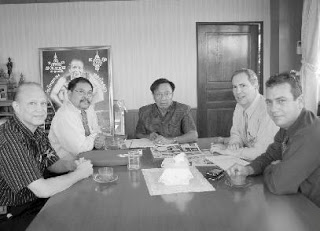 Strouse on the right with Noyes, Sermsakdi second left
But the founding members included boiler room operator Paul Richard Bell, American pornographer Michael Strouse, and convicted child sexual abuser Brian Wright. Optimists is an organisation created to help children.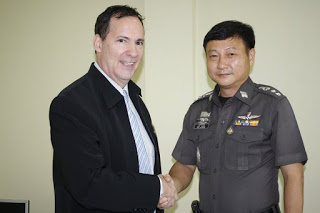 Printing immigration forms for the Pattaya Immigration chief. He was allowed to hire staff on tourist visas!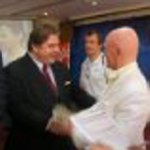 Guccone (left)
The fact that the Pattaya Times was a sham with readers in the hundreds rather than the 500,000 he claimed'; that he was not the international adviser to the Mayor of Pattaya; that he was not a lawyer, and that the foreigners were just his mates and or targets, was immaterial. Local Thai society had decided he must be something. Drew Noyes had arrived.
But he first hit trouble with the Pattaya City Expats Club when he began selling members National Housing Authority homes in Keha Condominium above his pseudo law office 'PAPPA" – now the 'One Stop Service Center'. There was a revolt at the PCC. Members threatened to call in police (not that Pattaya police would become involved) and Noyes was out.
The club he had formed failed to elect him to any position let alone his sole belief that he had right to be President.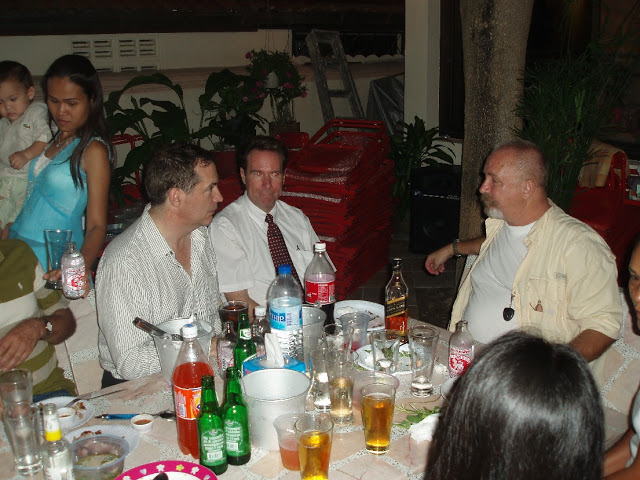 Noyes, Wright and Machielsen in happier times
Bad stuff appeared about him on the net. He was a phony and a sociopath, claimed the writers. This site also began reporting on complaints flooding in from readers,
Drew Noyes swamped the net with a false bio, and scores of recommendations and went hunting down his perceived enemies – Andre Machielsen and Briton Thor Halland. Halland is now in custody on alleged extortion charges – something of a Noyes speciality.
Even Sermsakdi knew that Noyes was not high-society. He knew him from his beer bar days. And he knew first-hand about his sexual extravagances.
When two young Filipinas fled the offices of the Pattaya Times having been employed illegally and then paid a fraction of their promises salaries,, with one complaining Noyes tried to rape her, Sermsakdi laughed off the matter when I met him saying: "He must have raped 100 women."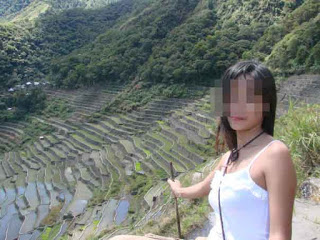 Filipina victim. Parents had to send cash to get her home
from Thailand. She claimed Noyes locked her in a room
in keha condo
Sermsakdi made no suggestion that he violently attacked these women, though the Filipina say he did directly assault her, but that he forced them in other ways.
In the United States in an investigation by journalist Scott Gold lawyer Gary Kurtz who was seeking Noyes who had demanded oral sex from a junior employee said: "As a condition of her employment she was required to have sex with him. She refused and he fired her. It's pretty offensive". (The Star – N Carolina)
Noyes also got his wife's niece pregnant – the 14-year-old daughter of his chauffeur but according to a representative of Noyes, which may have been Noyes himself, a post appeared on the net, saying he had been more than generous with the young girl and any demands would be met with police action (against the girl and her family not him).
This matter was recently raised at a court hearing in Pattaya.
When the military took over in Thailand last year Noyes was so notorious it looked as if his reign of fraud was coming to an end. He had cheated people on widespread scale anything from getting punters to put their houses in the name of his new 'wife' Wanrapa Boonsu; to fraudulent property deals, and fraudulent and incompetent divorces and settlement.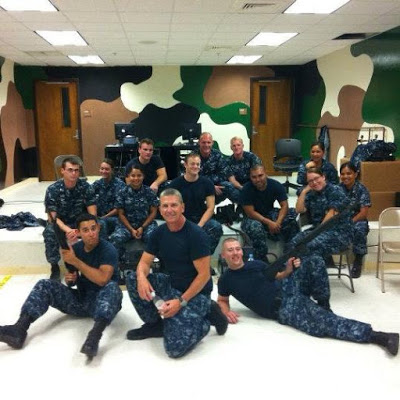 Mike Greene – front
He even took a school friend Michael G down for US$250,000. That is what G, a weapons instructor for the US Navy handed over to Noyes for two grotty apartments in Keha Condo and an investment in a hotel that never was. G employed lawyers and only got part of his money back.
But Noyes knows if you do not live in Thailand and do not intend to live here for many years to come, there is absolutely no point in taking criminal or civil action.
The costs of the cases could end up more than the money sought – and in Thailand's corrupt web there is no guarantee plaintiff's will win a water-tight case – so many other factors are at play.
For the last year Noyes has been liquidating his assets. He has been slowly sending his children to the United States and has property in Nevada which he acquired from an American visiting Pattaya. He also has property in the name of his ex-wife Nittaya Chaisit Noyes (to avoid tax) together with a power of attorney which he can use to take possession. But when I least heard his plans was to take over his step-mother's house in Tennessee.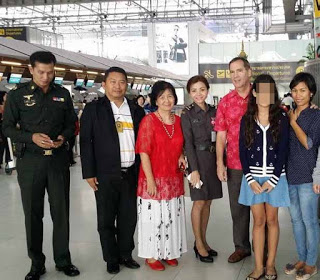 Colonel (second from left) also lied in court to say
Noyes was holding seminar for the National Council
for Peace and Order
More recently in the last two years Noyes has been escorted about town by a military colonel – who saw him off to the airport to ensure had no trouble on a trip to the United States while on bail during his extortion case. (He has been given bail again after conviction and sentence of two years).
The same officer even stood in the dock at Bangkok Criminal Court describing how Noyes was a valuable member of society who would be presenting a seminar in Pattaya helping people understand the new military government.
He never did of course.
Noyes has now left for the United States having been granted bail after being convicted and jailed for two years with Wanrapa Boonsu for extortion. He claimed on his Facebook page that he was heading to the UK to have Andrew Drummond arrested.
If he returns it will be because he knows he will be acquitted on appeal.
For Sermsaki I guess another will be along in a minute.