TRIAL CONTINUES OF 'MY THAI FIANCÉE' VISA BOSS
A number of people have called to ask what has happened to the Brian Wright child sex abuse case. Unfortunately I was unable to make the last hearing in Bangkok but I can confirm that the next hearing will in in Pattaya.
Witnesses are still giving evidence on behalf of the prosecution. The next court hearing is in Pattaya –for and is scheduled for 31 July at 1.30 p.m. It is listed as black case number 8899/53.
Bail Bt200,000
Brian Wright is on bail in the sum of 200,000 baht on 27 July 2010 (B.E.2553 ). The case has not yet reached the defence stage.
The victim is a 13 year old girl.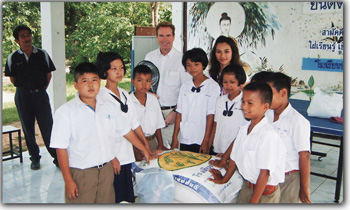 My apologies for being a bit dilatory. I will try and have it covered if I can, but as I am a British not American journalist this will have to depend on my work schedule. Interested parties can however attend.
Wright, who runs U.S. Immigration Law and 'My Thai Fiancee' is from Rhode Island and was a close friend of Drew Noyes, the controversial former publisher of the now defunct Pattaya Times, up until his arrest last year.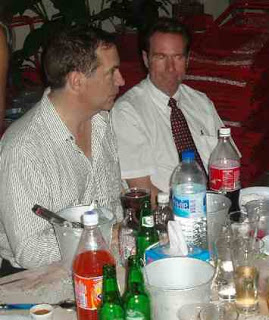 Drew Noyes with Brian Wright
He is godfather to one of Drew Noyes' many children.
He claims to donate heavily to children;s charities and often has himself photographed doing good things for children.
In 1995 a
Brian Wright
was arrested in Block Island, Rhode Island State, for the sexual assault of a minor.
No details are available as to what happened to that case and while the ages are similar I cannot say they are one and the same man.
Wright's arrest last year was carried out by officers of the Women and Children's Department of the RTP, Chonburi, Region 2 and with co-operation from officials of the United States Embassy.