"I am a more than satisfied customer of pappa and one stop
legal services. Drew has helped thousands of people for free over the years and
I know of many. But this blog won't publish this as proven with my last post."
It is suggested on this one man blog that there are not any
satisfied customers. You completly took my comments out of context and only
published a very small part of what I said and making a mockery out of the
problems that David now has with his face. Very childish.
This was not the point of the post. You twisted words and
took things out of context.
Is this because you derive your pitiful earnings from the
Txxxxx Clinic and are scared they will see through your lies?
We derive our pitiful earnings from several advertisers. Most obviously support our work here.
You suggest that it was in fact Drew who wrote to you using
a fake name. I can assure you Drew does not even bother to read the rubbish you
write about him here, let alone write to you.
That's probably why all his law suits are skewed. But why does he keep complaining about it?
He is too busy helping people and running many successful
businesses along with his charity work.
Some self delusion here perhaps? Optimists?
He would never use a fake name like all the posters on this
blog do. The same 14 idiots posting under hundreds of different names.
His lawyers however do read this blog and others and are
gathering evidence for many more criminal libel cases. Those with assets are
being identified to be forfeited and those who don't will serve jail time.
That's good that he has finally got a lawyer who can read English. Perhaps he will now get the translations right.

He is Thailand's most knowledable American on Thai law
having attended hundreds of hours of seminars and workshops and recently hosted
the Mayor and top judges in a law seminar at Pattaya City Hall. But again all
you do is critisize him for his work. He didn't recieve 1 baht for this and
covered his own expenses. The people who matter were extremly grateful.
One by one these few idiots are being exposed as frauds and
Drew is dealing with them one by one.
Who? Where are they being exposed as frauds?
Topper and his subzero hate site was closed down last month.
Ivan Shiffer somehow
slipped back into Thailand using fake documents but is now on the run and in
hiding although we know where he is.
Where is he? Is this the Pattaya Times reporter whom he employed illegally who was deported as an 'over stayer' after being shopped by a mystery person after he warned an American not to go into business with Noyes.
Same goes for Ally, Sam, the Weapon who all post using
multiple other names.
Fake Santa Andre's
case was thrown out and now many others are facing criminal charges and lengthy
jail terms.
Who are? Not more people on the run, surely?
You misrepresent everything and ridicule. He did jump from
the tower and did recieve an honor from the Queen, but you show an edited video
and claim he didn't. A blatant bare faced lie like everything else from Drum
the Bum. It can be proven in the video he did jump but you trick your gullible
readers into believing otherwise.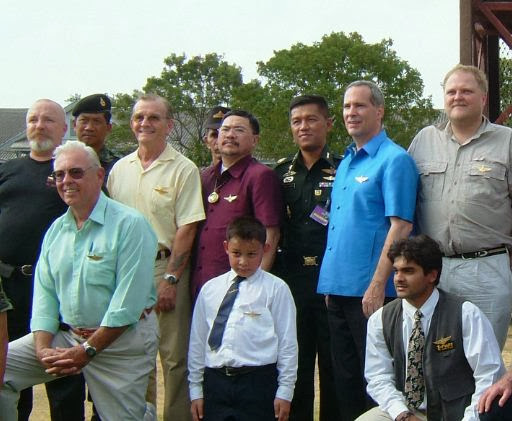 A winged Drew Noyes with other recipients – the kid's not boasting though.
Why can you not print my entire post? Scared you will lose
the meagre amount of advertising you have?
Sure hate sells.You don't want to print the truth, only lies
about successful business men and their families who do many good things for
Thailand and it's wonderful people.
It doesn't matter really as the important, educated Thais
know Drew and know he is a man of honor that they can trust and see all the
good work he has done over the last 16 years, and have highly decorated him.
Everyone is waiting for them to step forward in his defence and as a man of honour no doubt he will be giving many people their money back.
I suggest your few
readers look at more reliable news sources to learn about the real Drew where
they will find the truth.
The Pattaya Times?
Drew has never been convicted of anything but here the same
lies get repeated daily, that he is a conman, that he cheats people out of
money, that he likes young girls, that he beats his wife and she provides oral
sex to foreigners, that he sells housing for poor Thais to foreigners etc. etc. *
(*Scroll down a guide to Noyes' claimed libels and the reality)
All desperate, baseless claims, not true, no evidence, no
convictions. You link him to Brian, who you claim is up on trial for 'child
rape' but again he has not been convicted of anything but just a way to attempt
to ruin his name.
You link him to David who you claim is linked to the Russian
and Chinese mafia but again has no convictions.
You must not believe in the innocent until proven guilty
which is a requirement of real journalists. Time to put up or shut up I think.
Luckily despite your claims of thosands of readers, in
actual reality there are very few, just another one of your tricks to gain
advertising revenue and donations for your personal gain since no reputable
media would employ you.
Drew has a jounalists degree and you don't. Drew is a real
journalist with a degree , a newspaper, magazine and book publisher and a best
selling author.
You are nothing but claim to have a 'prestigous' award, so
much so that nobody else has one. An
award for being a wanker. You just make it up as you go. A great load of
bullshit. You are a nobody with a one
man blog and your envy of Drew is rather sad. Why not try to do good things for Thailand
like Drew, instead of trying to cut down successful, wealthy achievers?
' Wanker?' isn't that a word used by the Pattaya Times. We hope we are doing good things for Thailand but we do not trumpet it here. Below 'Drum the Bum' again – That's a Drewism isn't it?
A Flying Sporran 'Right to Reply'
You claim that you do not edit posts, that you can not.
Again another of Drum the Bum's barefaced lies. You did to my last post and
that is a FACT. Why not disclose tis to your reader..
I suggest you stop writing these lies as Drew is very well
connected and although Drew won't bother, other influential people won't stand
by and let you attack him and others.
In Thailand 3 things matter, honesty and
integrity, secondly, money, which Drew has more than you could ever imagine and
thirdly who you know, and Drew is personal friends with everyone who matters.