Police in Somerset have been in touch with police in Bangkok over the case of Mark Hallett – a British scammer first exposed on this site as one of the new 'sophisticated berks of Bangkok'.
Hallett, 48, skipped the UK while facing 11 fraud charges related to a Ponzi' investment scheme. His father was a scrap dealer in Somerset.
He is now under arrest on immigration charges and has been transferred from Thonglor Police station to the Immigration Detention Centre.
In Bangkok he was involved in escort agencies flogging 'sophisticated' Thai woman to equally 'sophisticated' foreign clientele. Well I doubt either was sophisticated, but that's how the service was advertised.
Then he joined forces with a Lord Geoffrey Bond to find investors for the Wolf Bar and Grill and Spanks Club in Sukhumvit Soi 22, Bangkok. Geoffrey by the way was not a Lord.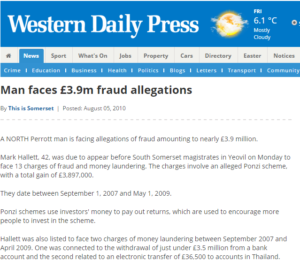 This should not be confused with another similar sounding bar called Wolff's (Harlan Wolff) which ran in in Soi 11 opposite 'The Vault'.
The 'Vault' was another  so called 'sophisticated bar' in Bangkok run by yobs or more specifically British and Irish criminals where the owners are were never likely to be arrested, as it was also the hang out of Thai military and police generals.

The 'Vault' was of course one of the Bangkok boiler room operations where a shaven headed Brummie held court with Thai 'hi-society' having sold out his interest in a British football club.
Yeovil born Hallett apparently scammed people out of £3.9m – so he should have enough to pay himself out. But it looks like he was arrested as a result of a tip off.
The official line by the Avon and Somerset Constabulary is merely that they have been in dialogue with Thai police. I am sensing they are feeling a little optimistic though.