FAKE ROYAL MARINE OFFICER AND FAKE BARRISTER, er, REELS FROM THE FULL WRATH OF THE INTERNATIONAL BAR ASSOCIATION.



International conman Brian Goudie, who makes a living in Thailand posing as a British barrister and ex-Royal Marines officer, has been barred. –


Not from his Pattaya-Jomtien pub the 'Jaggy Thistle' – now reinvented as 'Paradise' bar; Not from the Inner Temple, but from the International Bar Association.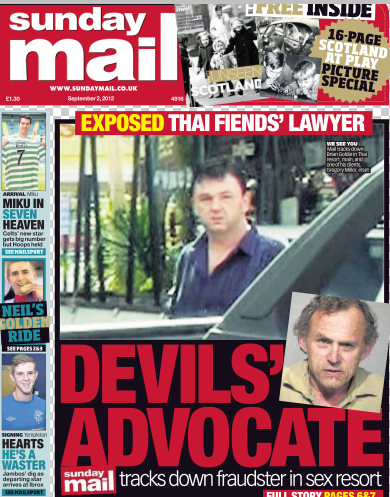 How we exposed Brian Goudie
I complained to this organization that it was inappropriate that Goudie, formerly known as Goldie, should be a member, not only because he was making a living screwing old ladies out of their life savings, and people in prison offering to get them released, and foreign home owners, and making hundreds of thousands of $ bucks in the process of causing untold suffering, but particularly since under the name Goldie he had been sentenced to six years for fraud in Australia.
I am not sure if they were too concerned about the first lot ( reading it back it seems actually that's what lawyers do – That's a joke dear IBA) but his jail term for fraud would have struck a chord.
Alas! He failed to renew his membership payment before he could be kicked out. Goudie is from Falkirk in Scotland. It's quite cute that this information actually came from a member of the Nova Scotia Barristers Society.
But they say if he wishes to rejoin he will not be admitted unless he undergoes an IBA investigation.
Needless to say Goudie did not reply to the IBA's request for information. Neither did the Lawyers Council of Thailand.
But if the latter had to reply to every complaint against Thai lawyers or law firms sent to them they would never get any time for some real work.
Here's the reply from the IBA via the Nova Scotia Barrister's Society. Brian Goudie's company by the way is Alba Laws. If you are already with them, its too late.