EDUCATION IS FOR THE BIRDS!
(Solum pro Avibus Est Educatio)


Thailand took a hammering recently, deserved of course, for the being a centre for passport theft and passport forgery. But really if a terrorist wanted to say re-invent himself as a University Professor with many doctorates there is no better place to go to for these than the Indian sub continent – including of course Sri Lanka.
Thai schools, colleges and universities, need people with English language skills, so much that they turn a blind eye to some of the diplomas and degrees on offer from educational establishments in places the former British Empire….on which of course the sun has now set.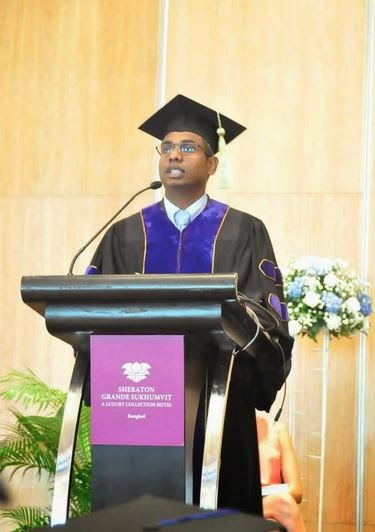 Now Thailand has serious educational problems. It is in desperate need of teachers but to teach here they really should have degrees….So these degrees surface on CV's for foreigners applying for jobs here.
Of course I am not saying these people cannot teach – but sometimes one cannot help wonder at the at their CV's.
Take for instance Dr. Edward Roy Krishnan, formerly a major contributor to the Bangkok Post's education supplement and a Malaysian on Indian origin.
He has put his CV up on the net – (It can be found here) and at 14 pages this is a real humdinger. Dr. Krishnan I should point out is not a terrorist. Were he to be I am sure the Post would not have taken his copy.
Actually large parts of Roy Krishnan's over the top CV – are actually true, although every meeting he attends he seems to put down as something of a 'Research Project'.
And despite his peculiar qualifications he has carried everything off so well in the foreign education community in Bangkok that he has become something of a star in it. Although he is Malaysian he does not show any Malaysian academic achievements at all apart from British GCE 'O' Levels – taken at the ages of 15 and 16 but he does not state which one or ones he got.
Pupils in the UK passing 'O levels' will not be admitted to University with those qualifications. They will require 'A' levels or in Scotland 'Higher Certificates'.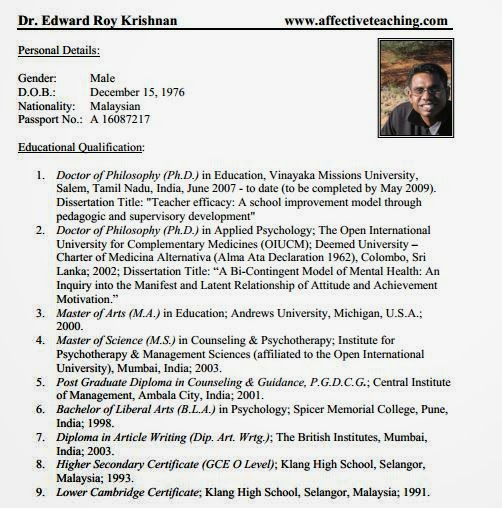 What this man lacks in boring pieces of paper from legitimate universities – he has more than made up for by self promotion and what nobler sentiment can he have than his Bangkok School Of Management statement 'instead of churning out graduates with paper qualifications in their hands with little or nothing to show in terms of actual workplace skills…would instead 'work diligently to ensure that its graduates are highly employable globally'.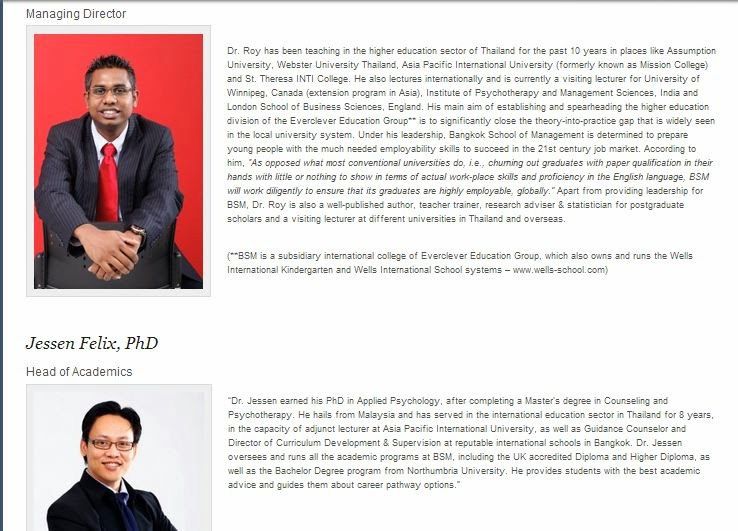 1. First he says he is a Dr of Philosophy in Education from Vinayaka Missions University in Tamil Nadu.(To be completed). Well lets not contest that one.
Degree Mill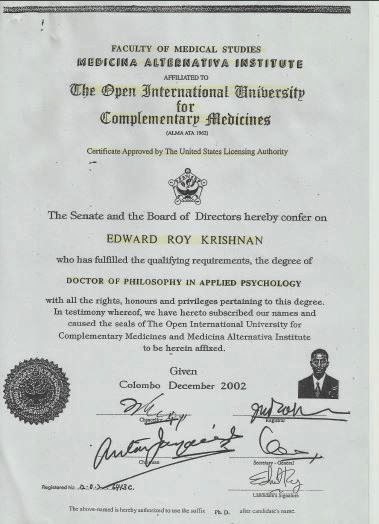 2. But then comes another Ph.D in Applied Psychology from, wait for it, the Open University for Complimentary Medicines given in December 2002. Yes you've guessed it – there's no such place. It's what is known as a 'diploma mill' and one of the most famous ones, possibly the biggest in the world. It has reportedly sold millions of degrees. It is not recognised by any authority in Sri Lanka where it is allegedly based.
From the US Council for Higher Education Accreditation
4. Then there is a M.Sc in Counseling and Psychotherapy from the 'Institute for Psychotherapy and Management Sciences again in 2002. Again this is not recognised by CHEA or USDE above in the United States or UCG (University Grants Council) in India.
The University Grants Commission (UGC) states, in section 22 of the University Grants Commission Act of 1956:
"The right of conferring or granting degrees shall be exercised only by a University established or incorporated by or under a Central Act, a Provincial Act or a State Act or an institution deemed to be a University under section 3 or an institution specially empowered by an Act of Parliament to confer or grant degrees."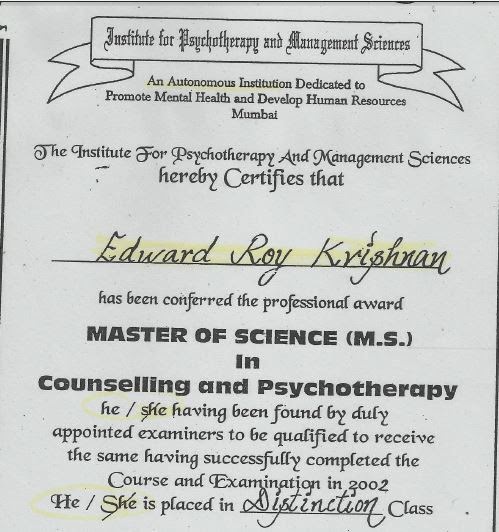 IPMS' address is 15/126 Unnat Nagar Part IV, Behind Jain Temple, M G Road, Gorguan West, Mumbai and on its own rather colourful but primitive website it states:

5. Then there is his Post Graduate Diploma in Counseling and Guidance, Central Institute of Management, Ambala. (18 October 2001) You can pick up post graduate diplomas here – three for US$150.00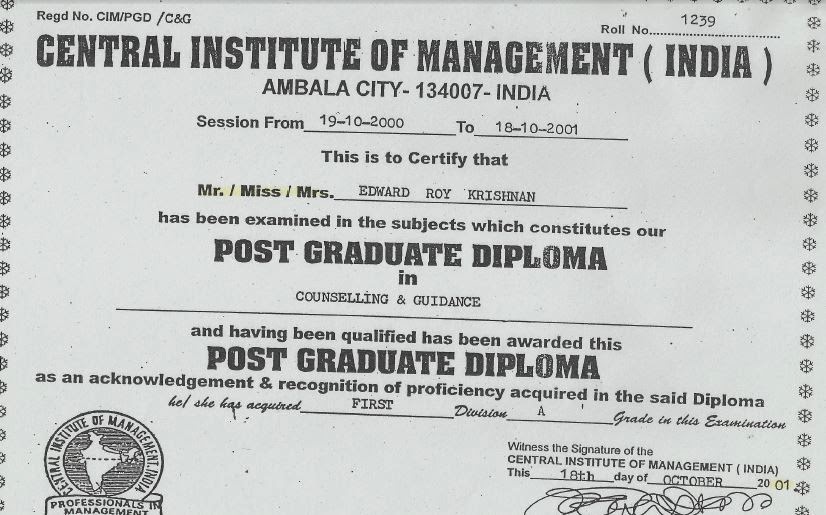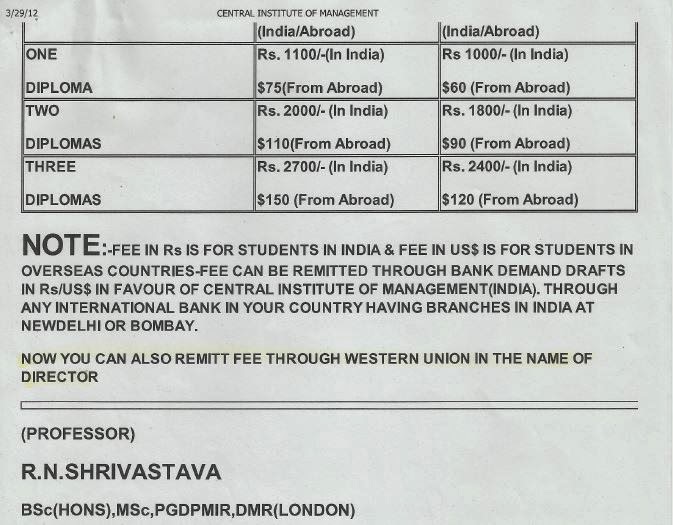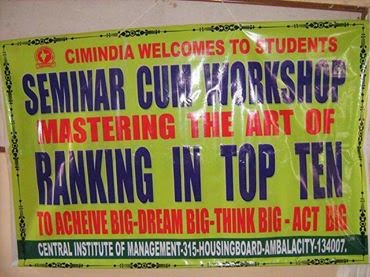 They seem to sell diplomas all around the world and have their own Facebook page. They encourage their students.
"TO ACHEIVE (sic) BIG – DREAM BIG – THINK BIG – ACT BIG!
But of course as the bosses admit themselves their certificates may be useful…..
But they are obliged to state CIM India is not accredited and these can not be used for higher education.
ASK US FIVE QUESTIONS AND SEND US THE CASH

In other words our certifications maybe good your CV but useless elsewhere – From CIM India
6. Bachelor of Liberal Arts, Spicer Memorial College, Pune,. India – This college actually exists but is not accredited to issue degrees by the two official accrediting bodies in India or abroad.
India's National Assessment and Accreditation Council had this to say about the Spicer Memorial College, Pune, the International Open University, IPMS Institute for Psychotherapy and Management Sciences, and the Open International University for Complementary Medicines.

A similar reply was received about the same institutions by NABET, The National Accreditation Board for Education and Training.
But I guess we will have to assume these places do not need to be accredited anywhere.
But wait. There's nothing like distance learning. and E.R. Krishnan has taken even one step further. Now not only do you not need to go to the University which bestows the degree on you for a price, you do not even have to go to the Bangkok 'school' which which supervises its own courses at a price and represents the University which bestows a degree on you…especially if you want a degree in psychotherapy. Got it?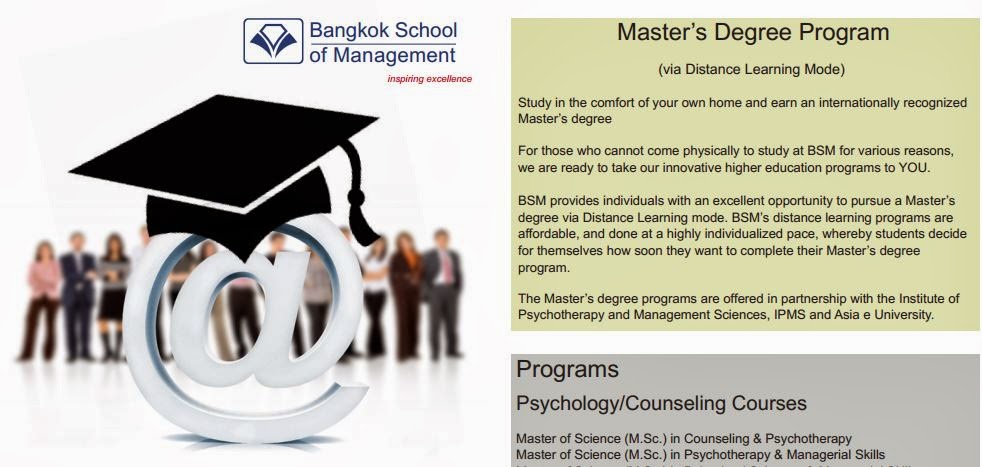 Funnily enough 'Dr. Edward Roy Krishnan's' No 2 at the Bangkok School of Management has a educational career which has developed the same way as his boss.
His real name is Marthonot Jessen bin Felix V Kuasi and he hails from Malaysia too. He seems to have also registered at the 7th Day Adventist Spicer Memorial College in Pune, India, and studied at the Open International University in Colombo and at the Institute for Psychotherapy and Management Sciences in Mumbai.
Here's part of his CV: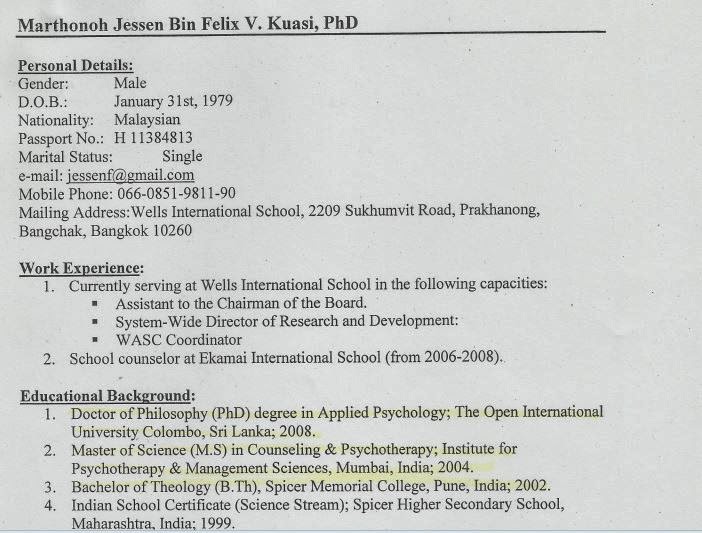 SNAP!
Dr, Roy has not responded to our messages to him or to the Bangkok School of Management. Nor has the University of Northumbria, whose degree courses are being promoted by BSM.
Question: When is a psychology degree not worth the paper it's printed on?
Answer: When it comes from a diploma mill.
WORLD'S FUNNIEST DEGREE MILL
From QUACKWATCH
More than 130 institutions had achieved IAC accreditation by 1989, when one Eric Vieth established the Eastern Missouri Business College and immediately applied to the International Accrediting Commission. Vieth opened his headquarters in a one-room office in St. Louis, Missouri, and issued an eight-page typewritten catalog that listed faculty members such as Arnold Ziffel, Edward J. Haskell, M. Howard, Jerome Howard, and Lawrence Fine.


Arnold Ziffel was the pig on the TV show Green Acres, Eddie Haskell was the obsequious friend on Leave It to Beaver, and the Messrs. Howard, Howard, and Fine were collectively known as the Three Stooges.


It gets better. The college seal was emblazoned with the phrase Solum pro Avibus Est Educatio, which means "Education is only for the birds," and the motto was Latrocina et Raptus, or, loosely translated, everything from petty theft to highway robbery. Doctorates were offered by mail in dozens of fields, from aerospace to marine biology. The marine biology textbook was identified as The Little Golden Book of Fishes.