-PINA COLADA SALES PLUMMET IN HELSINKI!-
Flying Sporran's Weekend Diary-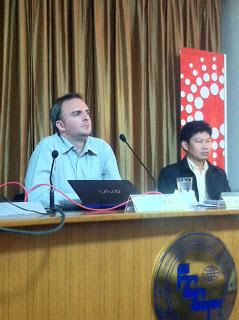 Actually I had never heard of Finnwatch before but I have always advocated an organisation which could watch Finns. But it now
seems this organization, together with the Finns, or some of them up there in the frozen tundra, who have a
liking for pineapple juice, pineapple chunks etc, has been causing an Asean
storm.
Finnwatch is the 'Watchdog' which published a report stating
that Natural Fruit, of Pranburi, Prachuap Khiri Khan, was, well, exploiting its
Burmese workers.
The company reacted in true local style by picking on one of
the researchers of the report who lived in Thailand, Brit Andy Hall, 33, of Spalding, Lincolnshire ( I
like saying Spalding – its reminds me of tennis racquets and cricket bats) and
issued summonses against him for US$10 million damages, and criminal charges
which could, I guess, have him in jail for five years.
Sledgehammer and nut. Obviously in the Thai courts Natural
Fruits cannot lose. The whole report is based on the testimony of Burmese
labourers who cannot and will not give evidence for obvious reasons. The company is linked to the Democratic Party.
But of course Andy Hall is not now in Thailand, wisely. He is in
Burma. Now there are many international flights bypassing Thailand – the old
gateway to Rangoon – so why should he give a damn.
So here we have an old fashioned feudal scenario being played out
for real – but the problem is that the more that this story gets mentioned –
the more real damage is being done to the company.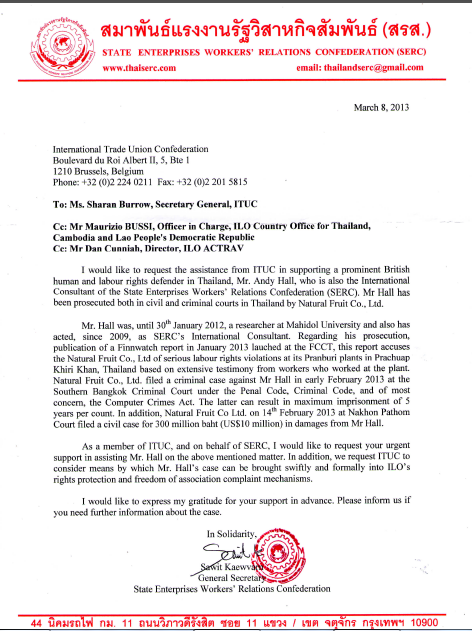 Not sure I am familiar with these people either but the NGO world is buzzing, plus their
English is better than some stuff I have received from the Ministry of Justice.
Now let's get this
straight. Western companies have been using cheap Asian labour for years, nay
centuries. Even in the last twenty years scores of major brand label companies have been exposed for similar exploitation.(It's something which, I guess, will come back to bite them in the butt) I have done these reports myself.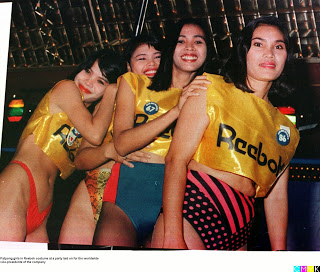 The uniforms have shrunk since
Boy can I remember when Reebok Vice Presidents hired the entire staff of a go-go bar in Patpong for a night out and paid each more than their factory girls earned in a month!
The difference is that in the western world the companies
have had to take criticism on the chin and then modify their practices or at least pretend to.
Not in Thailand though.
Even if Natural Fruits were to win their cases – they have
already lost.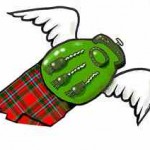 Andy Hall, a First Class Honours Law Degree student from
London University who has not repaid his student loan yet, would have to be proved dishonest in the court of world
opinion – something that's unlikely to
happen.
In fact the case being brought by Natural Fruits is only drawing
attention to itself. Pineapple? I
can live without it. I like grapefruit
and/or Florida/Spanish orange juice for
breakfast. I can have my gammon steak with something else.
At least I can get Tequila out of a cactus; Cointreau,
Curacao, Grand Marnier and Campari out of an orange; cider or scrumpy out of an
apple; wine, Benedictine, Brandy, Port, out of a grape; Cassis out of blackcurrants; Maraschino out of cherries, and quite frankly I can give Pina Coladas a miss. Have not drunk those since I was in my 20's and usually with some bimbette. It was the standard lube for SUN Page 3 girls.
But of course the Finns can drink anything! So I guess the report hurt.
Finally a hint for Natural Fruit


This should work. Fire your PR team and add the cash and that saved from legal fees to the Myanmar staff fund and then issue this statement:


"A report by the organisation Finnwatch, (based in a small country much of which is in the Arctic Circle with an airline discounting tickets to Thailand and where women can drink Scotsmen under the table, and where people ate Santa's reindeer long before Findus introduced them to horse meat*) critical of work practices at our factory in Prachuap Khiri Kan, Thailand, has been brought to our attention. While we do not agree with the findings of the report we have reviewed all procedures. We are now completely satisfied that that we are acting in compliance with both Thai and international standards and wish to reassure our clients that they will continue to receive the highest quality products from a company which is dedicated to the high standards of safety, health, and employment conditions (blah- blah)."


These sort of statements have helped multi nationals for years.
* In italics is what you joke about with journalists on the phone.