WOULD YOU DO THIS IN GERMANY? – ORGANISERS ASKED
It takes a special type of person to take part in a
Triathlon; guts, strength, determination, fortitude, willpower and cash, yes – cash.
The bikes used in these swimming, running and cycling events cost upwards
of 200,000 baht – £3,500!
In the biggest triathlon event in Thailand foreigners also
need more money than, er, the indigenous population.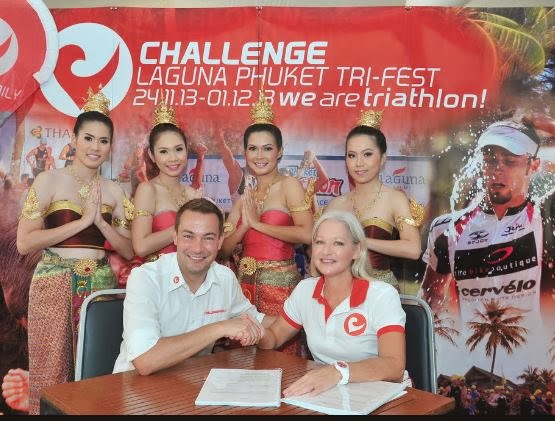 Challenge Family CEO Felix Walschofer and Debbie Dionysius, Laguna
Race director last year.
The 'racist' policy of two tier pricing has
now hit the world of sport the one thing that is said to bring the world together and out of conflict."
Foreign entrants to the Challenge Laguna Triathlon in Phuket
will have to pay nearly 8000 Thai baht £147.27 while Thais Triathletes will pay half that.
So now some expats appear to have pulled out of the even run
by a German based company and a lecturer at Thailand's prestigious Thammasat
University has lodged a complaint.

The issue was raised last year when Roman Floesser the Phuket event organiser commented"
Floesser

"It's actually not that the foreign athletes are paying more, it's that the locals are paying less or a discounted fee. The entry fee is in line with other Challenge races in the world and so is the service and standard of race organization and hence the cost of putting on the event. If we were to charge the full entry fees to locals we would price 90% of them out of the race and we would have a very hard time receiving the local support from the government, police and other agencies to put on the race."
This has not washed with some foreigners. who argue that the Thai contestants are in most cases better off than the foreigners.
Academic Simon Stewart, 41, who has an MBA in Sports Business Management,
claimed that the policy is not only racist, but also financially unsound.
In heated exchanges with 'Challenge-Family' the events organisers
he asks:
Simon Stewart

"How many other events give a discount based on race,
nationality or skin colour? It really is that simple and requires no further
explanation. How would things play out if you gave a 'discount' to
Germans and anyone else living in Germany (non-Germans) was then charged
double."
"This is illegal under European law (a law under
which the Challenge company operates) and is certainly unethical and runs
counter to any moral and sporting ethos that I am aware of.
"Racism and discrimination is not a local issue, especially
where sport is concerned. Sport should be inclusive. I would like Challenge to
actually commit to that ethos."
Mr. Stewart, also a part time sports journalist, and who describes himself one of the 'stragglers' at these events but takes part for fun, got information from other academics on Thai
Triathlon participants and stated:
"I have evidence which demonstrates that
Thai triathletes (93%) have a higher disposable income than the average expat
(triathletes). So, given that, I fail to see why you have implemented your
discriminatory policies."
"I truly hope that you never feel the bitter sting of
discrimination in your life. I can tell you that it leaves you shattered. The
feeling of being treated differently, more negatively, due to the colour of
your skin, is a feeling I wish on no one. As a victim of discrimination I can
testify that it is the worst experience I have ever suffered."
The Challenge-Family were sticking to their guns. Their Director of Marketing and Operations Victoria Murray-Orr said: "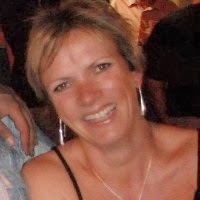 "As we have explained to Simon Stewart, Challenge Family entry fees are set at a consistent level at all our races around the world. Challenge Laguna Phuket offers a discounted entry to Thai athletes to encourage participation. This same strategy is adopted the world over to encourage entries. Local tri clubs are offered discounts for their members, media and pro athletes are offered free or discounted entries, and those who enter early are also offered discounts."
"But we are locals," insists Simon Stewart. "These charges apply to all foreigners, even if they have resident permits, work permits, whatever."
Another smaller triathlon in Hua Hin had stopped two tier pricing.
Comment: I am not sure I feel the 'bitter sting of discrimination' in Thailand when I am asked to pay double entry as a foreigner, though of course it is discriminatory, but I do feel the bitter sting of rip-off. I usually get the kids to cry which usually works though. Needless to say I will not be entering this years Laguna Triathlon.