TEXAN POLICE VOLUNTEER WHO LED DRUGS ARRESTS IN THAILAND CAUGHT IN HIS OWN DRUGS FACTORY.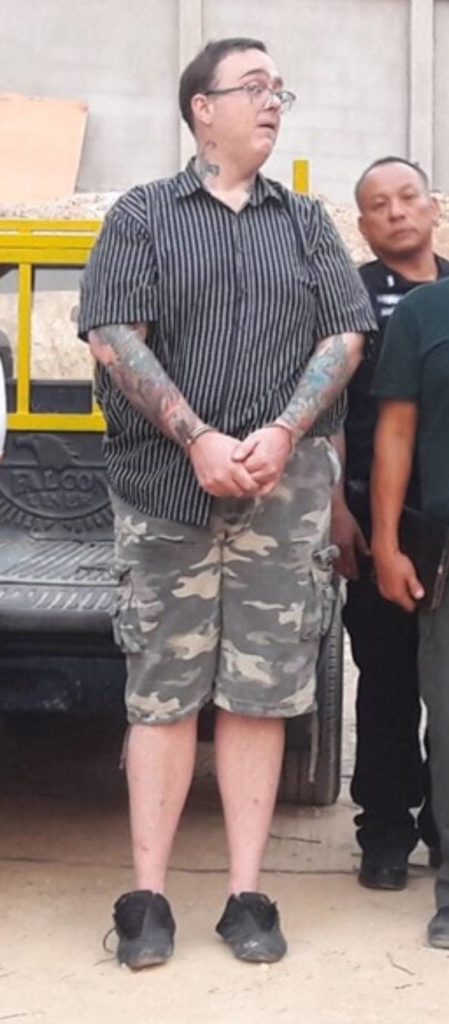 The memoirs of a Texan who has spent the last 20 years investigating foreigners for the Thai police, mostly for financial gain, have been put on hold after was arrested in Chiang Mai running a cannabis plantation and a pill pressing business for steroids.
Looking rather meek and fazed Joshua Pate, 44, a former volunteer with Thailand's Transnational Crime Coordination Centre was taken away in handcuffs after opening up his story on his activities with the Transnational Crime Co-ordination Centre.
Texan Pate, 44, who had been with the controversial unit involved in the investigation of foreigners in Thailand since its inception, and before that with the Crime Suppression Division, was arrested in connection with the discovery of a 'cannabis' factory found at his home in Mae Rim after a sting operation.
A second person Ruewornrat or Amporn Wiriyathorn, 37, his common-law wife, was also arrested in connection with the possession of 100,000 Dianabal DS (A Schedule IV drug and part of the Diazapam group of sedatives).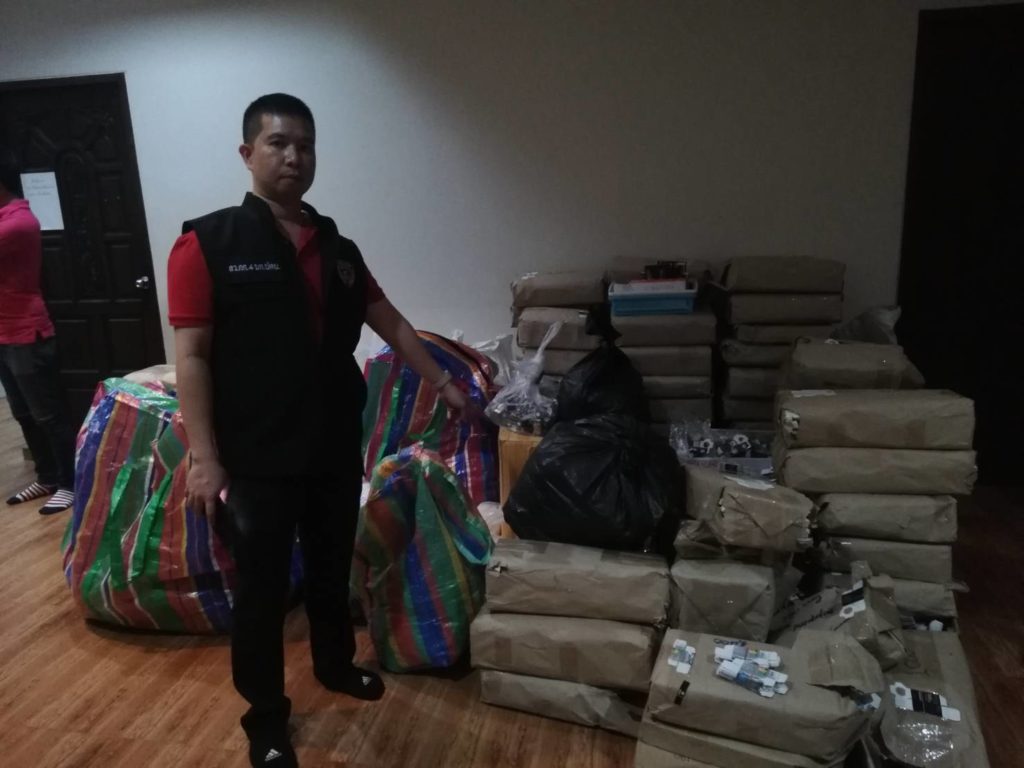 Both were also are allegedly involved in a website selling steroids, which they allegedly produced with expensive pill pressing machines.

As Pate was on a visa 'over-stay' for five years all while working with the TCCC police, it is likely he will be held in custody pending trial and sentence and then deported.
His stories of his escapades in massage parlours with top Thai police in which he caste himself in a role more romantic than the reality have been put on the back burner. He identified the rich foreigners up to no good for his bosses. Ironically his biggest successes were against foreigners packaging illegal steroids from Pattaya a business he went into with relish.
Sometimes the minions who were caught had no cash, especially if their bosses decided to take a hike, as in the case of Briton Neil Hartley Pattinson, would have to go to jail for three years before being deported to live with his mum in as caravan Heynsham, Lancs, U.K.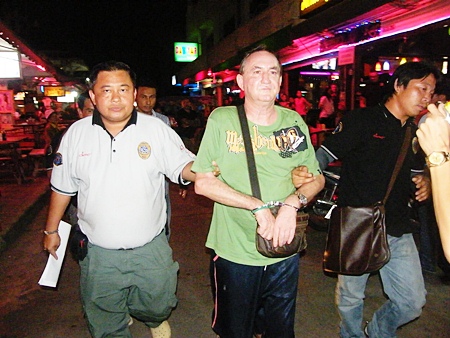 "I only helped with e-mails and orders. I was a scapegoat. The Thai police visited the man who ran the website and demanded thousands of pounds. When he did not pay them, they arrested me two weeks later, while he was out of the country."


Neil Hartley speaking to the Lancashire Evening Post


Pate, who also used several aliases, including John Mackey, had recently implored the United States Drugs Enforcement Investigation to help him and his family relocate back to the United States claiming his work for them had endangered his family. The DEA declined referring him instead to American Citizen Services.

Pate's days were numbered after he went 'off reservation' from the TCCC, which under Colonel Dullayapat Detpornchayasin, Deputy Superintendent at the Thai Special Branch Bureau's General Staff Division, had run a lucrative trade getting cash off businesses selling unregistered steroids to the world.
Dealers were arrested, 'fined millions' and then allowed to carry on. Some were even recruited to the unit or if not. Pate, it is alleged, made several of them sell his own branded steroids as part of ongoing deals. But when he left police, he left his income too
He had admitted sharing in the profits from the arrests but said he was only involved in the steroid dealing business in a minor way.

On the other hand other foreign members of the TCCC team, he claimed, had been producing and selling steroids on a much wider international scale including Frenchman Thierry Perenon, who has already featured widely in the Thai media over claims that, while wearing a police uniform, he attempted to extort foreigners.
Perenon has now given up his 'police duties'.
Astonishingly Joshua Tate said he complained to both his bosses at the TCCC and to the US DEA about the wide extent of steroid trafficking among TCCC members, at the same time considerably playing down his role, but admitting he took cash from suspects. By getting rid of rivals members of the TCCC had secured almost a monopoly, he claimed.
He also claimed he had instigated the well-known drugs smuggling case of Luke Cook bringing complaints by an Australian offshore worker Douglas Shoebridge to both the TCCC and DEA – entering into the investigation with enthusiasm even ringing Cook posing as a buyer of the drugs Cook had allegedly lost by dumping them at sea. But after he quit then he reneged on the investigation claiming facts which did not fit the police view were discarded.
The DEA was involved in investigations in both matters. In the course of these investigations it is likely the DEA would soon have found out about his more pro-active role in the steroid business.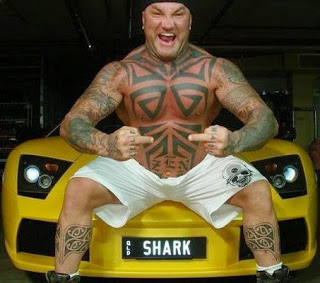 Machines seized at addresses in Chiang Mai indicate he was a source for Thai produced illegal and unregistered steroids himself namely – the 'Atlas Brand' – a brand which body builder Tim Ward known as 'Sharkey' said he had bought from another member of the team.
Ward, who insists steroids are not harmful if taken properly, later added that he too had to pay out 2 million baht to avoid prosecution, and that part of the deal was he had to take 'Atlas Brand' from Pate which he described as 'fake'. He told Pate he 'couldn't sell that shit'.
After the court in Pattaya pronounced death sentences on Cook, Cook's wife Kanyarat Wedphitak and a 23-year-old American Tyler Gerard, Pate did an about-turn and then criticised the prosecution of Luke Cook claiming the Cooks and Tyler Gerard had actually been set up by cheated Australian members of the Transnational Crime Co-ordination Centre who had set him up on the charge of attempting to bring 500 kg methamphetamine into Thailand on board his yacht, Jomandy, for Australian Hells Angel Wayne Schneider.
Luke Cook, an Australian offshore caterer, was last November sentenced to death together with 23-year-old American Tyler Gerard and in anticipation of an acquittal on appeal Thai police have announced that Cook and his wife Kanyarat Wedphitak, known as Kookai, will be re-arrested on arms charges.
Police had claimed that Cook had been paid US$10million to smuggle the drugs by biker chief Schneider and that the Cooks lived a life style well beyond their means.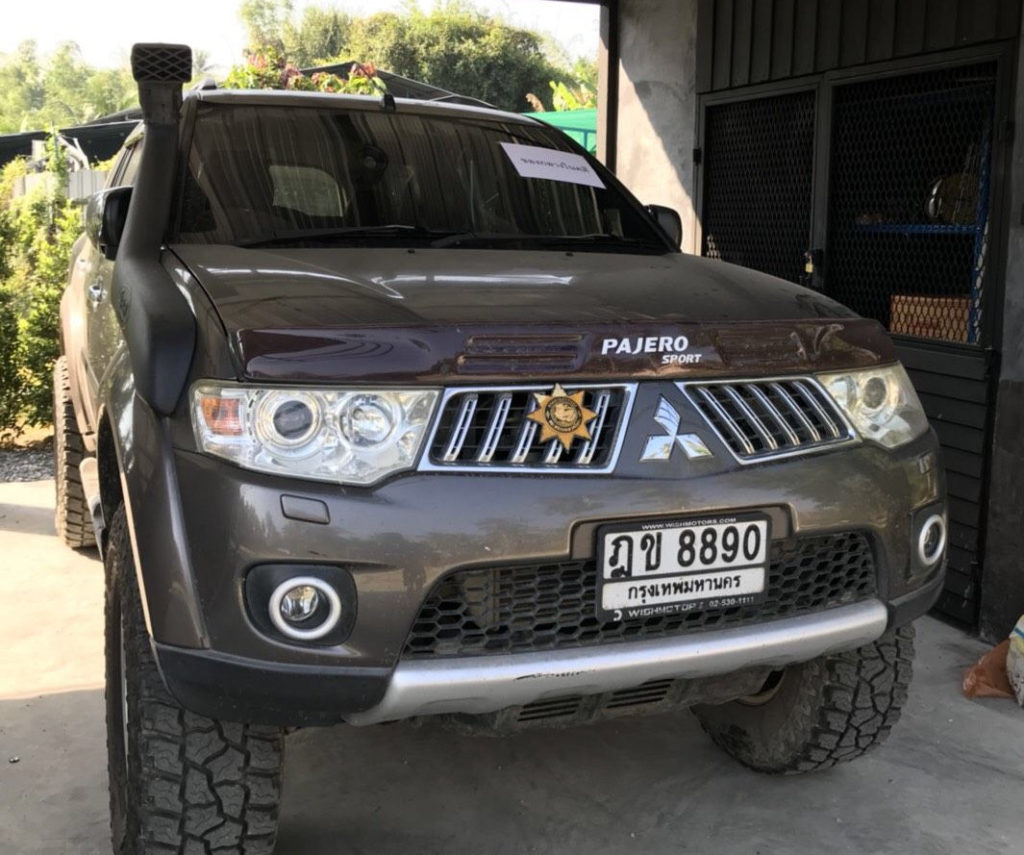 On the arrest of the Cooks police took possession of a BMW, a Mercedes, and a Pajero and one Ducati and one Augusta motorcycle, AUS$3,900 and a watch phone. The BMW and Mercedes were on finance as was their home.
Pate had claimed that both principal witnesses against Cook at the drugs trial had grudges against his wife Kookai, who acting as a legal adviser had cheated them in business deals.
The allegations about Kookai seemed to be well founded. She appears to have secured the market in Pattaya for ripping off Australians. They included one called Andrew Black, who gave her 2million baht and pocketed claiming she was suing a third person in the courts for its return.
When complaints were made to Luke Cook he ignored them saying it was his wife's business and complainants were angered by Cook's 'You can't touch me' attitude and his claim to have contacts high up in the military. He sported an army badge on his Suzuki Pajero.
The first principal witness Australian Douglas Shoebridge has confirmed that Kookai cheated him out of 150,000 Thai baht for failing to set up a company for him despite taking the fee. And the second witness, another Australian Craig Smith, said he was cheated out of 330,000 baht by her, also relating to setting up a company matters.

Both were members of the TCCC police volunteer team prosecuting the Cooks. Smith was a translator. They gave the only evidence linking the Cooks and Tyler to the drugs importation.
In court both denied they had any grudges.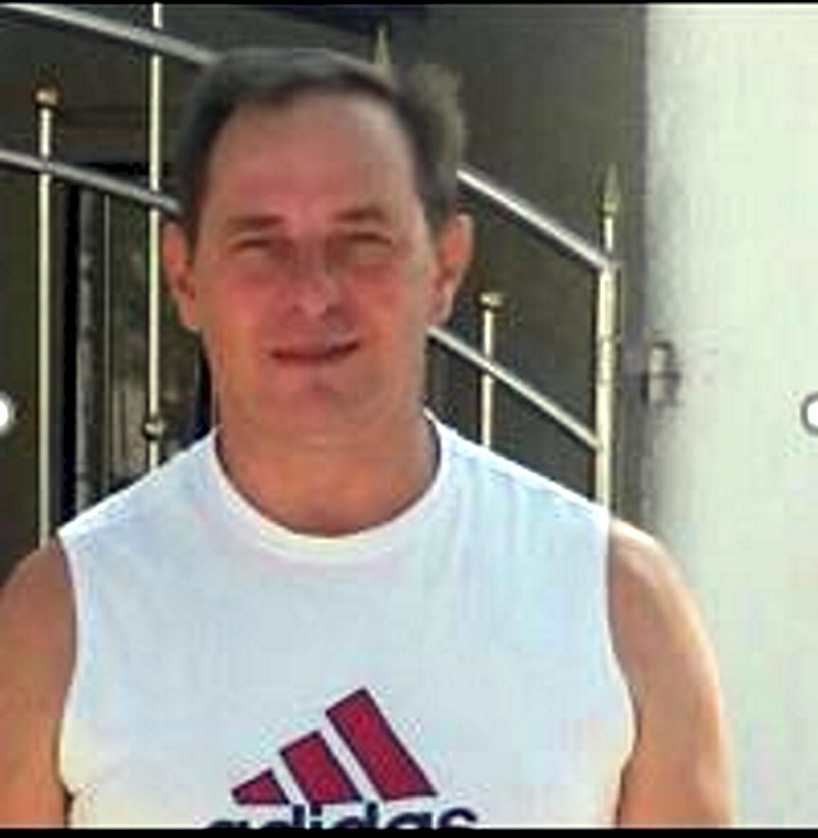 The only actual witnesses to any alleged drugs smuggling were the crew of a Naval patrol who are alleged to have caught the 'Jomandy' in her spotlights as a man tossed bags overboard. But no member of the crew or the skipper could be found. Nor was there a log of the incident.  A 50.4 kg sack of 'Ice' was later found washed up on a nearby beach.
Shoebridge had claimed that Luke had confessed to him that he had brought the drugs in on Jomandy. Craig Smith said that another Aussie offshore worker Joel McGarry had told him that Luke had asked him to skipper his yacht for the drugs pick-up for a fee of 500,000 baht. However, McGarry was also not called as a witness.
In addition Douglas Shoebridge was named in an inquest in Sydney, NSW, into the death of Wayne Schneider as the person, who together with his girlfriend Siriphat Saimart, had provided two cars and a house used by Antonio Bagnato in the kidnap and beating (to death) of Schneider in Pattaya in 2015.
Bagnato allegedly wanted Schneider to repay the money he had paid for the drugs.
In affect Shoebridge, the 'gofer' for one crime boss (Bagnato) was giving evidence against the alleged 'gofer', Cook, for another crime boss (Schneider')
Shortly before his arrest Pate had complained that he was being set up by another member of the TCCC team. He said he had made a police report in Chiang Mai that his wife had received an unexpected sum of 125,000 Thai baht in her bank account and that he believed he was being set up on a drugs deal. He sent a copy of the deposit slip from a 'buyer'.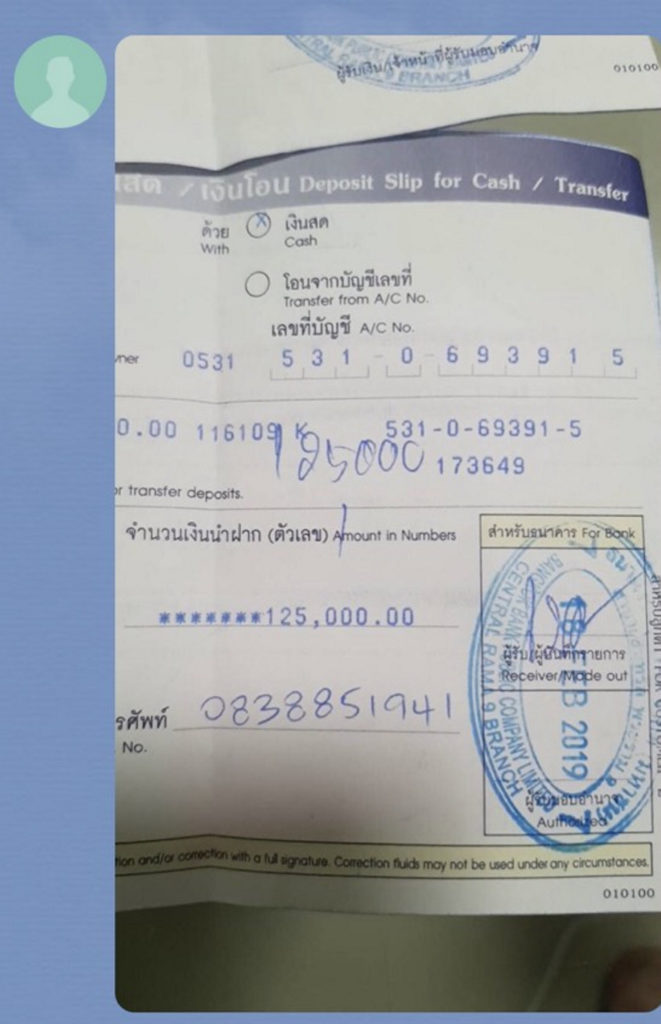 Lawyers for Luke Cook, 38, from Perth, Western Australia, have appealed conviction and sentence claiming that there was no evidence to link their client to the drugs.