WIFE HAD GOT THREE HOUSES AND APARTMENT BLOCK – A RUBBER TREE PLANTATION – BUT SHE WANTED POOL VILLA TOO – CLAIM.

A British self-made millionaire was found to have the equivalent of just £7.54 in his bank account when he was found murdered in his home in Thailand in July.

But on top of the 370 Thai baht he still had a home and for the last two weeks of his life he was living in terror of his young Thai bride, who wanted that too, it was claimed today.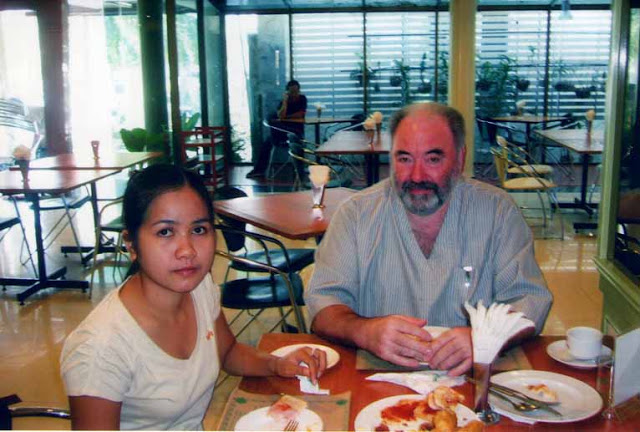 Happier days Farrell and Koranit
Now police in Sattahip, Thailand, have been asked to re-interview 32-year-old Koranit Farrell Chuangchai, whom he met through an Introduction Agency, following allegations that she had been unhappy with a generous divorce payout and wanted everything.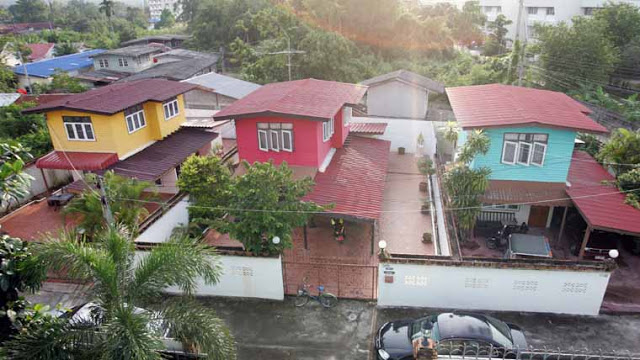 Rose, Fairy and Primrose Cottages given as part of divorce settlement
Stuck in a marriage which had gone disastrously wrong 72-year-old David Farrell, a former Merseyside nightclub and property tycoon, had given his 32-year-old wife Koranit Chiangchai three houses and an apartment block when they dirvorced in May..
They constituted four of his five properties in Thailand.
But a witness has come forward to say that he was waiting for his own death and it was his ex wife who terrified him.
In the last week of his life he refused to go home, instead asking to stay at a friends house, despite the fact that he had installed three locks on his bedroom door.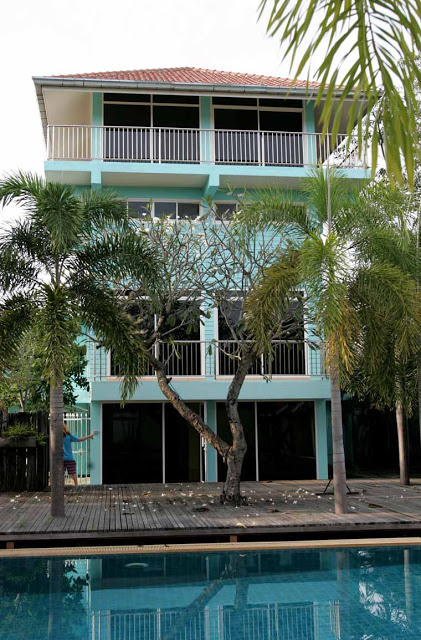 David Farrell's house – It was all he had left
And his two daughters, Nicky,47, and Lois, 45, from Brighton Road, Wallasey, have uncovered evidence to show that he was angry that she did not also have his last possession, his house and land, valued then at £346,492 – or 17 million Thai baht.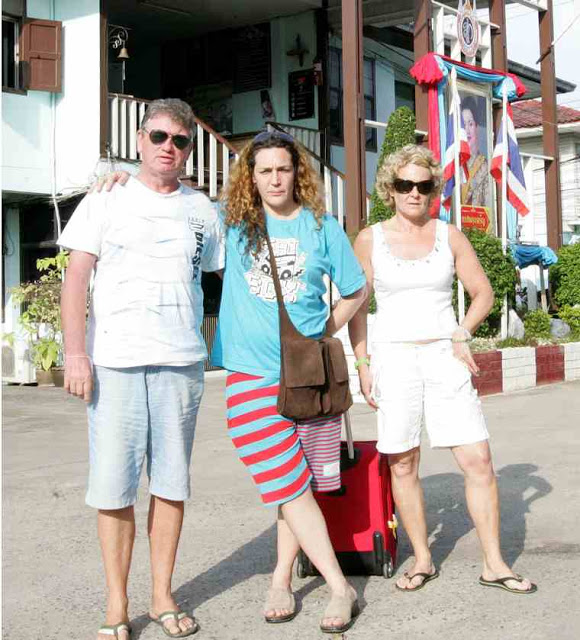 Alan Jameson with David Farrel's daughters Lois and Nicky
Farrell, who had previously put everything in her name, had in May managed to get her to sign his house back to his company, as part of the divorce agreement. But Koranit complained he had not given her enough to take care of herself and her daughter.
David Farrell then changed his will on July 11th which had been made out in favour of Koranit – nicknamed Powder – and their four-year-old daughter Lucinda, who has a British passport.
In the new will he cut Koranit out completely – leaving everything instead to his three daughters, Lucinda, Lois and Nicky, so his elder daughters would look after their baby sister.
Two days later he got a message in ambiguous and broken English from a clearly angry Koranit who wrote:
'Thank you for the chair and the will for Lucinda. If you not change again before you dead. You and me we finish. You take property back all ready. And you cannot look up to me and Cinda. How you do? How can stay together. You don't like my family. You just want someone to look up to you. GOOD BYE".
Within two weeks Farrell was dead.
When police opened their investigation in July Koranit named an American neighbour then Briton Alan Jameson, 54, from Newcastle as the prime suspects.
She told police he had a row with David Farrell before his death.
Jameson has strongly denied the claims and given a statement to police saying Farrell was scared he was about to be killed, either at the hand of Koranit's Thai boyfriend or a member of her family.
"We spent a lot of time together. David was terrified. He has installed new locks on the house and three on his bedroom door.
"He also kept a set of knives in his bedroom for use against an intruder.
"In the last week he point blank was just too scared to go home and stayed at my house twice.
"He said his wife was not happy with the divorce settlement. His wife wanted everything."
Said Lois:
" This news information is of concern. We are worried about the progress of the police investigation.
"We have been to an estate agent to sell the house. The staff at the agency said Koranit had already been there with a Thai policeman a year ago do the same thing.
"Unfortunately the staff will not testify to that fact.

"We are also concerned because three months on police still do not have the results of the post mortem. Nothing has come back from forensic tests. Koranit also seems to be getting calls from the Police Station telling her what we are doing."
And Nicky, who runs a hairdressing business said: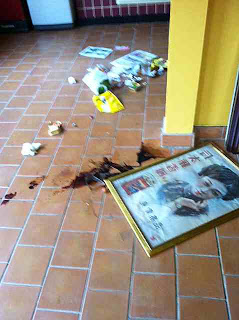 Like a burglary
"We had reservations when dad took a young wife and said he was going to live in Thailand. But in a way we were happy for him.
"He had looked after his own mum and dad until they died and he had looked after us so well that we were not expecting anything in his will.
"He said: 'It's time to think about myself now' and we accepted that although we could not see him so much. Thailand is nice. The food is cheap. We were happy for him."
The sisters arrived back in Thailand to find the house had been completely searched from top to bottom since their first visit after his death.
Added Nicky: "Someone was looking for his house deeds. It was like the place had burgled. But we have found them now.
"They were hidden in a secret compartment under a sink unit at his house. They were found by the auctioneers, who were selling the furniture to go into a trust for Lucinda.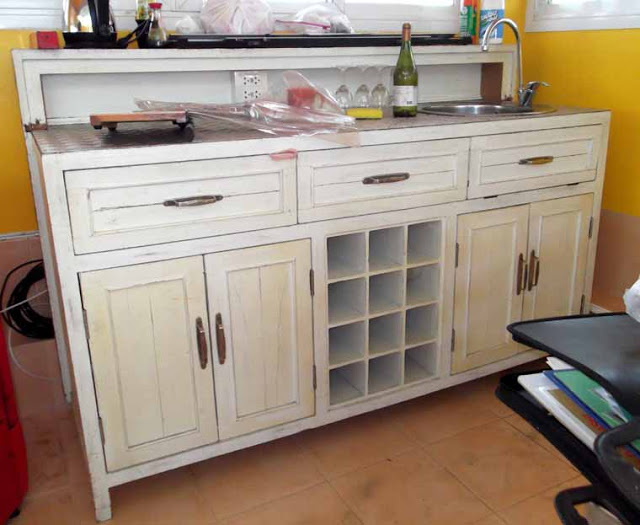 The secret caompartment was below the sink – that's where the house chanote, house registration book, bank books and daughter's British passport were found.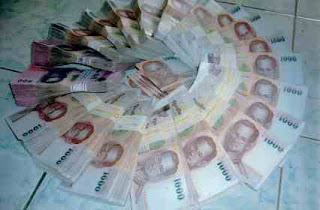 Koranit's dowry or sin sod
"I do not think there is any doubt that Dad had hidden them from his wife fearing that someone would break in.
"They are now in safe hands and lawyers will make sure Lucinda is looked after.
"Lucinda is a lovely little girl. We went to see her again and she cried when we left.
"We desperately want to look after her but of course the mother has the legal right. We do not know what the future holds for her."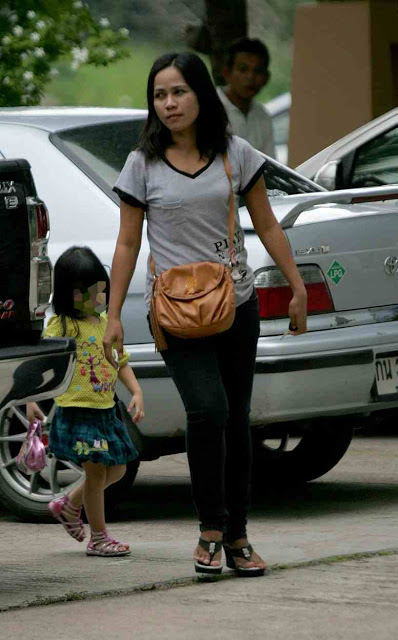 Koranit and Lucinda. Koranit is out of the will but Lucinda is taken care for when she is 20

Links: A killing foretold Part I