THUG WHO TRAFFICKED IN COCAINE AND HEROIN AND GRASSED ON HIS OWN COURIERS GETS SENT TO THE BIG TIGER.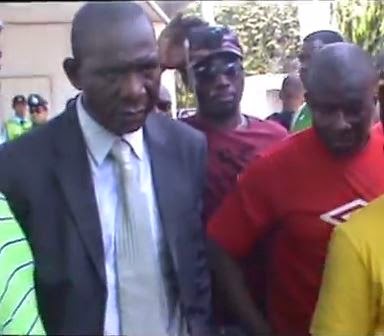 Gilbert Akudos Ngidwe – the President of the Nigerian
Association of Thailand was today jailed for life and fined a million baht at
Bangkok Criminal Court on charges of trafficking in cocaine and 'ice'.
He joins Okere Ugochukwu Emmanuel, 33, who was President of
the Nigerian Association of Cambodia when he was arrested and jailed in 2011 IN Phnom Penh on
charges of trafficking in 3 kilograms of methamphetamines.
The drugs were apparently brought into Cambodia by a
Filipina accomplice Bookcilo Deyana, 26 in her luggage.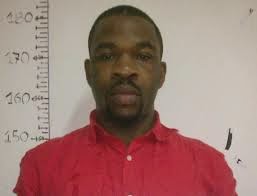 Okere Ugochukwu Emmanuel
Gilbert Akudos Ngidwe who was sent to Bangkwang Pirson was on the other an even bigger figure
in the African underworld which associates around Sukhumvit Soi 3 in Bangkok.
He is reported to have paid off police for years – but all
good things come to an end. His life sentence heralds big changes in the
African underworld and there are reported to be ten contenders to fill his
place.
Kudos as he is known was behind an attack on the Nigerian
Embassy recently when the Ambassador was virtually held hostage for many hours and made to listen to the grievances of local NIgerians. At the time he played the 'benevolent godfather.
He was reported to have willingly set up other Nigerians on drugs charges and his Thai wife Kik Nattawan is reported to have done the same on his behalf. He also reported to have run his own security force comprised of sacked army and police officers from Nigeria.
According to a report by Nigerian economic analyst Geoffrey Emeka Akubuilon on Nairaland.com.



"The duties of this task force are to collect monthly fees from Nigerians hawking illicit drugs on the street. Sometimes they kidnap some Nigerians who are not into drug business because they refuse to pay tribute to them".


Geoffrey Emeka Akubuilon also wrote:



"Before the former ambassador (Mr. Suleiman) left Thailand, he told Nigerians in Thailand that Nigerian image is more important than our personal interest and advised Nigerians to select a Nigerian who is not into any illegal activity to lead Nigerians in Thailand. Kudos is not only into drug business but responsible for 80% of Nigerian citizens languishing in Thai prison".
Geoffrey Emeka Akubuilon is now also in jail……………..for drugs trafficking.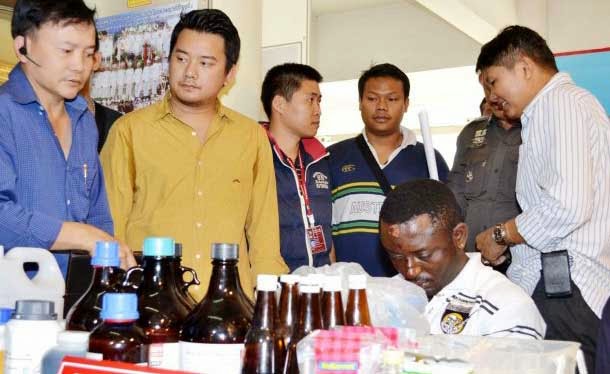 There are nearly 700 Nigerians in Thai jails.