'SUGGESTIONS OF BIGAMY ARE VILE, VISCIOUS AND UNTRUE – SHE'S A MIA NOI'
A British 'bigamy' enquiry seems to have to come to a close
after a misunderstanding by British police over the Thai acceptance of 'mia
nois' or mistresses.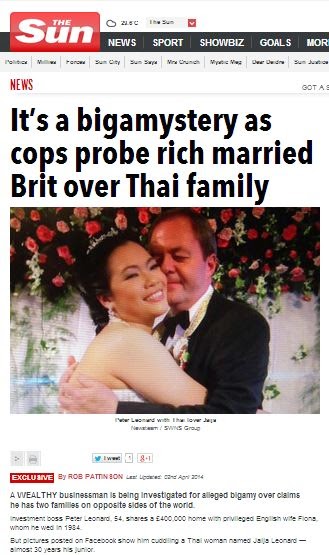 While Peter Leonard, 54, went through a wedding ceremony
with his Thai girlfriend Jaija, who had a baby with him and is reported to be
expecting twins, while still married to his larger British wife Fiona, it was
of course not a legal ceremony.
So it looks like the investigation by police in
Bedfordshire, England, is off.
"I've been assisting police with their enquiries in order to
quash these vicious, vile and untrue rumours that I am a bigamist, which I am
not. I'm not married in Thailand."
Asked if he had a child by Jaija he replied: : "About
100,000 British men do".
He did not say how many of these were on golfing holidays when conception took place.
Vicious, vile and untrue?
Peter should come back to Thailand and sue his accusers here where he
will find that even if the accusations were true, truth is not a defence – and to
describe someone as having a mistress could also be libelous – er, especially
if it were true.
Asked whether his wife cared Leonard told 'The Sun': "As long as if
she's looked after I do not think she cares."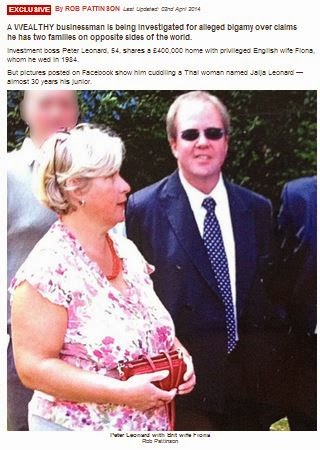 And of course the same will go for the minor 'wife' – and I
do not of course mean wife in the legal sense.
100,000? Seems like some Brits have been working overtime. If that figure is true, some 990,000 could come a 'cropper'.