BUT PHUKET TAXI DRIVER WALKS FREE.-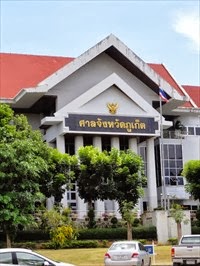 The Thai island of Phuket is notorious for its wayward taxi and tuk tuk drivers. Consular officials have been complaining for years about the rip-offs. The last time I was in Phuket a taxi driver demanded a fare of 300 Thai baht for less than a mile. There are far worse stories than that. In fact that seems pretty normal.


Angry drivers have attacked tourists with machetes (for taking their parking spot), and have attacked them for arguing about the fare – which leads one to wonder how far they can go.
They have also blockaded hotels which have chosen to use other services.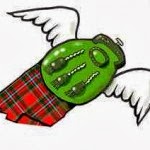 A story yesterday in the Phuket Gazette has set the cat amongst the pigeons…and is infuriating expatriates based in Thailand.
The story is here at the Phuket Gazette.
Taxi driver Paitoon Kruain was considered by many to have well crossed the line.
This is what he did:
1. He was under the influence of 'yaa bah' – methamphetamine when he picked up a young Chinese tourist at Phuket International airport on May 17th last year. Normal penalty in the west would be disqualification, fine, and even imprisonment. Thailand stipulates imprisonment of 1-5 years and a fine of 20,000-100,000 Baht for possession, use or consumption.



2. He was drinking alcohol while driving. Well that would confirm imprisonment for the above if only a short term.


3. He then indecently assaulted the passenger. Sentence in the west if there are no mitigating circumstances 3-5 years.Could be less but a fine would be unlikely without mitigating circumstances. being high on ya baa would not be considered not a mitigating circumstance



4. He kept her prisoner in his car for five hours – until he ran out of petrol. This guy seems feral. Kidnap, or rather illegal detention. Automatic jail. Comparable case in the UK – 3 years.

5. Operating a regular vehicle as a taxi – well there would be all sorts of other charges attached to that in Britain. He will almost certainly have not been insured thus no interest in passenger safety and would flee the scene of an accident.


So what did Paitoon get after pleading guilty to all charges. A 2000 baht fine for operating a taxi illegally, about day's pay for a Phuket driver; and for all the other offences, a 10,500 baht fine (£200) and a 13 month prison sentence……suspended.



It seems the journalist for the Phuket Gazette was not at the court. He had to get the sentence from the clerk. The local licensing authority did however say that he was banned from applying for a taxi licence for five years. Yes. That's right. But in Phuket why even apply? You just need to know your local 'boss'.

The reason journalist Saran Mitrarat may not have been at the court because previously judges have told journalists they cannot attend cases there – just report the judgements. Blind justice? Are the authorities genuine when they say they care about their tourists?
The choices: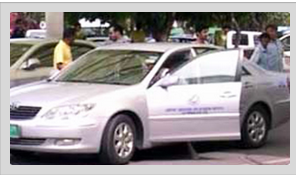 Airport limousine
This choice is the most expensive but generally safe.
Its comfortable, but the driver may still try and convince you to go to his friends hotel (for his commission). He certainly will if you have not already booked your hotel.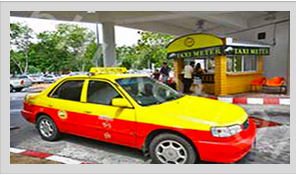 Metred taxi
Well the sign says metered. And he will have a meter on board.
But many do not know how to turn these meters on and your requests for him to do so will be met by the monotonously repeated '800 baht' or '1000 baht' and sometimes a lot more.
Sometimes they will blankly refuse to and quote you a price – take it or leave it.
He'll sell you anything from hotel rooms to girls or boys – that's if you are not travelling with your wife or kids.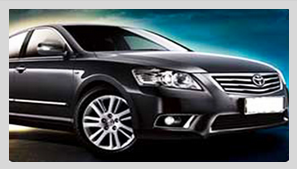 Hotel limo
Hotel limo. By far the best choice. Many hotels provide this limo free for arriving guests, though you may have to pay through the nose on your departure.
And no hassle from the driver except small talk.
But as stated above some hotels have been having trouble using their own limousine or that of private tour companies. They can find themselves under blockade from the 'taxi mafia'.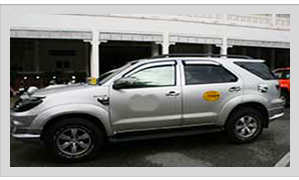 Private taxis. These were illegal but have been made legal by the Phuket authorities at the push of a button. The DSI disagrees. Officers of the Department of Special Investigations earlier this month arrested over 400 illegal taxi drivers.
Nothing serious seems to have happened to them though.
These can and will demand anything, including apparently your virginity.