THAI COURT REJECTS SCOTS' 'RIGHT TO BE FORGOTTEN' PLEA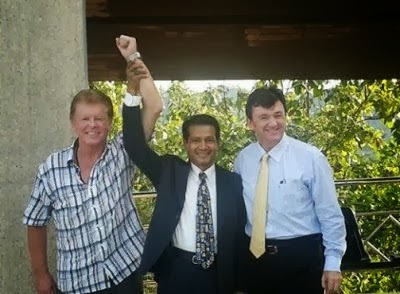 Legal eagles.
An application by two Scotsman to force Google to remove material about them on the internet has been rejected by the Bangkok Criminal Court in Thailand.


The legal submission made by Brian Goudie, 47, from Falkirk and David Hanks, from Girvan, Ayrshire, demanding the 'right to be forgotten' was found to be inadmissable and both have been informed.
Goudie, who is on trial in Thailand for posing as a lawyer to cheat a 76-year-old American woman out of £146,000 in legal fees, had publicised the law suit on his Google website Casewatchasia.blogspot.com. – a site which appears to be dedicated to demolishing the reputation of his enemies. The site has not been updated with the rejection. Goudie and Hanks cannot use the Thai courts to order Google to remove material from the internet, the judge ruled.
David Hanks, 66, is the former licensed owner of Masquerades Brothel in Keysborough, a suburb of Melbourne,
Both Scots featured in a story in the Scottish Sunday Mail and later on this site yesterday. This followed complaints from American Bill Monson and his associate Michael Mitchell that the two Scots posing as lawyers had tried to persuade him to part with US$5million to allow them to secure over US$100million from the frozen assets of former Thai Premier Thaksin Shinawatra.
Bill Monson, President of Clearview Television, Seattle, had been involved in a multi-million law suit with the exiled Thai Premier, claiming that Thaksin had taken his, paging, cable tv and mobile phone businesses from him.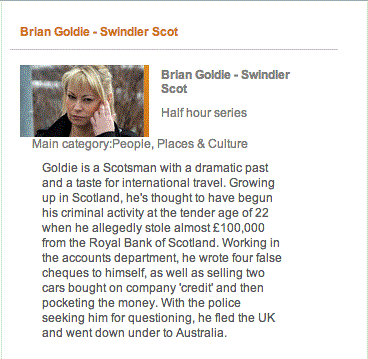 Monson and Mitchell had led the Scots on but baulked at a final meeting when they were refused to have a witness present.
Goudie features in the documentary by Makeworld Media 'Brian Goldie – Swindler Scot' in the series 'Serial Swindlers'.
In Australia under the name Brian Goldie, he was jailed for six years for defrauding a West Australia mining company, where he had secured a job in the account department.
Rejecting his plea to stay in Australia, the Australian Appeal Tribunal described him as 'not a person of good character'.
Last week the provincial court in Koh Samui rejected a plea by Hanks to have www.andrew-drummond.com, run by a Bangkok based British journalist, blocked in Thailand on the grounds of contempt of court. The same court also rejected a plea by Goudie to have all stories and photographs about him removed.
The law suit against Google was in fact one of multiple attacks on and attempts to close this site.
Other attempts have been made by American Drew Walter Noyes, one time publisher of the Pattaya Times newspaper who is on trial in Pattaya with his 'wife' Wanrapa Boonsu for extortion.
Seated – Drew Noyes and Wanrapa Boonsu
#DavidHanks #BrianGoldie #BrianGoudie #DrewNoyes #DrewWalterNoyes
========================================
Casewatchgoudie.blogspot
BRIAN GOUDIE AND ALBA LAWS – MAKING THE LEGAL NEWS:
CASES LOST: libel against Andrew Drummond, Pattaya Provincial Court – with reference to story in Sunday Mail headed "Fiend's Friend'
Contempt of court and request to remove all stories about him from www.andrew-drummond.com Koh Samui Court – application refused.
Brian Goude and David Hanks V Google – dismissed, Bangkok Court
Civil case awarded 7.9million baht to Barbara Fanelli Miller, Pattaya Provincial Court
SETTLED BY JUDGES ORDER: Criminal case for fraud brought by John Jepson, posing as a lawyer to demand fees for legal case and take Bangkok condo in lieu of fees. Ordered to return the condo and forfeit downpayment as rent. Charges withdrawn. Pattaya Provincial Court.
CASES ON GOING: Had to use outside lawyers. Criminal case 2 charges. Posing as a barrister to defraud Barbara Fanelli Miller out of 7.9 million baht.
Criminal/civil case: Koh Samui Court: Failure to pay 7.9 million to Barbara Fanelli Miller.
Criminal libel: Andrew Drummond, Alistair Cooper V Goudie, David Hanks and Drew Noyes libel ongoing in Bangkok Criminal Court
Civil Case: Libel. Alastair Cooper V Goudie, Hanks, and Drew Noyes, Bangkok Civil Court
CASES BROUGHT BY GOUDIE


Criminal libel and computer crime libel case against Andrew Drummond. Alleged that Drummond posted mocked up pictures of him on the internet a barrister, Royal Marine captain, and in leathers in a gay parade, to cause him shame and embarrassment. Investigation completed. Judges decision Aug 27.
Criminal libel and competer crime case against Drummond and Cooper. Summonsed not delivered properly. Given seven days to comply.
COMPLAINTS PENDING:


Peter Morris, Alan Dempsey and one other. Accused of pocketing funds awarded to clients by judge at Pattaya Provincial Court and cheating clients.
Nang V Brian Goudie: Complaint to Technical Crime Suppression Division with allegation that Brian Goudie filmed then posted pornographic material of Thai girlfriend and placed in on the internet.
Both cases referred by Crime Suppression Division in Bangkok to Pattaya Police for action.