THAI NEWSPAPER LINKS RED-SHIRT LEADER TO NEW AIRLINE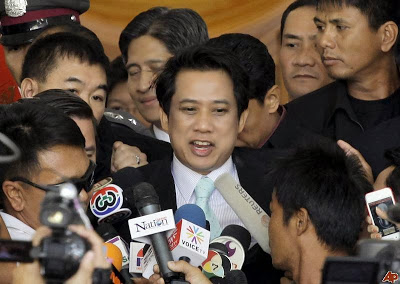 Former Red Shirt leader Arisman Pongruangrong one of Thailand's 'new generation' politicians and as such an alleged man of the people has today been linked by the Bangkok Post to the ownership of a new airline called 'New Gen' which will supposedly be flying in tourists from China.
He actually says the airline is owned by 'old pals' and that he will only help manage it, but it is unclear what knowledge this former singer has about airline management unless he is going to provide the in-flight entertainment.
Clearly a lot has been going on behind the scenes. Sabaidee Airlines' website is up – but nobody is yet saying who owns it. Yet hang on, it has a map listing all the Chinese cities to which it will be flying.
On the face of it Thailand's 'new generation' of politicians are beginning to look like Thailand's old generation of politicians and one can bet that the demonstrators wishing to close down Bangkok on January 13th will seize hold of this tasty little morsel. It seems to be something of a time bomb.

According to the Bangkok Post. Arisman's wife Pheu Thai MP Rapipun posted a picture of herself in front of one of the airlines' Boeing 737's on the net and asked people to support the airline.
People from the redshirt strong holds in North East Thailand may not be rushing out to buy tickets to Wuxi straight away as the government of Yingluck Shinawatra is having trouble paying them the promised amounts from their rice – something Arisman might want to dedicate more time to.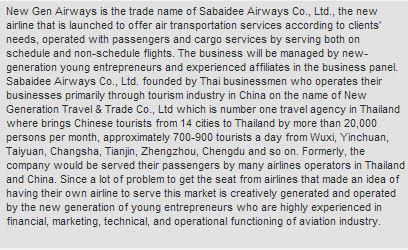 There may be a vacancy for English speaking blurb writers – but maybe not! New generation young
entrepreneurs? I'm more worried about the pilots, and their work schedules.
How did the airline get all these route approvals on the q.t? Who is the businessman? Apparently we will be told on January 16th when we will not be listening as Bangkok will apparently be shut. Its possible Arisman believes he will no longer be an MP on February 16th.
Well done the Bangkok Post. But as you have been talking to an executive of the airline please can you cross the't's and dot the 'i's.
I much preferred Arisman when he was climbing out of windows.
Its not the first time these two have been in the spotlight for their business dealings.
This from 'The Nation' of July 4 2012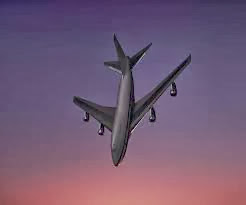 Rapipan tells anti-graft agency she had no knowledge of husband's Bt2-million holding in D Station satellite-TV
The wife of red-shirt leader Arisman Pongruangrong is being investigated by the anti-graft agency for failure to report her husband's shareholding in the company that runs the red shirts' Asia Update satellite-TV station.Rapipan Pongruangrong, who is a party-list MP of the ruling Pheu Thai Party, told The Nation she was unaware that Arisman was holding 200,000 shares worth Bt2 million in D Station Co Ltd. She said he did not tell her about his shareholding after while on the run abroad following the 2010 unrest. "I informed the NACC that I had no intention of concealing the shareholding. I really did not know that he owned the shares," Rapipan said, referring to the National Anti-Corruption Commission."At that time [when she put in her financial report after last year's election], my family was in a severe crisis. Khun Kee [Arisman] was in a foreign country and he did not tell me about the shares," she said. "Normally he does not tell me about his problems. He is afraid I may be bothered."