On run with a warrant out for his arrest for extortion in Thailand Drew Noyes, 60, has changed his Facebook profile to show himself hobnobbing with Thai Royalty, a former US Ambassador to Thailand, and an Immigration Police Colonel.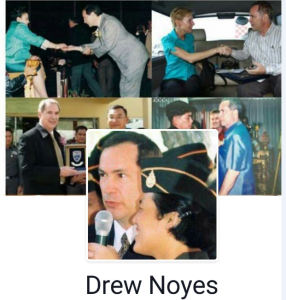 This may by a ruse by the 'selfie hunter'* to impress his new friends in Wilmington, North Carolina, but it will not impress the judges in Pattaya where he slipped off his Royalist yellow shirt to become a red shirt to impress local politicians.
He took the red shirt off quickly when the Thai military came to power- and in one case taken against him brought a long a military colonel to speak out in his defence to announce that he was holding a seminar on the virtues of the military government.
The Appeal Court judgement comes up on March 8th.
He is appealing against a conviction with his Thai common law wife Wanrapa Boonsu, for attempting to extort the Thonglor Clinic in Jomtien, Pattaya, on Thailand's eastern seaboard out of 7 million Thai baht – otherwise the clinic faced, he said, a raid by police when illegal substances would certainly be found and he would receive very negative publicity in his Pattaya Times 'newspaper'
Meanwhile in Wilmington, North Carolina, it is understood he has now used the power of attorney he made his first wife Nittaya Chaiyasit Noyes sign, when he put property in her name – to sell the property on the open market.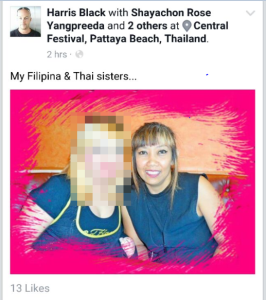 Incidentally, Rose, the interpreter he used during the extortion case who has been sending him good luck messages while he has been on the lam has now turned up in a photo taken by the famous Canadian conman Harris Black ( check out www.harrisblackwatch.com).
Harris, (who incidentally has now been confirmed as the author of the diary entries shown on this earlier post, describes her as his 'Thai sister'.  He may need her help soon.
Strictly speaking Noyes is not really a selfie hunter as he always brought along his own photographer. The last one was deported after he reported him to police for overstaying his Thai visa.
Drew Noyes claims – summed up by a reader of this site
Claimed a journalism degree from the prestigious Duke University, that they didn't provide, which morphed into a law degree and a medical degree.
The he was one of the chosen few brought to Thailand by Royal Proclamation.
Claimed 14 years of service to the King of Thailand with a couple of beer bars, a fake law office, a gay magazine and more recently a man's club.


The Queen Sirikit award that he worded so if to sound as if the Queen herself had presented it to him when it was really only an award to a group of Westerners that had paid to go on an excursion.
Again claimed he was the MC at the King's birthday celebrations. The King did not attend but he left out that small detail.
Claimed to be a member of the FCCT. (Application rejected)
Claimed to be head of the International Optimists in Pattaya, but he was turfed out for non-payment of a small yearly membership fee.

Claimed to be a personal friend of former Prime Minister Anand Panyarachun after using his press pass to gain entry to an event and put his hand on his leg.
Claimed to know Yingluck Shinwaatra after sneaking up behind her for a photo.


Claimed he was friends with influential people and corrupt officials.
Claimed to be the best friend of Pattaya Mayor Ittipol Kunplume.


Claimed not to be friends with alleged child rapist Brian Wright.


Claimed to be close knit with Kamnan Poh of Chonburi.
Claimed he was friends with every police chief in Pattaya, despite being arrested for extortion in Pattaya.
Claimed to be in business with Harald Link and family.
Claims he was responsible for the American education of Pattaya red shirt leader Chanyut Hentrakul's children.
Claimed Prime Minister Abhisit had endorsed his One Stop fake law office.
As well as beauty queen and former wife of Thai tennis star Paradon Shirapon, Natalie Glebova.
Claimed former US president Bill Clinton was helping the fight against Drummond.
Claimed FBI clearance.
Claims to be a direct descendent of the leaders who single handedly won the Battle of Hastings in 1066 and the again World War 2.
Claimed he was in discussions with close friend Donald Trump to use a tarp to plug the Mexican Gulf oil disaster.
Claims to be related to Hollywood actress Drew Barrymore because the share the same FIRST name.
Falsely claimed his mother was a famous Hollywood child actor.
Was forced to remove Thai Royal Police badges from his website
Has a website for people to snitch on others that he claims is endorsed by the Thai police CSD division.
Claimed that his friend General Pongpat Chayaphan Head of the Central Investigation Bureau had ordered this blogger to be closed down immediately, 3 years ago.


Now he is claiming General Chinsen Thongkomol and General Kasim Thongkomol are now helping fight Drummond with the backing of soon to be Prime Minister Prayuth.