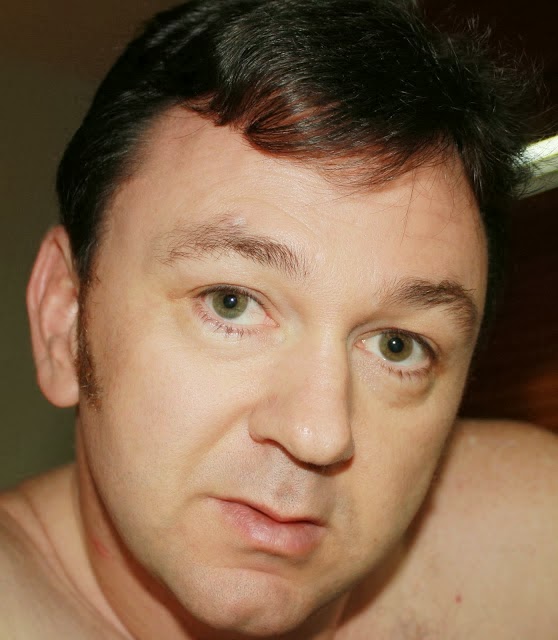 (Pic briangoudie,blogspot.com)
Under an eerie naked photograph of himself convicted and runaway Scottish fraudster Brian Goudie, who has now been convicted of cheating a 75-year-old woman out of US$300,000, has surfaced on the internet and announced that he plans to make donations to boy victims of child abuse.


The fake lawyer, who claimed he made money out of perverts 'like there is no tomorrow', appears to have reached his Damascus, if, of course, we are to believe anything he says, er, which we don't.
Pattaya Provincial Court had been told that Goudie, a well-known international conman, had taken the cash from Barbara Fannelli Miller, from Madison, Wisconsin, promising that he and his company Alba Laws, would get her son Gregory Miller, 46, off child sexual abuse charges.
Goudie pocketed pretty much all of the cash except some which he handed out among officials, who were presumably unhappy with his offerings.
Now he says on his website: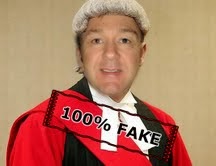 "Well how the tables turn!


"I have today been advised that an unspecified number of children who allege they were sexually assaulted by US Expat and convicted paedophile Gregory ' Greg' Miller are to sue Miller and his family!

"Alba Laws LLP was contacted via Brian Goudie, (that's Goudie talking to Goudie) and have been asked to disclose how much money is being held in trust for Miller so it can be seized on behalf of the victims – I think this is a fantastic idea!

"The victims have also thanked Andrew Drummond for publicising the fact that there is a disputed amount of USD 300,000 in Thailand in relation to Miller. (Yes I am sure all sexually abused boys in Pattaya read this site)


I understand that Alba Laws LLP has agreed to cooperate fully so that the money can be paid out to the children.

"Now, this will be interesting! Will Miller agree? (Probably not. But if you surrender you can ask him in person)
Well that is remarkably generous of Goudie, who was jailed under the name Goldie for six years in Australia, for stealing from his employers. It will however not stop him going to jail. He'll need every penny for bail, if indeed he is granted it. There is a separate civil suit over the US$300,000.
And it's not surprising that neither Goudie or Alba Laws (Goudie) do not seem to see what cash is around in a phony 'trust'; not a lot as I suspect as he has been making unsuccessful attempts to have some dodgily acquired properties put up as surety for his bail.
One of course is the former 'Jaggy Thistle' pub in the Jomtien Complex, Pattaya, which he acquired from Ulster drugs trafficker Jimmy 'Doc' Halliday who died of the flesh eating disease necrotising fasciitis, caught while in Nong Plalai Prison, Pattaya.
It seems that Jimmy made an amazing escape to attend a general meeting of his company Ramidin to hand over his company 'Jimi International ' – this despite the fact that he could not even raise himself from his pillow to ask for a glass of water from his jail guards.
Jimmy apparently told the assembled directors ( a bunch of nominees who were also not there) that he needed to cash in his assets to pay his hospital bills which Goude had so generously taken care of.
Jimmy assets – about 15 million baht: The Bangkok Pattaya Hospital bill – only (?) 1.8 million.
Can Goudie have got through the cash so quickly?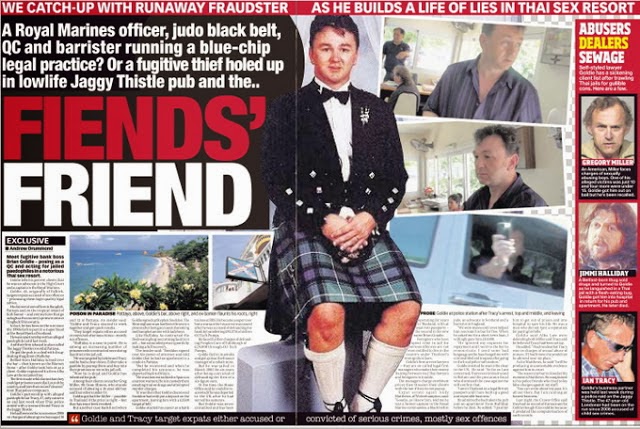 And Alba Laws – it's a sham company of course, as are his companies Ramidin Holdings, TBS, and Bang Khao Bay.
There are a number of prisoners in Nong Plalai who wish private consultations with this fake lawyer and fake former officer in the Royal Marines.