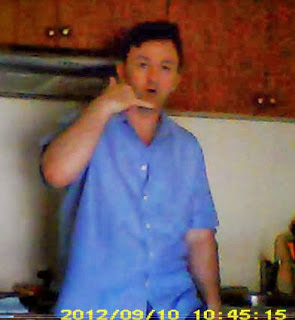 Goudie mimics calling police
A video tape handed in to this site shows how Brian Goudie, a former convict in Australia, who arrived in Thailand posing as a barrister, shopped a legal client to the Royal Thai Police condemning him to 15 months in jail apparently on a false charge of child sexual abuse.
He had promised his client, charity worker Ian Charles Tracey, that he would sue the Royal Thai Police for 20 million baht damages after Tracey was acquitted at the Pattaya Provincial Court of abusing a 14-year old boy.
But when he checked, Goudie found that the prosecutor had appealed and the verdict reversed.
He provided him accommodation in his 'Jaggy Thistle' pub in Jomtien, Pattaya – the office of his dodgy law firm 'Alba Laws'.
But three weeks later Goudie, formerly known as Brian Goldie, from Falkirk, Scotland, subsequently found it more expedient to have Ian Tracey out of the way. As his legal representative he should of course have escorted his client to police and applied for bail.
For Tracey had brought him another client – a 75-year-old American woman – whom he planned to milk for every penny she had. And now Tracey was giving her advice to be careful with her money.
In August 2012 he picked up the phone and called the police. Tracey, from Godalming, Surrey, was arrested outside his apartment in the Jaggy Thistle and was kept in jail for 15 months before the Supreme Court ordered his immediate release on December 27th last year.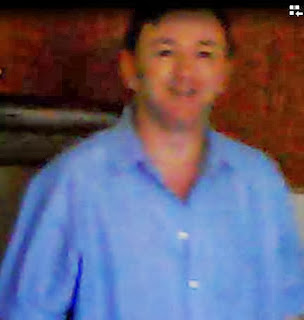 And then breaks out into a grin
Tracey was cleared at his original trial. Just how he came to be re-arrested appears to demonstrate a breakdown in the Thai justice system.
He was initially arrested under a different name. He was referred to throughout his trial under a different name, John.
Police produced a video of the boys allegations but he was not required to testify. But he did turn up at court and told the trial he never had any sex with the man in the dock.
Not only that but he had been told by police that he would go to jail for ten years for drugs offences unless he made the video statement.
Further the Mr. 'John' named on the search warrant – which was actually for cannabis – appeared to live next door. And while Tracey was at the police station he allegedly packed his bags and left.
Moreover a man with a similar name Andrew John Tracey, who has been repeatedly arrested in Pattaya, was on the loose and wanted. Tracey did not know his next door neighbour. But claims he was later told that 'John' paid for the sexual services of young boys with 'ganja'.
In addition a police officer testified that prior to an arrest warrant being issued the boy had identified Tracey from a photograph. It later transpired that the photograph of Tracey was not available until AFTER he was arrested.
For the prosecutor to appeal is not uncommon in Thailand in cases where foreigners have been falsely arrested. But the defendant and lawyer for the defendant have to be informed so bail can be continued.

Cynics argue that it happens to delay any counter claims. In Thailand's dilatory justice system people can wait years to get real justice – and foreigners often do not have the means to stay in the country for that period of time if they want to sue for something like unlawful arrest.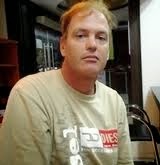 Gregory Miller
Legal action is now being taken against the prosecutor and the police, said Tracey, and he has offered to give evidence for Mrs. Barbara Fannelli Miller who is suing Goudie both in the criminal and civil courts.
Goudie it is alleged took US$300,000 from her on a promise to get her son Gregory Miller out of jail and back home to, Madison, Wisconsin. He is due to surrender to bail on January 27th.
"Goudie offered me 2 million baht in the Miller deal. He said he was going to get a lot of money, but I refused. I also warned Barbara to be careful with her money. But with me out of the picture there was nothing to stop Goudie," said Tracey.
Goudie has also been taken to court for impersonating a lawyer. In the video, taken by another client who feels he is being cheated, Goudie admits making the call to the police and justifying it by saying.
A message from Goudie to a former client

"Oh he was away cos I was not having it, for a start off because I just wasn't having him here.
"One, for what he did, two, this is a law firm, that's all I f*****g need the cops round here (mumbles) gone.

"But nobody knows that it was me that actually rung up. I'm not fucking having that for fucks sake.
"For a start he shouldn't be doing things with kids, there is no excuse whatsoever


"I like young girls, she's only 19 – but she's legal," he says pointing upstairs.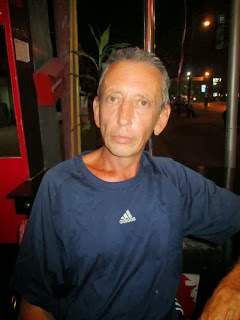 Ian Tracey
Meanwhile Ian Tracey admits he was taken in completely: "He told me he was a barrister and former officer in the Royal Marines and convinced me he was the person to take my case to sue the Royal Thai Police.
"When I was arrested and spoke to Barbara Miller's son in jail I realized he was milking Miller's old mother for everything she had. Goudie visited me the first Monday in jail. That's the last I saw of him. 'Don't worry' he said.
When he came out of jail Tracey said all his property had disappeared, including two motorbikes, his televisions, and his wardrobe which included, he said, expensive Versace and Gucci items.
He said he had signed over his Power of Attorney to Goudie for everything.
"There is no greater injustice that I can think of. I work for a charity, but had refused to become involved in children for that charity, because, quite frankly, I do not have the training.
"I have a Thai girlfriend who thankfully has stood by me. Words cannot describe what strength she has given me.
"But my name has been tarnished and being branded a child abuser – is there anything worse?"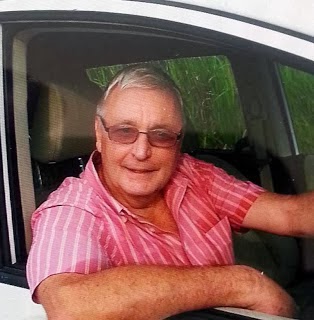 The Royal Thai Police have lost this
Andrew Tracey, from Wickford, Essex, who
has been given bail multiple times for child abuse
and who lived in the same Pattaya estate.
Tracey believes his case may have had something to do with his criticism of the local police. As a prison visitor for 'Hand in Hand ' and 'The Mercy Centre' in Pattaya he had listened to prisoner stories and had confronted police about certain allegations relating both to evidence and payments.
He said:
'When police arrested me I told them I would never get involved with children. I said they would have to make it up. And they did.
But there is not one jot of evidence in all the court documents which identifies me as the child abuser they were looking for. They could not make that up because of course I was not."
Tracey said he is planning to write a book: 'The Justice Joke'.
Brian Goudie was unavailable for comment. But on his website he states that his assistant
'was the person who went to the Court to get the documents for Tracey, and was the one always in touch with Thai police! Tracey even gave her a power of attorney'.

Meanwhile police say they do not know the whereabouts of Andrew Tracey.
After Tracey's arrest Goudie called to say:
"I had absolutely no idea that man was on charges of sexual abuse of minors. If I had known he would not be allowed near my place".
But then he later announced that both his clients must be considered innocent until they were convicted,
"In relation to the assertion that we have a case load of 'mainly sex
offences' for 'pervert clients', we currently have two cases in Pattaya
Court in relation to Sexual Offences against children, which at this stage
at least in one case are mere allegations, and these cases represent a
tiny fraction of the work undertaken by this Firm. It is a basic tenet of
law that every person accused of a criminal offence is innocent until
proven guilty, and entitled to legal representation that accords the best
possible defence available under the law – this is a basic right of the
adversarial justice system, and every defendant is entitled to a defence,
no matter the allegation." – Brian Goudie – PRESS RELEASE