'Please don't be scared to come forward'
The two Burmese migrant workers accused of murdering Hannah Witheridge and David Miller on the Thai island of Koh Tao today issued a letter through their lawyers begging for help in fighting their case.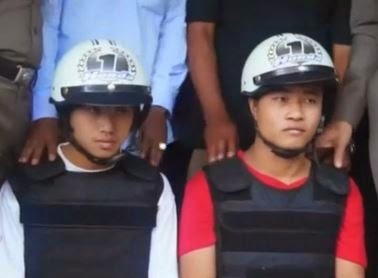 Twenty-one-year-olds Zaw Lin and Wai Phyo made the statement after the Thai prosecutor announced he would be issuing proceedings against them this week. If the case is fast-tracked it could be over before Scotland Yard issue its own independent findings at the inquest of Hannah, from Great Yarmouth in January.
In their appeal written in Burmese they wrote:
'We both wish to request anyone who perhaps can assist to be a witness in our case or has evidence about the crimes we are suspected of to urgently come forward and introduce yourselves to our lawyers and share your information with our defence team.
This will really assist us in our defence and ensure justice is done for us, our family and the family of the victims. Please don't be scared to assist us at our time of need. May you all be happy. Thank you. Zaw Lin and Wai Phyo.'
Hannah, from Great Yarmouth and David, from Jersey, were brutally murdered with blunt instruments and a hoe on the island of Koh Tao in September. Hannah was also raped and police say that the sperm DNA of both Burmese was found in Hannah.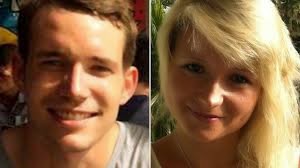 The two men are expected to be arraigned in court this week to enter their pleas. They will plead not guilty and claim that their confessions were obtained under torture.
When Katherine Horton, 23, was raped and murdered in Koh Samui on January 6th the alleged killers, two fisherman, were put on trial and sentenced to death within 18 days.
Many people do not believe the Thai police and hoped that Scotland Yard officers who were allowed to visit Thailand to observe might have come to different conclusions in the Koh Tao case. Thai Police however say that Scotland Yard concurs with their findings.
UPDATE: The two Burmese have been remanded for another ten days. No attempt was made by prosecutor Paiboon to begin the case today. But the time limit in which to start a prosecution expires on December 26 – Boxing Day.
————-


Thai translation


'เราขอให้ทุกคนที่พอจะเป็นพยานให้เราหรือมีเอกสารเกี่ยวกับคดีที่เราถูกกล่าวหา โปรดติดต่อและแสดงตัวกับทีมทนายเราเพื่อให้ข้อมูลโดยเร็ว ท่านจะช่วยเราให้เราการต่อสู้คดีและทำให้เรา ครอบครัวของเรา และ ครอบครัวของเหยื่อได้รับความเป็นธรรม อย่ากลัวที่จะช่วยเราในเวลาที่เราต้องการจริง ขอให้ทุกคนมีความสุข … ซอ ลิน เเละ เวย์ โพ'