HOW MANY MORE TO JOIN?
The financial services agency PFM International of Chiang Mai Expats Club former president Alan Hall has joined the De Vere Group, and deVere And Partners (Thailand) and others somewhat belatedly on a Thai Securities Exchange Commission investors warning list.
Hall has of course, as we reported, now fled to the United Kingdom and is ensconsed in Nelson, Lancashire, where he has started business selling properties and savings plans for expats.
Hall, with many other 'so called' Independent Financial Advisers was one of the guys who heavily promoted the now defunct Australian LM Managed Performance Fund which turned out to be a nothing more than a Ponzi scheme which offered extra bonuses to financial advisers.
The SEC warning has not moved the BCCT – British Chamber of Commerce in Thailand who keep PFM's ad up on their site.
The term 'Independent Financial Adviser' is a term used to describe people who are registered with the Financial Conduct Authority in Britain (formerly the Financial Services Authority) which PFM was certainly not, but these guys of course pretend they are fully registered and accountable for their actions.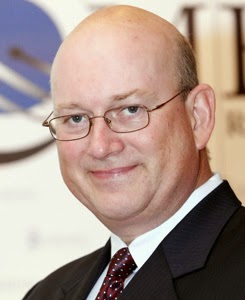 Macdonald: 'We must do the right thing'
The biggest of these 'IFAs' in Thailand is of course MBMG Group run by Graham Macdonald who last year deservedly trotted off to Buckingham Palace for his MBE.
Unfortunately despite its good reputation MBMG employed Hall for two years and later used him as an agent.
When McDonald former president of the British Chamber of Commerce Eastern Seaboard received his MBE Paul Gambles said Macdonald's award was rightful recognition of someone whose first reaction to any challenge is always the six words that have become his catchphrase: "We must do the right thing."

Gambles
MBMG of course has the best reputation in Thailand as far as I can see and to my knowledge it did not put people into LM. It is also now registered with the Thai SEC.
But if truth be told it is promoting products recommended by the same fund providers which have caused personal financial disasters for so many expatriates.
The SEC is now investigating 'IFA's' who are not members. But even if they do join and have played havoc with their clients' money – would this organisation ever draw blood. There are complicated issues. 'IFAs' will claim of course that they only deal with foreigners and all their transactions are 'offshore'.
But then again they all have to move cash into Thailand – How else could they buy their Porsches? – and therefore should be subject to local taxation. How do they do this? This one could rumble. But it may involve setting up a Thai based and owned company which does something completely different.
The SEC has been very relaxed about foreign owned financial advisory companies. At least two 'IFAs" have told me that they have checked with the SEC and have been told they need not bother.
But on the other hand the SEC are investigating why a foreign run company dedicated to selling plans to foreign teachers was never registered. The company the SCI Group is mentioned later.
Hall's PFM International no longer has a website – the company says it is relocating to the Seychelles but the British Chamber of Commerce in Thailand won't take down the page. Hall's name however has gone from the company.
The fact remains that a very high percentage of so called financial advisers in Thailand appear to stick pins in a list provided by a small group of fund providers – then just sit back and stash the cash.
But dear readers that is the financial services industry whether we like it or not. Banks and funds run countries, not governments I am afraid.
Meanwhile in Bangkok an LM victims group (contact this site for details) has been formed and there is also a larger LM victims group representing all expat victims in Asia.
What has happened has not been pretty. Many expats have lost their pensions. There are regulations in the UK which prevent this happening.
These groups do have plans but they cannot promise you anything, nor answer why none of the fraudsters are in jail. But then again neither can the Australian Investment and Securities Commission which has been blind to the scams based in their country.

Teacher Investment: 'The squaw on the hippopotamus
is equal to the sons of the squaws on the other two hides'.
SCI Group Ltd, Royal Regent Place 1, Mahatlek Soi 1, Rajadamri Road, Bangkok
10330, Thailand
Finally the above group SCI which specialises in selling financial plans including LM to foreign teachers in Thailand appears to have also upped and gone without leaving a forwarding address. If you are a member of this group perhaps now in China who has forgotten to tell all your clients about your move, please do get in contact. Last year they sponsored a golf tournament held by the Federation of British International Schools In Asia. SCI is not registered with the Securities Exchange Commission of Thailand.
This in from a reader:
PFM AND MGMB
SECURITIES INVESTMENT COMMISSION OF THAILAND INVESTORS' ALERT
FINANCIAL ADVISER FLEES CHIANG MAI