EXTORTIONIST CATCHES'EXTORTIONIST' – BIRK OF BIRKBECK HELD IN NONG PLALAI PRISON – THAILAND

BUT WHAT IS THE TRUTH BEHIND THE ARREST IN THAILAND OF FORMER SCHOOLMATE Of RICHARD BRANSON, UNIVERSITY CHALLENGE WINNER, AND ARMY OFFICER, THOR HALLAND?
FAKE LAWYER AND EXTORTIONIST DREW NOYES GET HIS REVENGE
It made the Bangkok Post and the story did not quite sound right. It made the PattayaOne news site and the author who wrote it said he did not understand it either.


Why on earth is Thor Halland, a former stalwart of the Pattaya City Expats Club, now languishing in a Pattaya jail after trying to get 50,000 baht in goods seized and 15,000 by bank transfer out of a French halal food producer called Laurent Thierry , or Thierry Laurent.
This is hardly a Thai national newspaper story.
Well it might be if they included that fact that Halland , was one of the Birks of Birkbeck, (Birkbeck College, University of London) which won the British television series 'University Challenge' in 2003 hosted by Jeremy Paxman, and who held a short-term commission in the British Army, and who had attended to Stow public school with Richard Branson. (His partner in the alleged crime Denis Zabadoev is a boxer and performs locally.)
But the newspapers did not know that.
I do not know Thor Halland but I know of him and have exchanged emails. But first here below is the story published by PattayaOne newspaper.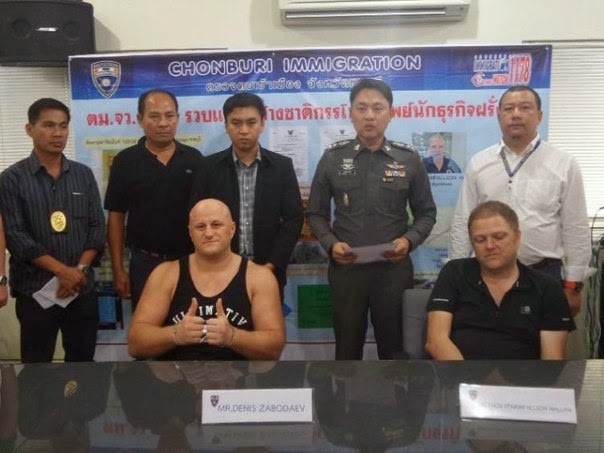 PATTAYA: — Chonburi Immigration Police announced on Thursday the arrest of a Russian and British National wanted in connection with a case of theft and extortion from March 2015.
Police Colonel Prapansak, the Superintendent of Chonburi Immigration, based in Jomtien, announced the arrest of Mr. Denis Zabodaev aged 31 from Russia and Mr. Thor Hallan (sic) aged 45, a long-time expat residing in Pattaya.
Both were arrested based on arrest warrant numbers 250/2558 and 251/2558 dated 19th May 2015 and issued by the Pattaya Provincial Court. They are accused of theft and extortion from Mr. Laurent Thery (Thierry) aged 51 from France who runs an import/export Halal Food Factory at the Egmongkol Village 4 Estate in Soi Kaotalo in East Pattaya.
On 26th March a group of 4 men are alleged to have entered his factory and removed assets totaling 50,000 Baht in value. Mr. Thery was then escorted to his apartment at the Royal Thai Residence in Soi 7 off the Thepprasit Road in Jomtien where a further 50,000 Baht's worth of assets were taken, including computers and phones. CCTV from the apartment complex was obtained by Police who will submit this to court as part of their evidence against the two arrested men."
And here is the Bangkok Post report. Both newspapers demonstrate the willingness of newspapers in Thailand to publish whatever the police say without question even getting the names wrong.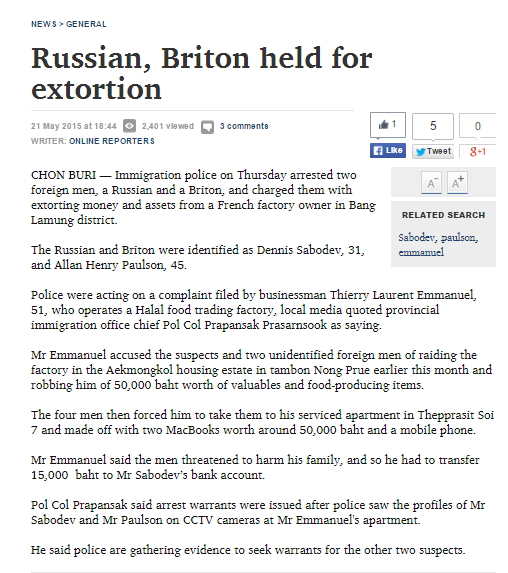 Why was this matter handled by immigration police? And why on a charge involving 10,000 baht of goods seized plus 15,000 baht by bank transfer (total about £2,200) was Halland denied bail?
That seems a bit unfair because the guy who reported to him was none other than Drew Walter Noyes, of One-Stop-Service-Center and he has been glowing all week about the news. Noyes' is to whom the Frenchman took his case.
Drew Noyes, 59, is of course the businessman who last year convicted of extortion and jailed for 2 years. He is out on appeal on bail. He has only spent one night in detention – and the sums involved are much higher.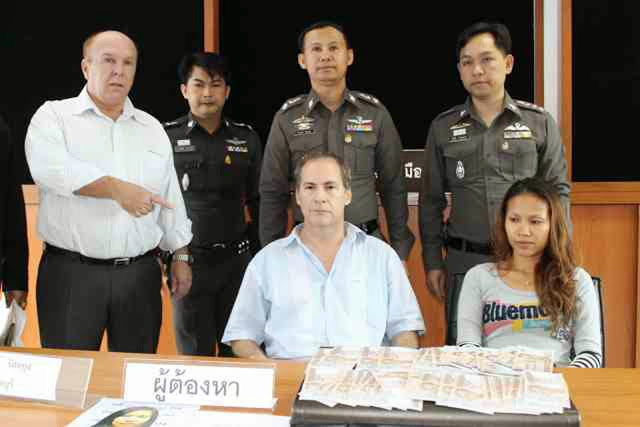 Noyes under arrest – later convicted
He was accused of attempting to extort the out of Thonglor Clinic initially out of 7 millon baht (£135,000+) later reduced to 2.3 million (£43,000). That was when he was publisher of the 'Pattaya Times' newspaper.
Well the matter was handled by Immigration Police because Thor Halland, and presumably his alleged co-conspirator, did not turn up in court to face charges brought by the Frenchman. Hence a warrant was issued for his arrest.
(It is possible that he did not know about the court cases I guess because Drew Noyes has managed to get the Pattaya Court to court issue writs which the accused do not ever receive and which can even be sent to hotels where the co-accused may have stayed once (Drew Noyes V Andrew Drummond and Alastair Cooper) or writs by public notice (which no foreigners would have a clue about finding). But that is conjecture)
Much more to the point is who is Thor Halland and what is his relationship with Drew Walter Noyes, the American who announced he had come to Thailand by Royal Proclamation and then set up beer bars in Pattaya?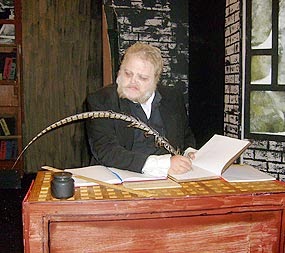 Halland as 'Scrooge' in Dicken's 'Christnas Carol"
Thor Halland, is a onetime property man, one time army officer, who settled in Pattaya many years ago. He was a big voice at the Pattaya City Expat Club which Drew Noyes claims he started – and he even wrote the Wikipedia entry for Pattaya and gave talks on the history of Thailand and even gave a talk to the Pattaya International Women's Club Club on Buddhism.
Halland is regarded as a bit of a toff even taking part in a local theatre group and of course pub quizzes.
Highly read in 2003 he had been on the winning University Challenge team from Birkbeck College, who were referred to as the 'Birks' because in a previous context they had achieved the lowest possible score.
Halland studied Philosophy at Birkbeck College.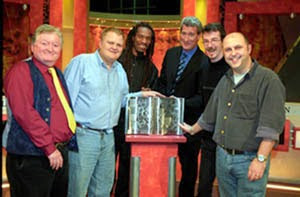 Halland second left – Paxman four from left
He was in fact part of the Drew Noyes faction at the Pattaya City Expats Club along with Andre Machielsen and they furiously defended Noyes who was beginning to come under attack from some members.
They also joined Noyes on an army day out and got the same Royal medals Noyes claims all over social media where Noyes taking to adding to his CV saying he was now trained as a skydiver and marksman.
They paid for them – 10,000 baht each – and one American participant said he had to pay Noyes 20,000 baht for the army camp day out.
Halland also became a contributing food writer to Drew Noyes' now defunct Pattaya Times.
That was until members of the expats club discovered the truth.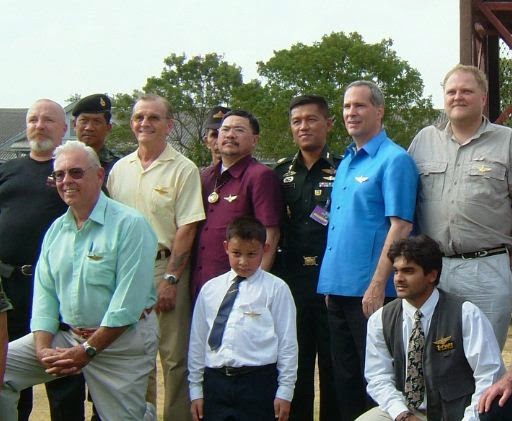 Machielsen back row far left – Halland back row far right next to Noyes. Front row a friend and retired US civil pilot – all
three were to become in long running and bitter feuds with Noyes The 14-year-old got the same award.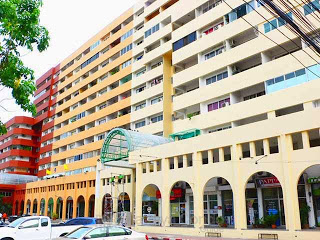 Drew Noyes was conning members by selling them condos in the Keha Condo scheme (above his office) which he had acquired from the Thai National Housing Authority who were granting subsidised loans.
Of course these units were meant for poorer Thai people. But what the hell. There was money to be made – lots of it. And Noyes inflated the prices and sold them on at twice the price he paid.
This all turned very ugly and Drew was forced to hand cash back on threat of prosecution and when it came to voting for the club's first President Noyes was out on his ear.
But the Expat Club members were still not happy with Noyes and Blogger spots started appearing on the net describing Noyes, amongst other things of being a sociopath. What he certainly was not was the 'American lawyer' he claimed to be.

Both Andre Machielsen and Halland, whom Noyes suspected were behind it all then became the targets of Noyes incandescent rage and desire for revenge. He started blog sites accusing Halland of being a mental case and of Machielsen of being a drugs dealer and wanted by the police (Just as he did with yours truly).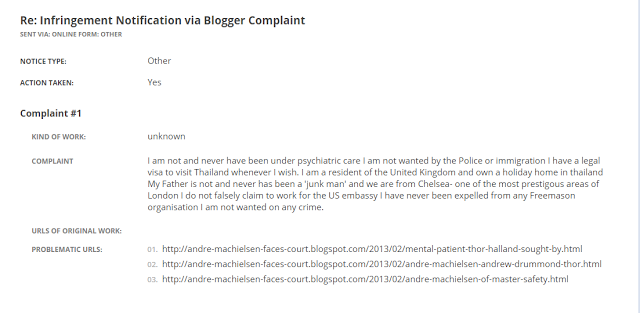 Drew Noyes' revenge blog – after it was deleted by Google Blogger
He ingratiated himself with the judges at Pattaya Court by holding a 'legal seminar' promoted by ThaiVisa.com and dining with judges and having himself photographed with them on Thai Law Day – or Wan Rapee. (He even announced that together with the Chief Judge of Chonburi he was writing a book which would feature the libels of Andrew Drummond after I had started writing about his scams)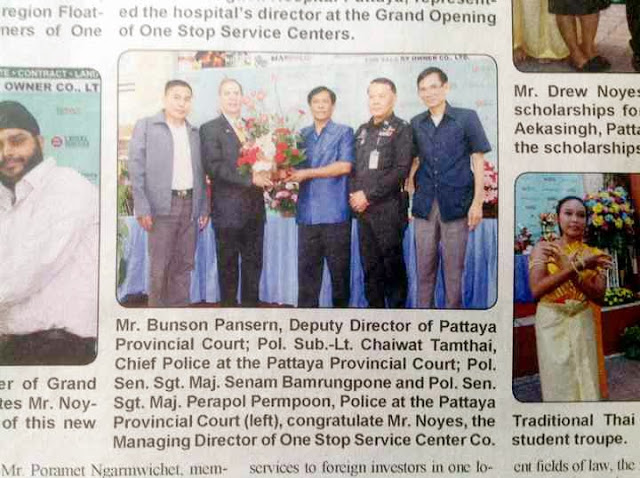 Noyes employed the wife of Pattaya Court Police at his office
The judges of course were unaware that Noyes had already been exposed in the United States before coming to Thailand in particular by the Wilmington Star in North Carolina where he had turned up offering his realtor services.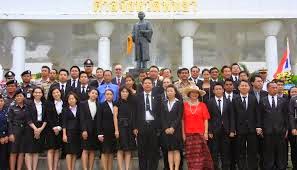 Yes Noyes is in there on Wan Rapee Day at Pattaya Court
The Star described him as a man of 'myriad lies' and highlighted his property frauds, share scams and even a case of sexual harassment where he is alleged to have demanded oral sex from a junior employee in return for him granting her more hours work. All this in a front and inside page article by Scott Gold, now with the Los Angeles Times, headed 'Trouble Follows Developer'.
Nor did they know he had been arrested for larceny and had been jailed and put on 36 months' probation or his court listings for assaults on women
He threatened to sue Halland and Halland paid 10 baht damages to Noyes on the understanding he would implicate Machielsen as the man who was writing about him. It was getting all very grubby as things generally do where Noyes is involved.
Noyes has been seeking revenge ever since especially since he discovered that Halland was openly speaking out against him in letters to this site.
But that of course does not explain why Halland should be kicking around with boxer Denis Zabdeav.
COMMENT: Don't confuse this with an action by the Russian mafia in Pattaya though. But as we have already highlighted, Noyes, and his henchmen David Hanks and Brian Goodie DO have connections to the Russian mafia.


Hanks was arrested with a Russian godfather for racketeering and of course Noyes provided visa services to Russian and East European prostitutes to they could ply their trade in Pattaya- at least according to several young women who contacted this site. And that brings us around to Pattaya Immigration Police again.
Try going into Pattaya Police and making a complaint that you have been swindled by another foreigner out of a couple of two thousand quid and you want it investigated. Then sit back and see the reaction. Yes, there will not be any. We have loads of files here of people cheating from £10,000 to £1 million. Some of those complaints relate to Drew Noyes and Niels Colov– and none of them can find a taker at Pattaya Police. And that is why Drew Noyes, I guess, is in Pattaya – a scammers dream city.


The fact is that Pattaya Police and other forces in Thailand rarely deal with foreigner ON foreigner cases and Embassies do not warn of this problem in Thailand and this makes Thailand a happy home for foreign fraudsters. Nor will they 'interfere with the justice system of another country' unless of course its high profile and making big news back home. But that usually involves the rape or murder of a female.