But can he get bar girl ex-wife to look after him?






While judges in Pattaya were being told that his ex-wife Nittaya was flying to the United States to look after children by her and Wanrapa Boonsu Noyes was busy telling people that he was being acquitted of extortion.
This is presumably for the benefit of his audience in the United States where he has busy telling people of his friendship with the Thai Royal family and military government.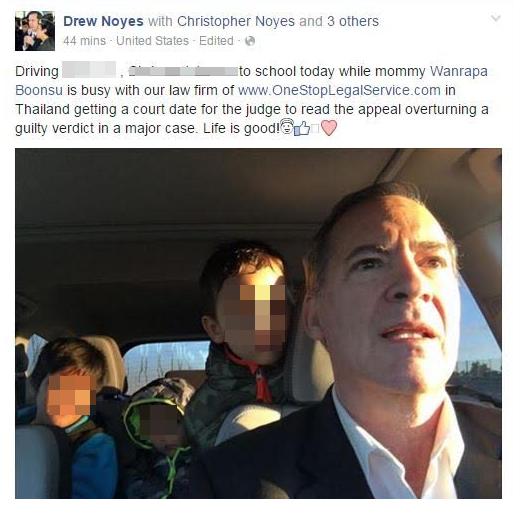 'Life is good' he says after driving three of his children to school today. His face tells a different story. And the kids look like they are being driven to a military academy – unless he prefers they dress in camouflage.
Wanrapa was of course not getting a court date so he could return to hear of his acquittal. She had to face the judge alone who told her that a warrant of arrest would be issued if he did not return forthwith.
Noyes talks about a 'major case' – not that he was charged with extortion which involved demands of US196,000 to a business to be allowed operate in the seamy sex resort of Pattaya, Thailand.
Perhaps he is praying that Nittaya will be allowed a visa to fly over an act as his maid putting the traditional good old Mexican American out of work. I was certainly praying for my Karen nurse to get one.
He has not been able to do the visa through his old chum Brian Wright boss of US Immigration Law in Bangkok – also known as My Thai Fiancee. This is because Brian has been convicted of child abuse.
Of course if he had been so sure of his acquittal he would have gone back to Thailand which is where callers are told where he is.
Could he be dreaming of the 'Bat Cave?'