TWINNED BY TWINS AND……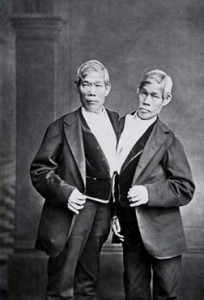 The North Carolina town of Mount Airy has linked hands with Samut Songkhram on the Gulf of Thailand to become 'sister' cities – and officials in Thailand 'are very excited about it' according to a local newspaper in the US state.
In turn the City Board of Commissioners in Mount Airy also seems pretty excited.
'I just think it's a fantastic opportunity that might lead to increased tourism and economic development,' Commissioner Steve Yokeley told the Mount Airy News
'What's not to like?' said Commissioner Jon Cawley.
Thai tourists to Mount Airy can visit the Andy Griffith's Museum and Mount Airy tourists to Thailand can visit temples, salt flats, and even a floating market.
For most readers I'm guessing even if you Google Andy Griffith, you still will not know him, and you'll be wondering why they named a museum after him.
It seems the towns were destined to be linked. Samut Songkhram is the birth place of the Siamese twins – two brothers Chang and Eng. They died and are buried in Mount Airy.
They were born joined together at the sternum and discovered by an expat Scottish businessman Robert Hunter, who signed them up for a lucrative world tour.
It seems the quality of some expats have not changed much. I guess Robert had been kicked out of India.
However the two brothers later went into show business themselves and finally settled in North Carolina where they bought a plantation and also slaves to work it.
An unofficial link between Mount Airy and Samut Songkhram is slavery. Wilmington, North Carolina was one of the major US slave ports and at one time the black population outnumbered the white 2:1.
The Thai fishing harbours of Samut Songkhram province have of course been linked to the slavery of Burmese fishermen who have been reported to have been merely thrown over the side when their use came to an end.
(As a British citizen I do not think I can pontificate on this point. Although Britain ended the slave trade in 1832 – a few years after the Siamese twins were born – it did create a major part of it and sold black slaves to the US. Before slavery itself was abolished altogether the trafficking in slaves was made illegal. But some Captains still found the trade lucrative. If they were approached by a British man-of-war they would throw the slaves overboard.)
Anyway Chang and Eng married two sisters and had a bed made for four. But after a while – here's more food for thought – the two sisters did not get along together at all. The sisters separated into different houses and the twins spent 3 days a week in each. Maybe they had the Sabbath to themselves.
Nevertheless the two brothers fathered 21 sons and daughters. Some of the offspring fought on the losing Confederate side during the Civil War defending the right among other things to have slaves.
Footnote: No connection in this story to Wilmington's famous son Drew Walter Noyes